Description
Join us for the 3rd annual Blog Life University Conference in North Carolina!
Can't join us? Watch online with the NEW Live Streaming option for just $49!!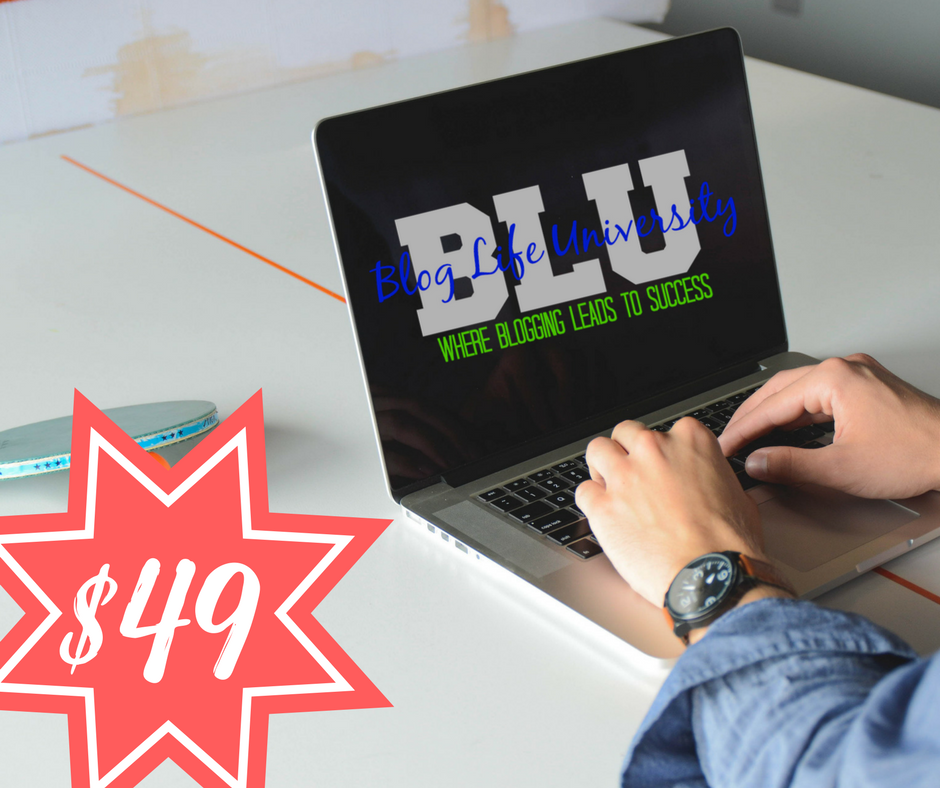 The Agenda
Take your blog to the next level by connecting in real life and learning from amazing speakers like.....
Jenny Melrose takes you behind the scenes of working directly with brands to increase your sponsored post rates.
Becky Mansfield is sharing all about launching a product successfully to increase your income.
Melissa Llado takes you behind the scenes of building an online boutique to generate a new form of revenue!
Aaronica Bell Cole knows all about increasing your hourly rate by maximizing your productivity and she's sharing all of her secrets with us!
Tiffany Dahle takes amazing photos and she's going to show you how to take gorgeous pictures without spending tons of money on expensive equipment.
Christina Patterson started her video blogging with just her phone and she's going to show you all of her tips and tricks to getting started with video easily.
Nicole Culver is all about increasing your reach with podcasting...growing your audience will bring in more income and she's going to show you how.
Cynthia Rusincovitch is sharing her secrets to Pinning Success and growing your traffic exponentially with Pinterest.
Rachel Miller is a guru at growing your business through Facebook and she's diving deep with massively growing your Facebook page.
Dollie Freeman knows how to boost your affiliate commissions even if you've never done affiliates before...learn the ART of affiliate marketing to substantially increase your income.
Iyanna Vaughn is going to wrap up the conference by showing you HOW to protect your financial future and organize your blogging finances so you can reap the rewards of growing your online business.
A Boutique Blogging Conference
Blog Life University is a boutique style conference focused on creating lasting connections with attendees and brand partners. Our primary attendee demographic consists of female bloggers and social influencers in the niches of lifestyle, parenting, food, travel, and style.
Attendees will be taught by top bloggers and offered hands on experience, tangible takeaways, and personal interactions with speakers. Our desire is that attendees leave the conference feeling mentored and inspired.
We found that bloggers and brands prefer smaller, more boutique style conferences, because they get a chance to really connect and build a relationship. When you're in a sea of 500+ social influencers and 100+ brands it's hard to stand out in the crowd. That's why we focus on a more intimate environment so everyone feels comfortable to connect and be engaged. You'll never feel like the new kid in the lunchroom at BlogLifeU!
Tickets will be sold on a first come, first serve basis to existing bloggers and social influencers. An existing blogger and social influencer is defined as an individual who is actively creating social content with a focus on growing a following and monetizing that content. If you are a social influencer without a blog then your social channels must be at least 6 months old by September 1, 2017 with a minimum of 5 social posts per week to be considered active. If you have any questions about your eligibility please contact Melissa@BlogLifeNetwork.com and I'll be happy to help you. These restrictions are in place because of the limited space available.
The Venue
The Great Wolf Lodge of Concord is offering attendees rooms on a first come first serve basis-- so book your room as soon as you purchase your ticket to ensure you are able to get your room at the highly discounted rate.
Hotel accommodations at Great Wolf Lodge for Blog Life University attendees are available at the discounted rate for up to 3 days before the conference and may be extended for up to 3 days after the conference.
Hotel pricing:
Standard Suite: $129.99/night
Themed Suite: $179.99/night
Whirlpool Suite: $179.99/night
Premium Suite: $279.99/night
*The hotel will be waiving the $29.99/night resort fee as well. Each Family Suite has 2 queen sized beds and a pullout sleeper-sofa. Each King Bed Suite has 1 king sized bed and a pullout sleeper-sofa. Themed Suites and Premium Suites are also available at an additional cost. Each Family Suite includes up to 6 waterpark passes and each King Bed Suite includes up to 4 waterpark passes- guests utilizing the waterpark passes must be listed as occupying the suite.
The Family Friendly Blogging Conference
BlogLifeU is a family friendly blogging conference....feel free to bring the family! They can enjoy the waterpark while you learn about taking your blog to the next level. If you need childcare during the sessions we have an amazing group of certified teachers on hand for childcare. Infants are welcome to attend with their mothers-- we just ask that you step out of the room if they start disrupting others from being able to hear the speakers.
Tickets are non-refundable. Transfers will require a $50 transfer fee up to 45 days before the event.
If you are a brand representative interested in having your brand featured during the conference please contact Donna@BlogLifeNetwork.com to inquire about our available Brand Partnerships.