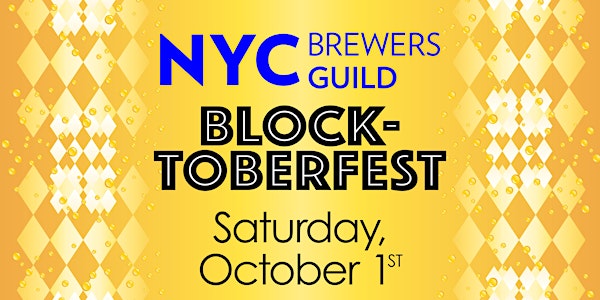 Blocktoberfest 2022
Blocktoberfest 2022 - the annual NYC fall festival celebrating beer brewed here in NYC!
When and where
Location
Brooklyn Navy Yard 63 Flushing Avenue Brooklyn, NY 11205
About this event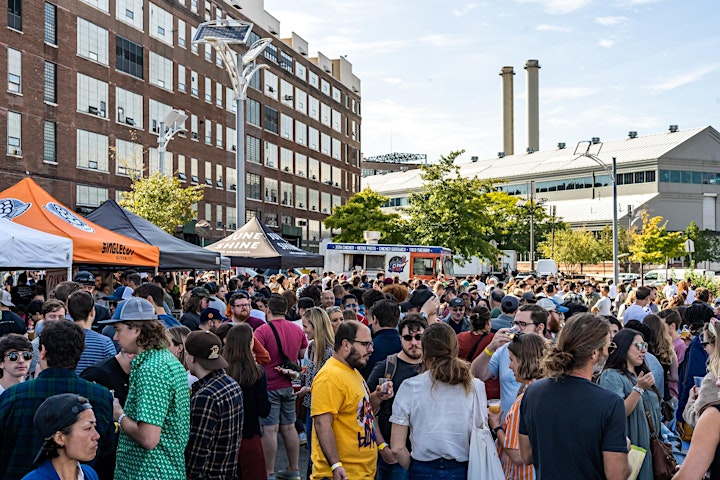 Saturday, October 1st – Save the date, get your ticket, message your friends.
This is a sampling festival, your ticket includes admission and beer.
VIP / Early Entry Tickets - Noon - 4:30 PM $85
General Admission: 1PM - 4:30PM
$55 until Sept 23 - ticket price increases to $65 the week prior to the event
We will regularly update this information, including adding our entertainment, food vendors and more. Keep checking back, and keep an eye on our Instagram.
Blocktoberfest is back at the Navy Yard! We will be outside, behind Building 77, right by the NYC Ferry launch. Celebrating all that makes NYC Beer special.
Breweries scheduled* to pour:
18th Ward, Alewife, Big aLICe, Bridge and Tunnel, Bronx Brewery, Brooklyn Brewery, Circa Brewing, Coney Island, DaleView, Dyke Beer, Ebbs, Endless Life, Evil Twin, Fifth Hammer, Finback, Five Boroughs, Flagship, Greenpoint, Grimm, Gun Hill, Interboro, Keg & Lantern, Kills Boro, KCBC, LIC Beer Project, Other Half, Randolph, Rockaway, Singlecut, Sixpoint, Strong Rope, TaLea, Threes, Torch & Crown, Transmitter, Wild East.
*Subject to change. Scheduled beverage list on our IG stories/highlight, and below
Non-beer drinkers, we're got options for you as well. In addition to a wide variety of hard seltzers from our local breweries, we've got Graft Cider, and Hudson North Cider Co. We plan on having local hard seltzers from: Evil Water, Party Water, Ralph's Hard Seltzer, Rubi Hard Seltzer, Trip Hard Seltzer, SideNote Hard Seltzer. *Subject to change.
Food Options On Site
In addition to the amazing food vendors in the Navy Yard's Food Hall, we're bringing some of your favorite local food trucks to the party. Empanada Papa, Miss Holly's Smokehouse, Flatbush Oyster, Philly Pretzel Factory, and Stuf'd Truck.
Entertainment
We're excited to announce that DJ Bles-sed will be providing the tunes for our afternoon. Featured in primesourcemag.com, Bles-sed is a pre-eminent R&B, hip-hop, funk & soul DJs with a history throughout the globe. Literally. In addition to her work her in NYC, she's known in Canada, US, Asia and Mexico. Be prepared to dance to a divine mix of R&B, hip-hop, funk, soul, boogie, disco, house and new classics thrown into the cut as Bles-sed builds the vibe to one of heavenly heights.
Event Safety
As part of the NYC Brewers Guild's dedication to providing safe and inclusive spaces, environments and events, we continually work toward offering transparency to our attendees as well all those working our events. In addition to our Safety Advocate program, we continue to work with our partners at OutSmart, as well as the Women of the Bevolution and Hugging the Bar to instill and enact proper protocols. Our event Code of Conduct will be posted at the event, and can be viewed below. We can, and will provide more information upon request.
COVID Protocols
The Guild continually operates in accordance with all local and site regulations. We will ensure all ticket holders are made and kept aware of all guidelines and will regularly post any updates here and on our Instagram.
Additional FAQs:
This is an outdoor festival with vendor tents. Blocktoberfest will be held rain or shine. Refunds will not be issued for weather.
Designated driver passes are available. Anyone with a DD ticket may not consume alcohol at this event.
This event is 21+. No one under 21 is permitted, no exceptions. Valid, government-issued ID must be presented at the time of entry.
No dogs are allowed. ADA service animals are acceptable.
No outside alcohol, cans or bottles may be opened by attendees during the festival. For legal reasons, they will be confiscated. And violators may be asked to leave immediately.
We do not offer bag check. No large bags, backpacks, or similar will be permitted, nor do we have capability to secure items on site.
Blocktoberfest is a beer festival and while we want everyone to enjoy themselves, anyone in attendance who is visibly intoxicated and/or acting inappropriately will be asked to leave.
Refund policy:
Refund requests must be made within 10 days of initial purchase. All refund requests made on tickets purchased on or after September 23, 2022 are subject to review, and not guaranteed.
Cheers to #nycbrewed
#blocktoberfest2022
#blocktoberfest
We Welcome Everyone
We believe in the inclusion of all people, regardless of race, gender, sex, sexuality, economic class, nation of origin, age, faith, ability or identity. In our Guild meetings, collaborations, and sponsored events, we believe that the Guild has a responsibility to create an environment that welcomes all people, including Guild members, participating industry staff, event guests, volunteers, and non-industry staff. Fostering such an environment is paramount to executing the Guild's mission of creating a community.
Event Code of Conduct
The NYC Brewers Guild is dedicated to providing a harassment-free festival for everyone, regardless of gender, sexual orientation or identity, ability, appearance, race or religion. We do not, and will not tolerate harassment in any form, sexist, racist, or exclusionary during our events. Be kind to others. Do not insult or defame any fellow participants.
Any participant violating these rules may be asked to leave immediately at the discretion of the Guild. No refunds or accommodations will be issued for violators.
We expect our events to provide a welcoming environment for all. Should anyone make another attendee feel unsafe or unwelcome, or if you observe another individual in situational discomfort, please report it ASAP to one of our Safety Advocates.
Reports can also be made via our third party reporting system through Speakfully. Access to do so will be highly visible onsite.
Scheduled Styles Being Poured:
Check our IG Stories & Highlights for the most up-to-date list.