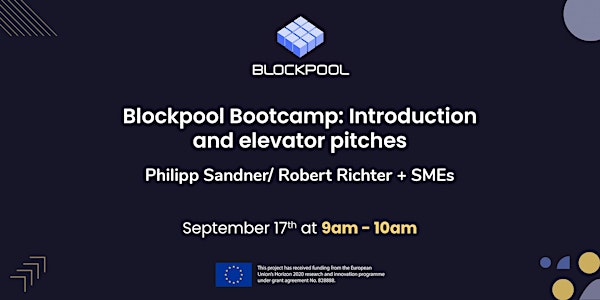 Blockpool Bootcamp: Introduction and elevator pitches
This presentation is part of the Blockpool online Bootcamp on September 17 -18, 2020.
About this event
We will give a quick introduction and overview of the agenda and then SMEs will give a 1min elevator pitch.
Speaker
Philipp Sandner (Frankfurt School Blockchain Center)
Robert Ritcher (Frankfurt School Blockchain Center)
SMEs
Bootcamp agenda
Tap on the links for more information about other events within the framework of the Blockpool Bootcamp: https://bit.ly/338Dwn9
Details
Location: Zoom (access data will be emailed shortly before the start of the event)
Language: English
Registration required via Eventbrite; dial-in via zoom (installation required); maximum number of participants: 300.
Disclaimer: This project has received funding from the European Union's Horizon 2020 research and innovation programme under grant agreement No 828888.