Description
BlockParty IPO: Initial Party Offering
After hit opening, BlockParty SF announces IPO!
We're taking San Francisco blockchain parties to a whole new level with an Initial Party Offering that will Revolutionize the Universe™.
Presented by our friends at Lumeos, this is THE blockchain event to attend.

#InitialPartyOffering
ABOUT BLOCKPARTY:
BlockParty is the party for blockchain people. If you're a blockchain person and you like parties then BlockParty is the party for you!
It's not a networking event... it's a party!

No nametags, talks, or demos.

After hours jazz starting at 8 PM.
Let's build the best and biggest blockchain party in San Francisco!
(Please note: 21+ venue, cash bar.)
PRESENTING PARTNER:

Lumeos is a decentralized social surveying platform where the access and the privacy of the user data are fully controlled by the user. The Lumeos dApp is built on the EOS blockchain allowing custom permissions. Social data is encrypted using a user-generated private key, sits in the user account on the blockchain, and can be shared with multiple users free or in exchange for Lumeos utility tokens (LUME).

STRATEGIC PARTNERS:

The Blockchain University is the first education initiative to run on the blockchain. They are focused on creating the world's largest developer community, by providing in-depth education, labs, and the best developer tools for people looking to build meaningful projects.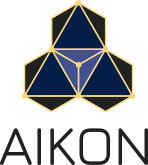 AIKON's vision is to build technology products that decentralize and catalyze the global digital economy. AIKON believes that the world must become a decentralized global economy to facilitate worldwide collaboration and equal opportunity regardless of location, background, or easy access to banks or credit cards. AIKON has raised $2 million from Palo Alto-based OVO Fund and various angel investors from the U.S., Japan and Europe.