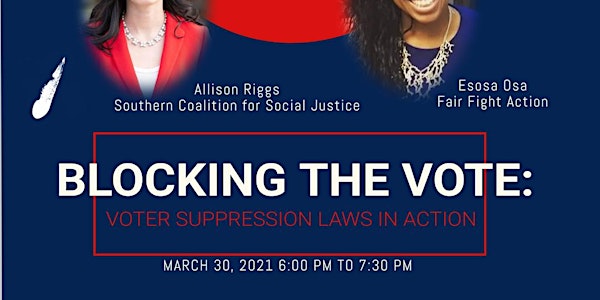 Blocking the Vote: Voter Suppression Laws in Action
Join us for an informative, important, and timely discussion about the voter suppression laws that have been introduced across the country.
About this event
The time is now to be informed and prepared to take action to protect our democracy. Join us to learn more about the challenges we face and how you can be a part of the solution. We invite ALL North Carolinians to join us for this important program.
This engaging discussion will feature the following distinguished speakers/panelists:
Allison Riggs, Chief Counsel for Voting Rights - Southern Coalition for Social Justice
Esosa Osa, Research & Policy Director - Fair Fight Action
Representative G.K. Butterfield, Senior Chief Deputy Whip - United States Congress
Representative Robert Reives, House Democratic Leader - North Carolina House of Representatives
Questions? Please contact us at general@nc-abl.org.