The conference is designed to bring attendees the best industry experts, insightful discussions on stage and a unique networking opportunity
About this event
Blockchain Nigeria User Group is happy to announce that all is set for the successful hosting of #BlockDeFi-2020, a fully Virtual live Conference on the 12th & 13th of September 2020. The conference is designed to bring attendees the best industry experts and thought leaders, insightful discussions with unique networking opportunities in a virtual world. Recall that #LagosBlock-DeFi:2020 previously scheduled to hold last may was postponed due to COVID-19 restriction guidelines. #BlockDeFi-2020 will now hold as a global technology event on a 2D interactive virtual environment.
The conference agenda is "Unpacking Blockchain and the potentials of alternative, open trustless finance in building the foundations of financial self-sovereignty in Africa!"
Conference tracks will focus on blockchain protocols making significant impacts, layer 2 technologies of Bitcoin - Lightning Network, Ethereum layer 2 scaling solutions, distributed filesystem, and other decentralized web technologies.
We believe that Africa needs blockchain technology, more that blockchain needs Africa!
Date: 12–13 September 2020.
Venue: Live on Virtual Floor
Opening time: 10:00 AM WAT
Already confirmed as Lead Conference Keynote is Dr. Obiageli Ezekwesili, Senior Economic Advisor, Africa Economic Development Policy Initiative (AEDPI). Dr. Ezekwesili was Vice-President of the World Bank's Africa division and is former Nigerian Minister of Education, Minister of Solid Minerals, and a Presidential candidate in Nigeria's last general elections. 
We have also confirmed Elizabeth Stark, CEO and Olaoluwa Osuntokun, CTO both Chief Executives at Lightning Labs, Thomas Couhlin, CEO at Kinesis Money, Brian Mather, CEO at Silicon capital, all as speakers and keynotes.
Other selected speakers can be seen on the event website: https://blockchainnigeria.group/
This is the 9th edition of our National blockchain conference series that has been held across Lagos, Abuja, and Port Harcourt since 2017!
It will be a two-day event content-packed event covering;
powerful Panel sessions & keynotes
Blockchain and DeFi product exhibitions
Blockchain for Lawyers & Legal Practitioners Workshop in Partnership with Innovation & Technology Lawyers Network.
Lightning Network Workshop (LApps & Node Operation)
Crypto-Assets Trading Workshop
Networking
The event is expected to connect entrepreneurs, developers, liquidity providers, different blockchain node operators, academics, investors, economists, regulators, and others who are looking to learn and network in the blockchain & decentralized finance industry and explore the current opportunities and challenges in the space.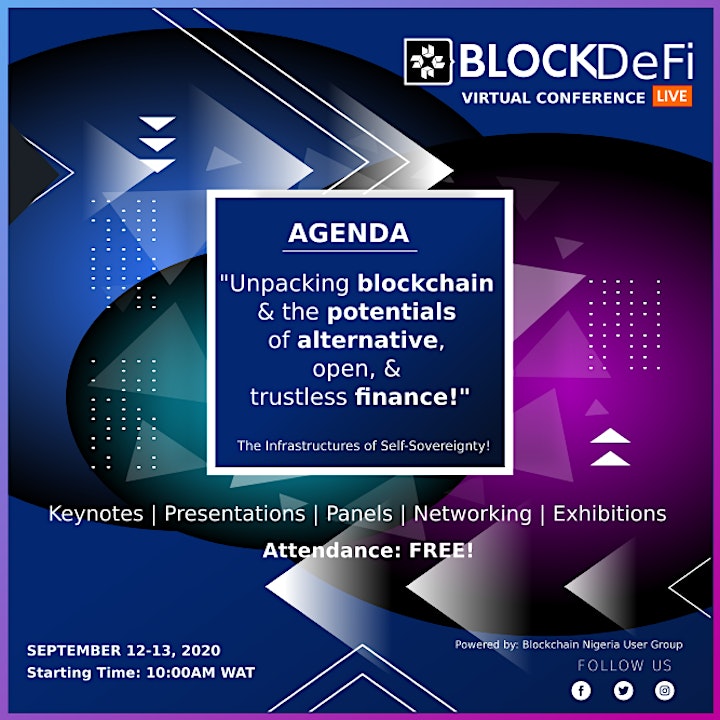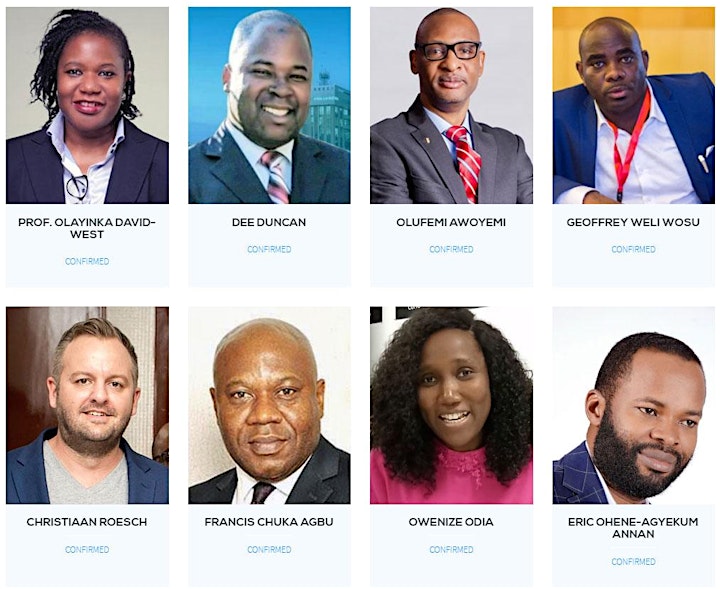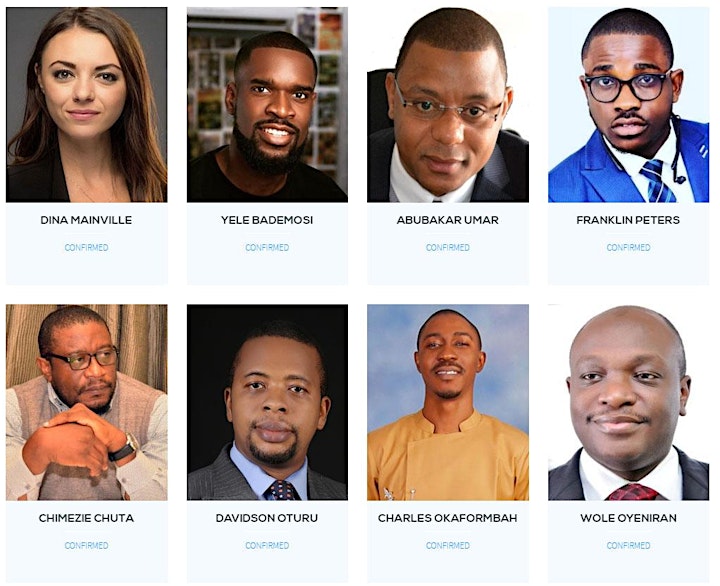 This will be a technical side event at #LagosBlockDeFi2020, so be ready to nerd away! Session presentation will be focused on how to build a Raspiblitz; the Lightning node and Bitcoin full node running on a Raspberry Pi 4. We will also share 7 Ways to Potentially Make Money with the Lightning Network #LightningEconomy. You will definitely not "Get Rich Quickly" running a LND but the few Satoshi that will be dropping into your Segwit wallet will one day make a difference.
How will Blockchain Technology Impact Your Clients? It's disrupting, or has the potential to disrupt, a number of industries that rely heavily on lawyers' counsel and advice. And this disruption will create opportunities for you to help, as industries wrangle with how disruption impacts everything from operations to regulatory and legal structures. We predict these disruptions will create niche practice areas for those lawyers who choose to understand the Blockchain. This course will explain not only what Blockchain is but also the key areas of Blockchain technology that will impact the Legal professional. This course has been designed for lawyers, but is applicable to other professionals.
This workshop will be facilitated in partnership with Innovation & Technology Lawyers Network.
The one day workshop is tailored for mainstream journalists. It is structured to assist media practitioners to do a better job of understanding and reporting about Blockchain Technologies. Africa Blockchain University (ABU )organised the first workshop in Zimbabwe in 2017 with great success and is replicating it around the continent this year starting at the #LagosBlockDeFi2020 Conference . It will cover the following fields:
➤ Understanding Blockchain Technologies
➤ Cryptocurrency 101
➤ Regulatory Environment
➤ Socio-Political & Economic Impact of Blockchain
➤ Detecting & Reporting Scams & Fraudulent Schemes
...and lots more!
At the end of the workshop, participants will learn what is and what is not Blockchain,downloading a wallet and running a transaction. The goal is to allow journalists to be on top of issues when it comes to Blockchain technology.
INTERPLANETARY FILE SYSTEM (IPFS) WORKSHOP!
Let's learn decentralized web protocols together!
The peer-to-peer and distributed file system that can literally replace HTTP and decentralize the Internet once again.
Hosted by Blockchain Nigeria User Group at #LagosBlockDeFi2020.
Participation is Free!
Focus will be on...DECENTRALIZED DATA STRUCTURES!
Cryptocurrency Basics: A Workshop for The Nigerian Police & Law Enforcements!
After attending this workshop, the participants should be able to;
1. Define cryptocurrency and its use in the broader digital economy.
2. Identify different types of cryptocurrencies (Bitcoin, Ethereum, Dash etc) and the difference between them and MLM Ponzi Schemes.
3. Discover how government agencies are attempting to regulate cryptocurrency.
4. Understand how to differentiate between a genuine Cryptocurrency Trader and a Scammer.
5. Learn simple ways to track and investigate Cryptocurrency crimes.6. Learn about news forensic tools for inept Crypto investigations.
7. Learn how Cryptocurrencies are creating new sets of $ Billionaires across the world and its legal!
8. Ask any questions bordering on Bitcoin, Scams MLM, Ponzi schemes etc and get answers.
9. Why Cryptocurrency is the favored way for criminals to pay for illegal weapons and drugs.
10. Understand why "Criminals should run, not walk, away from bitcoin."
And lots more…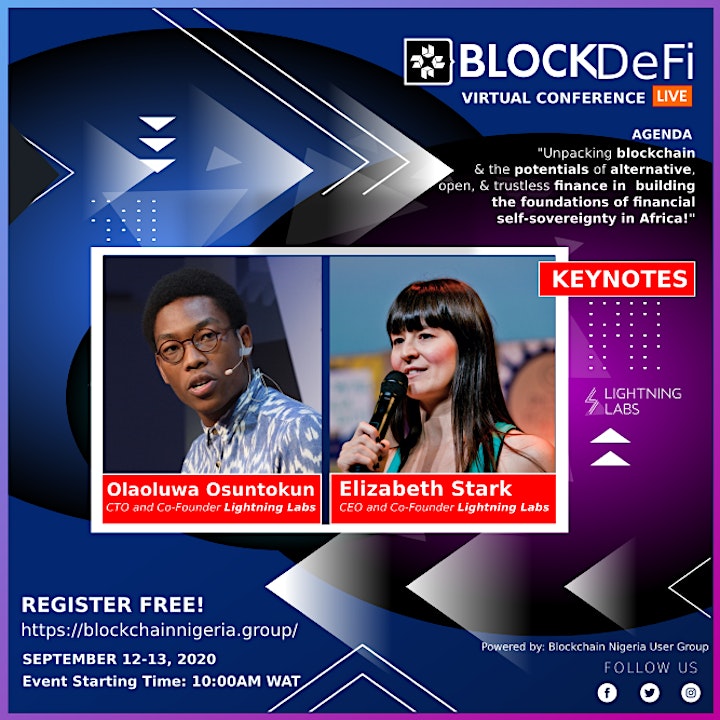 Organizer of BLOCKDeFi Virtual Conference & Exhibition 2020
BLOCKCHAIN NIGERIA USER GROUP is a vibrant group of Blockchain and Cryptocurrency developers, enthusiasts, and investors helping to drive adoption and awareness of the Blockchain industry in Nigeria and across Africa. The objective of Blockchain Nigeria User Group (BNUG) is simply to create a pro-innovation environment for the industry, meeting the growing global demand for accessible, transparent and democratic financial and technical systems. Blockchain Nigeria User Group is a sub-set of Organization of Blockchain Technology Users (OBTU), http://blockchainusers.org, a duly incorporated Trust with CAC, and an association desiring Self-Regulatory Organisation (SRO) status for the Blockchain Industry in Nigeria and across Africa.
Join the group on Facebook.
Join the group on Telegram.