Description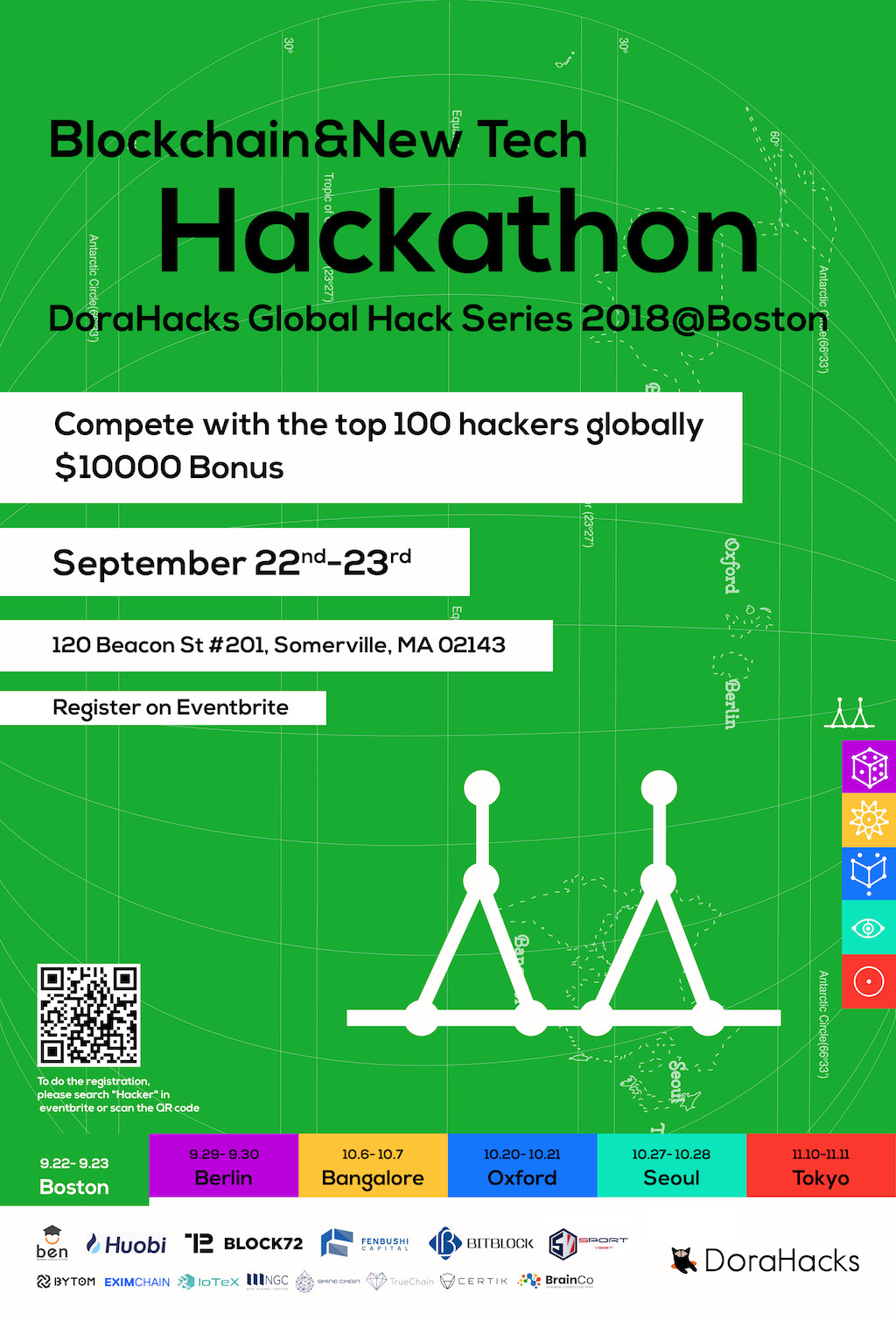 Dear Hackers @ Eastern US
If you're free this weekend and feel like winning prizes by solving actual blockchain problems, feel free to join DoraHacks@Boston! We provide you with a prize pool of $10,000 and a chance to win flight tickets to DoraHacks Global Hackathon Series! Also we'll reimburse travel cost from NYC to Boston!
Highlight of the Event
:
a prize pool of $10,000!

All food and drinks for free!

Super cool band!

meet up with 100 hackers from top universities and cutting-edge technical corporations(MIT Bitcoin Club, Harvard Law School Blockchain Initiatives, Blockchain at Dartmouth, Tufts Blockchain Club, Northeastern Blockchain Association, etc)!

Meet blockchain influencers from Fenbushi, NGC, Huobi, Block72, BitBlock, Bytom, EximChain, CertiK, and top hackers from not only all Blockchain Education Network chapters( MIT, Harvard, Dartmouth, Tufts, Northeastern, etc), but also frontier teams in different industries.
[Application takes less than 2mins. Rolling admission. Apply NOW:)!!]

Join us@ our pre-hack party and the BIG HACKATHON on Eventbrite ASAP for limited spots left:
Hacker Party @Boston Free food&drinks, 9.20(THU) 6:30-9:00 PM: https://www.eventbrite.com/e/hacker-party-boston-tickets-50376794348
FAQs
Who are the Hackers?
DoraHacks' mission is to connect the most talented hackers around the world to solve the greatest problems we face in different industries.
iOS/Android/Web development engineer
iOS/Android/Web front end
iOS/Android/Web back end
iOS/Android/Web full stack engineer
Data Analyst / AI Master
Blockchain related engineers -decentralized wallet development
Blockchain related engineers - smart contract development
Understanding Hacker Economy and Blockchain Business Model Hacker
Hacker familiar with mainstream blockchain source code

(

BCH/BTC/ETH

,

etc.

)

Understand the consensus protocol design of Hacker

(

POW/POS/PBFT/DPOS/CASPER/DAG/mixed consensus

)

Application layer security and security auditings experts such as wallets and smart contracts
Expert in blockchain protocol security and security auditing
Product and UI designer

Students and academic scholars with relevant skills and experiences

... ...
What can hackers gain from this hackathon?
$10

,

000 bonus pool divided according to the number of votes. All the contestants who have received the votes can get the corresponding bonus according to the number of votes.
Contestants were qualified by professional selection and shared a surprising prize

(

TBA

)

. Contestants who have been selected can be awarded the Excellent Hacker Prize of Brainstorm Creative Hacker and get the full/partial reimbursement of travel expenses.
Have the opportunity to meet the top hackers and tech pioneer in the industry
Work with the top hacker talents to brainstorm solutions for the real problems

;

engage in a battle with the best Hacker in the world
Present in front of Tech giants companies
Excellent hackers will have the opportunity to participate in China's 2019 DoraHacks global hack finals
How much should I pay to participate in this Hackathon?
This Hackathon is completely free for participants.

We will provide three meals a day, coffee, peripheral gifts and free Wi-Fi so that you have the best Hack experience.

How many are the recruitment numbers?
Only 100 Hacker admittance and then cycle screening (A total of 500 registration quotas, specifically by email notification). According to the order of registration, the title of the competition is continuous. The 100 hackers who past the test will get the qualification.
What rules do I need to follow?
Form of team:3-6 people.(team or on-site team)
Evaluation Criterion:

Practicality

,

Skill

,

creativity.
Increments within 24hours.
Hackers who understand the business model of the tokens economy and the blockchain. Familiar with the mainstream blockchain source code. Understanding the consensus protocol design. Application layer security and safety audit experts, such as wallets and smart contracts. Blockchain protocol security and security audit experts. IOS/Android/Web Development Engineer. Blockchain engineer, Products, and UI designers.
What is the schedule?
Sept 22 Saturday 09:30~Sept 23 Sunday16:30

Here comes our Partners !
➤Co-host

BEN is made up of students and alumni across the world who are creating bitcoin and blockchain clubs on their academic campuses. By exploring this socioeconomic experiment within the safety of their peers, students build new expectations and innovations. In aggregate, the combined effort of all these clubs creates a rich web of interconnected blockchain hubs across the world. Impact global evolution through local your initiatives. BEN chapters include MIT Bitcoin Club, Harvard Law School Blockchain Initiatives, Blockchain at Dartmouth, Blockchain at Columbia, Northeastern Blockchain Association, etc.

Block72 is a global consulting firm specializing in blockchain and distributed ledger technology. Block72 is led by senior management coming from top investment banks and management consulting firms like McKinsey and Ernst & Young. We have multiple offices across the world including New York, Shanghai, Beijing, Seoul, and San Francisco.

Founded in 2013, Huobi is the world's leading digital asset trading platform and currently offers trading and investment in more than 100 digital asset pairs.

BitBlock Capital is a multinational token fund focusing on digital asset investments and providing whole industry chain services such as project incubation, community operation and brand promotion. Based in Beijing, Hangzhou, Boston and Singapore, BitBlock has participated in the investment and operation of multiple blockchain projects, covering cutting-edge industries such as AI, IoT, and financial services.

Founded in 2015, Fenbushi Capital is the first China-based venture capital firm that exclusively invests in Blockchain-enabled companies. Our mission is to accelerate the inevitable future of Blockchain economy by supporting as many companies as possible.

➤Partners

Bytom Blockchain Protocol is an interactive protocol of multiple byteassets. Heterogeneous byte-assets (indigenous digital currency, digital assets) that operate in different forms on the Bytom Blockchain and atomic assets can be registered, exchanged, gambled and engaged in other more complicated and contract-based inter-operations via Bytom.

Eximchain's public blockchain network enables privacy, scalability and security for the supply chain. Eximchain-powered supply chain solutions help enterprises to connect, transact, and share information more efficiently and securely.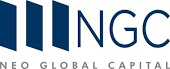 NGC is one of the largest institutional owners of cryptocurrencies and has been a key contributor to a number leading blockchain projects including Zilliqa, Ontology, NKN, Oasis, Mainframe, Certik, Bluzelle, and Iotex.

IoTeX is the auto-scalable and privacy-centric blockchain infrastructure for the Internet of Things (IoT). IoTeX is developing several in-house innovations to push the frontier of blockchain 3.0, including a blockchain-in-blockchain architecture for heterogeneous computing, fast and robust Roll-DPoS consensus scheme, and lightweight privacy-preserving techniques.

Shine Chain is a Global Mutual Insurance Community Based on Blockchain Technology.

TrueChain is a truly fast, permissionless, secure and scalable permissionless blockchain platform which is supported by hybrid consensus technology called Minerva and a global developer community.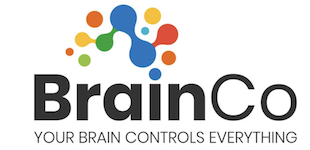 BrainCo is a high-tech company that is dedicated to developing Brain Machine Interface technology, and it is the first Chinese team chosen by Harvard Innovation Lab.
➤支持实体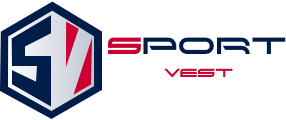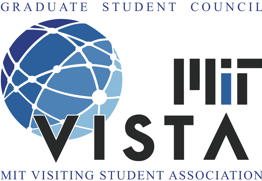 关于DoraHacks

➤DoraHacks is a global hacker organization.


In 2018 we're branching out to global hubs including San Francisco, Paris, Tokyo, New York, Seoul, Boston, Berlin, Oslo and major cities in the world


DoraHacks' mission is to connect the most talented hackers around the world to solve the greatest problems we face in different industries and to overcome practical issues in our diversiform society. In 2018, Hackers Fund was founded by DoraHacks and BA Capital. Since its founding, Hackers Fund has focused on supporting hackers to explore better, prettier and more applicable solutions for current industries and future world.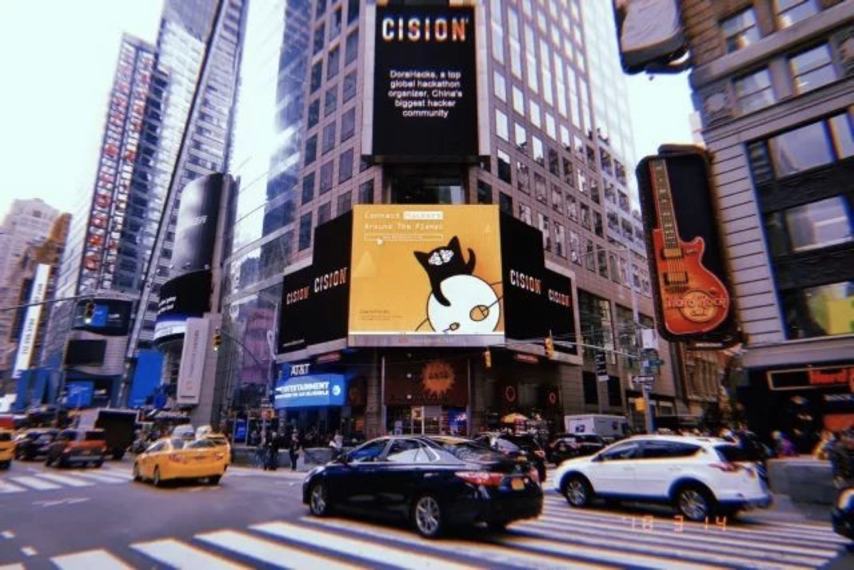 ➤About Hackathon
Hackathon is a technology that originated and became popular in innovative places like Silicon Valley in the US. In the 24-hour hackathon, you are free to solve any problem of your choice or to participate in the prize-winning challenges. These challenges are provided by public chains which are supporting us during this event.