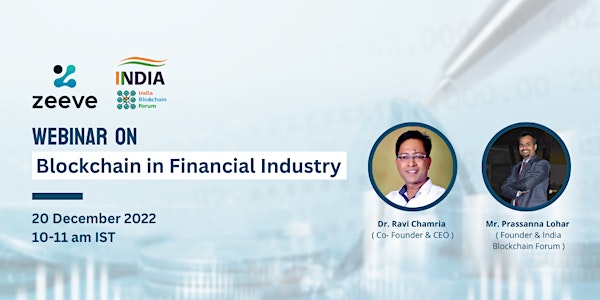 Blockchain Use Cases in Finance Industry
Join us in this highly insightful webinar dedicated towards explaining the application and use cases of the blockchain in Finance Industry
About this event
The financial industry continues to lead in the use of blockchain through significant investments. According to expert predictions, the market for blockchain technologies is projected to top $67.4 billion by 2026. However, finance continues to be the sector where blockchain technology will show maximum growth. The development of blockchain solutions for financial services can lead to several benefits for the industry. In order to enlighten people with the knowledge about these advantages, Zeeve has organized a webinar with the greatest Influencers and pioneers in Blockchain Industry - Dr. Ravi Chamria and Mr Prasanna Lohar.
Join us in this highly insightful webinar dedicated towards explaining the application and use cases of the blockchain in Finance Industry
Dr. Ravi Chamria, Cofounder & CEO of Zeeve and Mr. Prasanna Lohar, Founder of India Blockchain Forum are joining forces to present an exciting event on the 20th of December to speak about "Blockchain in the Finance Industry."
About Dr. Ravi Chamria:
Dr Ravi Chamria is the Co-founder & CEO of Zeeve, an enterprise-grade no-code Blockchain
Infrastructure Automation platform that enables easy deployment, monitoring, and management of blockchain nodes and networks.
An Executive MBA from IIM Lucknow, Ravi has over 20 years of experience as an ITpreneur across sectors such as Fintech, InsurTech, Supply Chain, and e-commerce. Ravi is an early adopter and advocate of blockchain technology and has been passionately working towards accelerating its adoption amongst enterprises and developers.
About Prasanna Lohar
Mr. Prasanna is the Founder of India Blockchain Forum and among the top 50 influential leaders and charts the top 20 BFSI leadership. He has 22+ Years of Experience as Technologist & Innovator who has delivered rock solid software solutions for industry leading enterprises with lean & agile teams. Prasanna is also a technical architect with a view in articulation & decision making skills to choose from one of multiple technologies in the presentation, integration, service layers, operating platforms.
A professional banker having experience in Digital, Innovation Strategies, Prasanna has strong leadership ability to collaborate across lines of business , partners, startups / fintech and customers to drive win-win-win situations for all.
Who this webinar is for:
Fintech entrepreneurs, Web 3 Developers and enthusiasts interested to know all about the expanding use cases of blockchain in finance.
Individuals willing to understand the real-world applications of blockchain - the practical value of this disruptive technology in resolving major challenges of the banking and finance sector.
Who this is not for:
People who are looking for a quick money-making scheme and how to make instant profits or specific tips, strategies on how to earn from digital transactions, trading and so on.
What We Will Cover:
In this webinar, we will discuss about blockchain in financial services by answering the following questions:
How can blockchain technology solve the challenges faced by the finance industry?
How blockchain can improve security, minimize risks and save costs by bringing visibility and lower friction along the long list of transactions that accompany most financial interactions.
Use cases of blockchain in finance and banking such as capital markets, P2P transfers, clearance and settlement, remittances, cross-border payments, KYC and identity verification, invoice management and billing solutions, fundraising and trading and so on.
Experts will dive deep into explaining distributed ledgers, secure payments, faster settlements, and many other facets.
Prerequisites:
No prior background in banking and finance, capital markets, trading, lending or CeFi or prior knowledge of programming is required. All that is needed is a desire to learn, and a willingness to see the entire scope of the changes and opportunities brought forth by the blockchain in the financial domain.
Do not miss this rare opportunity to get an exclusive glimpse of blockchain and the financial industry at large.