Description
Hello folks

2017 has been a smashing year for the blockchain industry. 2018 is going to be even bigger! Get ready for 2018!

18 July 2018
6:00pm to 9:00pm
Venue

The Anegl Pub
73 City Road
London, EC1Y 1BD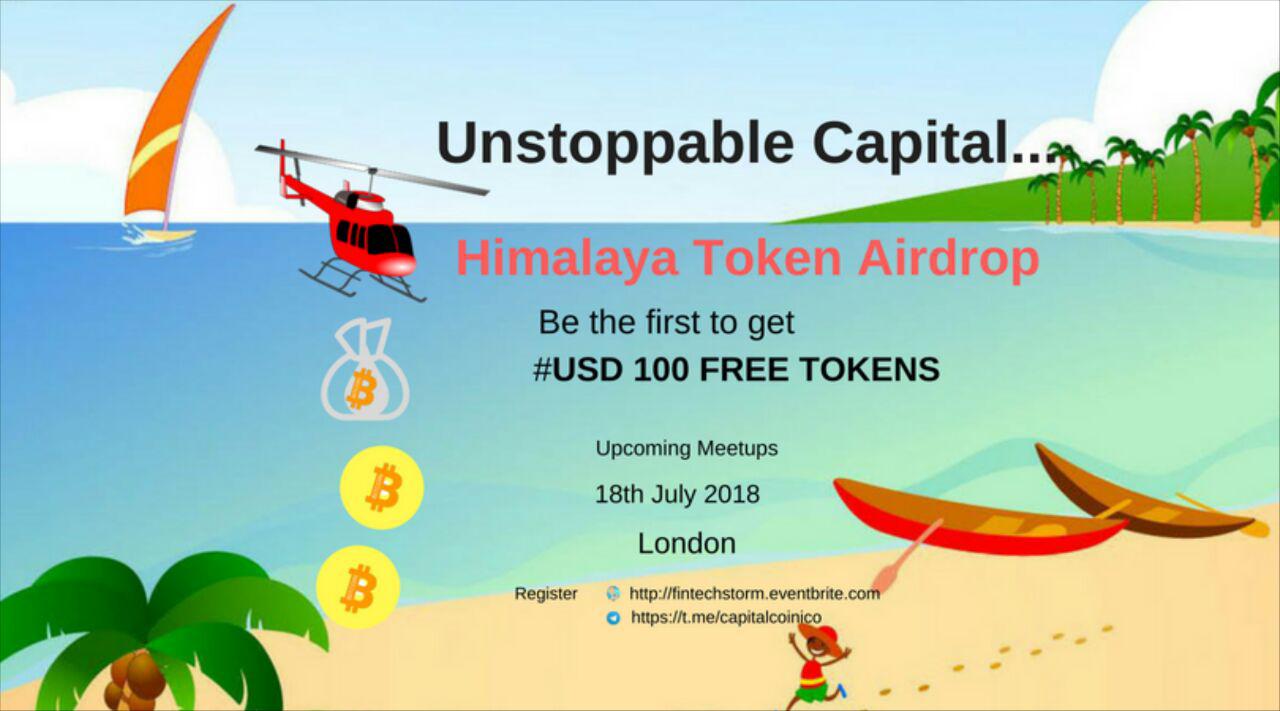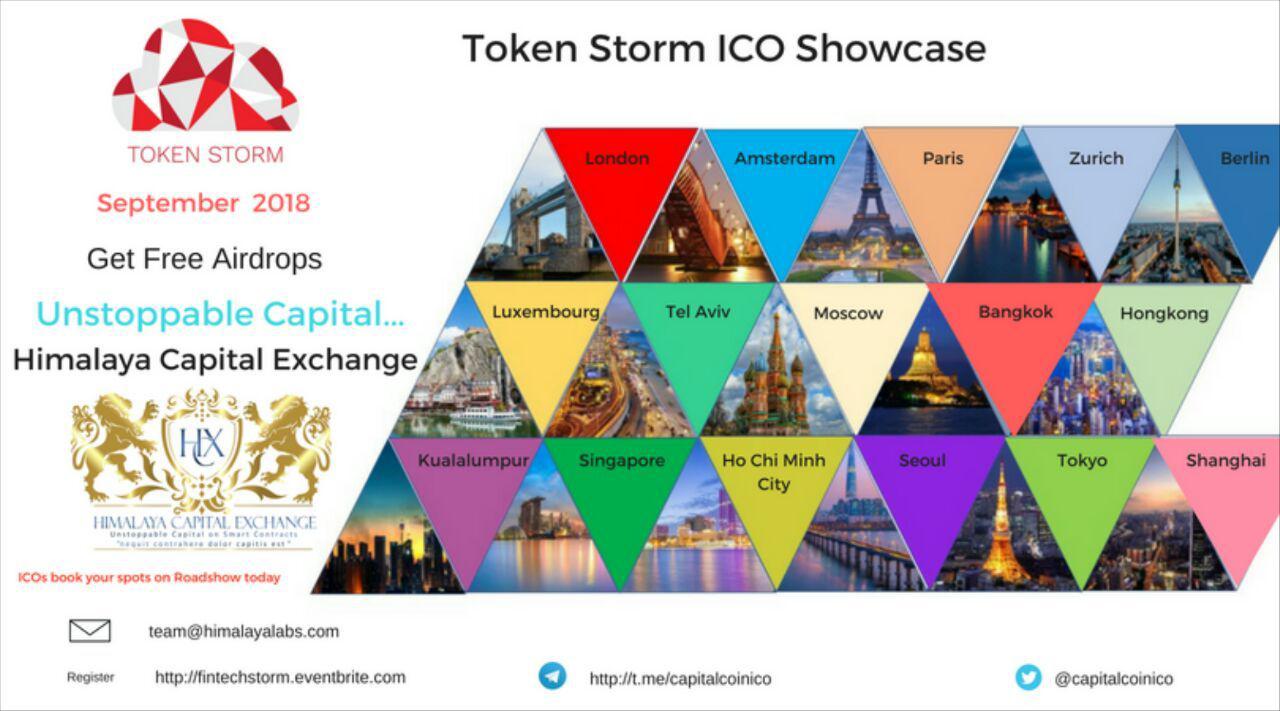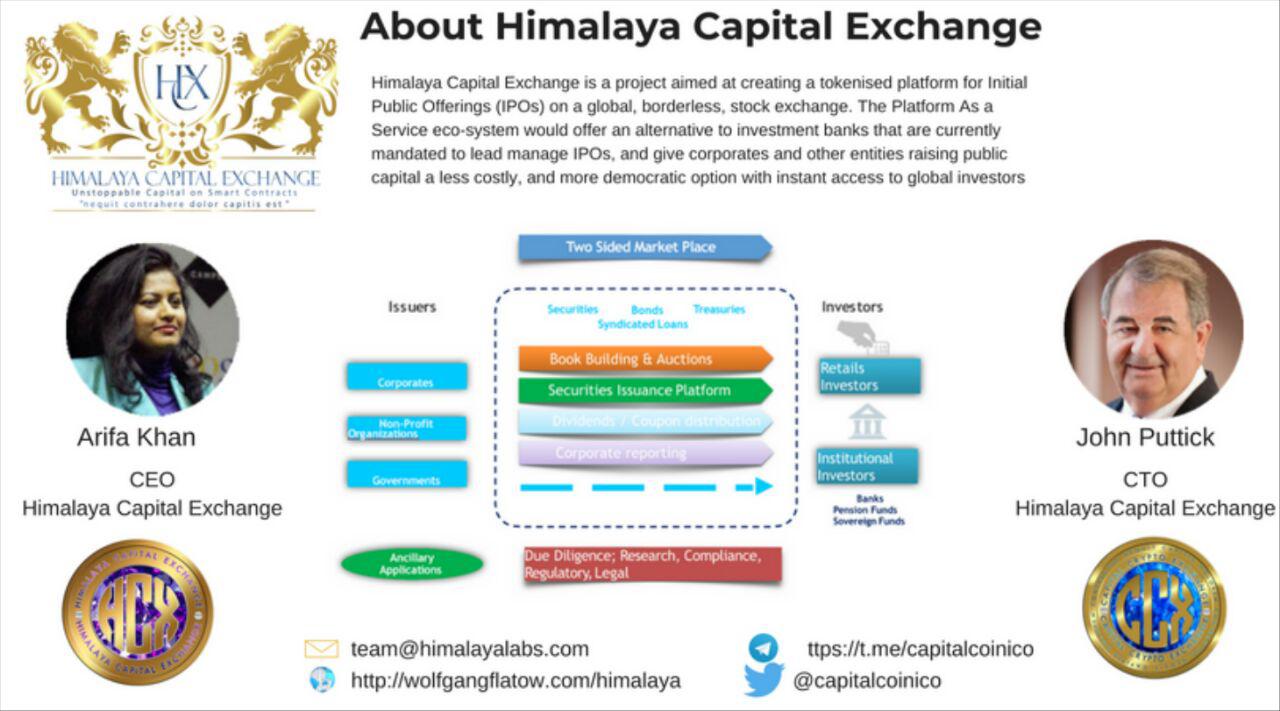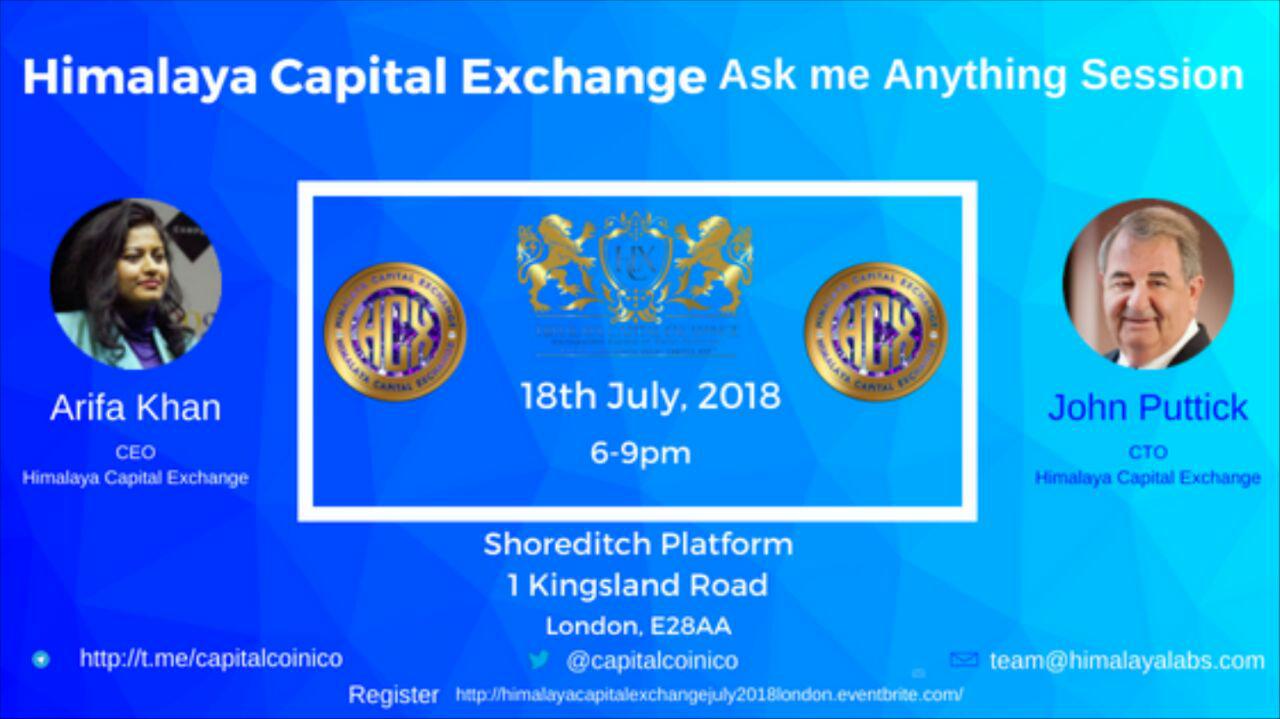 About Himalaya Capital Exchange: Global Tour to unleash blockchain led paradigm shift in Capital Markets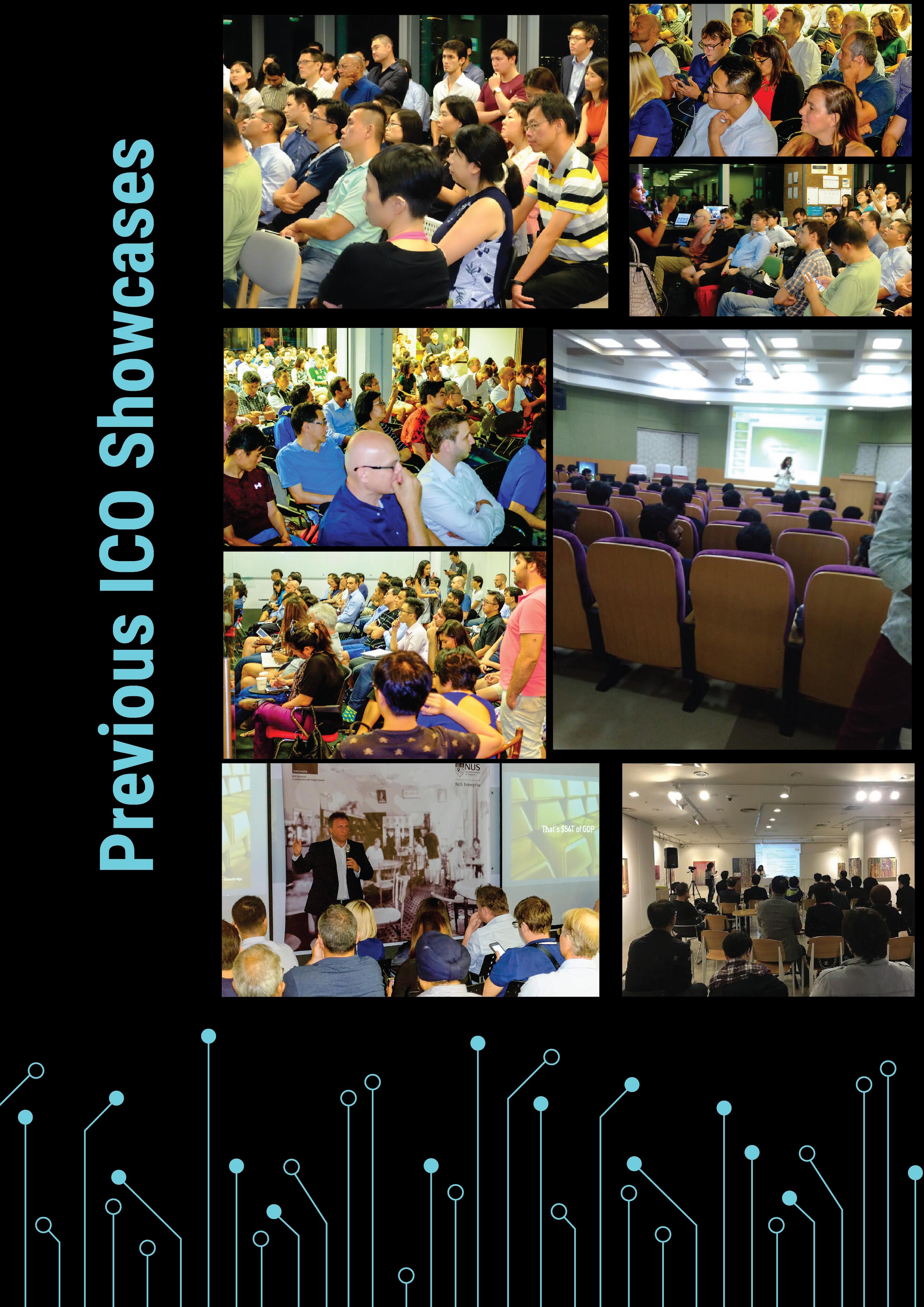 Speakers:
Arifa Khan, CEO will present Himalaya - Capital Exchange
Arifa Khan, a former investment banker with Credit Suisse and UBS has embarked on her global Himalaya Capital Exchange tour to disrupt traditional Investment Banking industry with Blockchain and Smart Contract led Fintech Innovation. She is Ethereum India Partner.

Through the Himalaya Capital Exchange platform, she intends to bring transparency to the global capital market ecosystem which would empower both asset issuers and investors to discover and conduct transactions in a transparent manner. This would shake up the $66 trillion-dollar global securities market backed by cozy investment bankers.

The innovation would usher a beginning of a new era with no role for intermediaries. The platform would knit a core blockchain led infrastructure that would open immense possibilities - Digital IPO, Start-ups raising Venture and Private Equity capital, Corporate Bond Issuance, M&A's and Cross-Border Transactions, Governments issuing Treasuries and other infrastructure bonds – that without paying a hefty fee to Investment Banks!

The technology driven platform would open a channel for the best minds in Asset Management and Investment Banking industry to design innovative applications adding value to both investors and capital seekers. This would be a Google, Apple moment for the Financial Services Industry! And an Uber moment for Investment Banking! Arifa had a successful tour Sep-Dec 2017 : Dubai, Singapore, Hong Kong, Beijing, Shanghai, Kiev, Brussels, Paris , Seoul, Mexico, Davos, Zug, Chennai, Macau, Kualalumpur. She has been meeting Bitcoin and Blockchain community, potential investors, market participants, strategic partners and potential team members in order to build a user community for Capital Coin.

Investment Banks and Trading Exchanges across the world are demonstrating their interest in these technologies with super disruptive potential.

ICOs and ICO service providers , join us on our Global ICO Roadshow in August - September 2018


Blockchain World Showcase - Dates - September 2018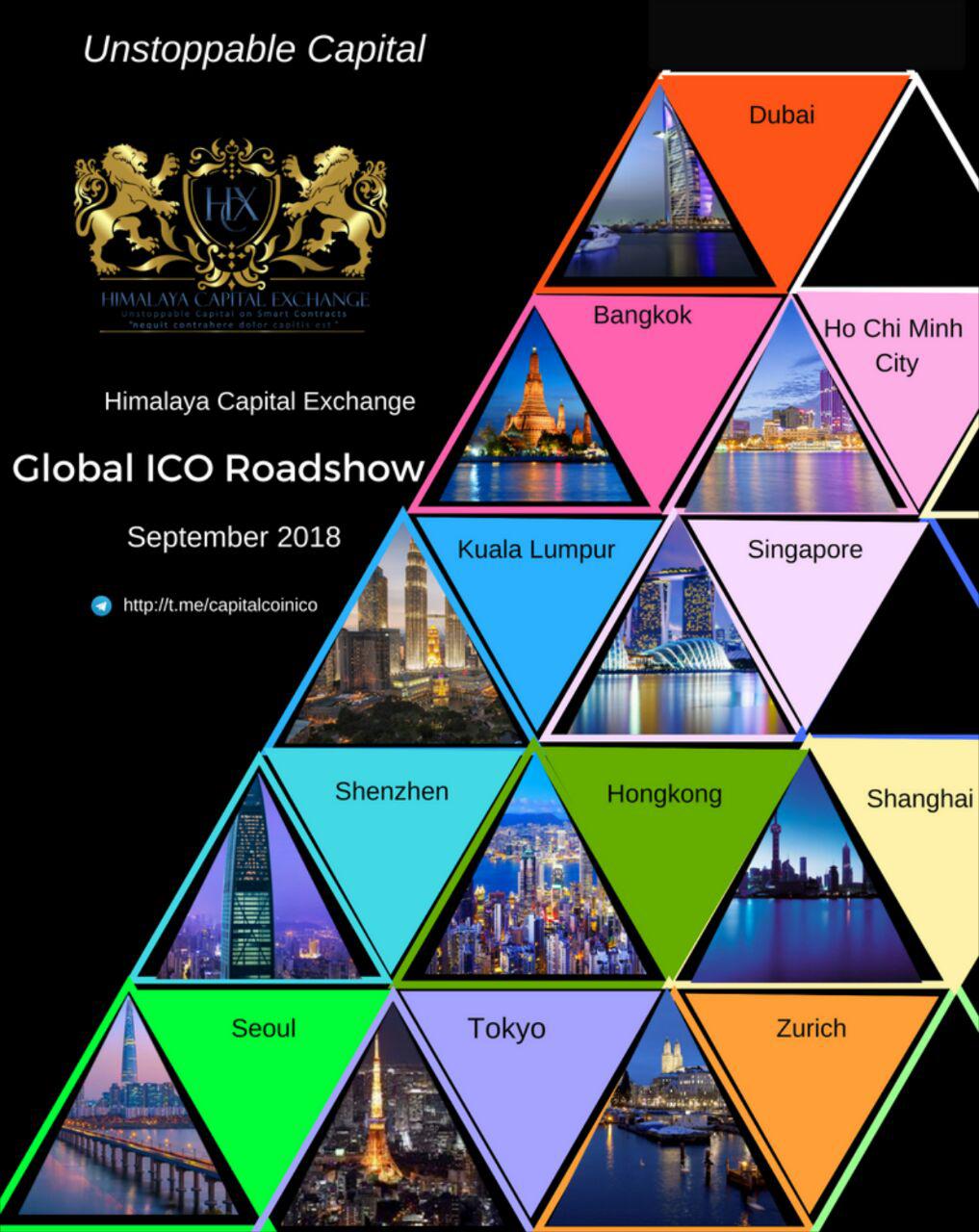 All blockchain disrupters, inventors, ICOs, Cryptocurrencies, Tokens who want to present can get in touch with us. Team@Himalayalabs.com



Disintermediation of Investment Banking by a Digital Asset Issuance Platform:

A Smart Contract Architecture can replace everything an investment bank does in securities issuance — book building, IPO pricing, algorithm-based allotment of digitised assets to various subscribers, accepting payments and issuing digital securities, custody of digitised assets Cost saving, for example:

Taking Away IPO fees of 7–10%

De-risking of issuance process :

Eliminating counter-party and settlement risksPost-issue management of investor base and performance reporting

Digital coupon and dividend distribution

Global Open Access Trust-less Platform for direct interaction between Investors and Capital-seekers

Global efficient capital flows between countries

Potential App Market Place for Asset Management Industry and intermediaries to build on our Core Platform

Reputation scoring of investors and issuers enabled over time

Potential platform for independent service providers to sell Research, Due Diligence, Legal and Regulatory Products

Decentralisation of Access to Capital!

Decentralisation of Innovation!

"As a professional provider of investment advisory services, including, for example, management of liquidity funds on stock exchanges, we are very interested in lowering the transaction fees as those direct expenses paid to different counterparties like DMA brokers, custody etc lowers the returns for our customers. So we are very interested in such an exchange that would give us the reasonable safety within the regulated scope and good fees to more bigger returns." - Alexander Zitsev, Founder, Raison AI

"As if online book building/ trading was not enough, the Crypto Economy, with a much more vast array of possibilities is likely to overhaul the way in which primary and secondary capital markets operate. To pick just a couple of aspects that are 'ripe targets' - the current, less than optimum allocation and settlement protocols are suddenly looking almost archaic, highly inefficient and often described as bordering on being unfair."- Maneesh Malhotra, Capital Coin ICO Adviser, Senior Debt Capital Market Specialist, having worked with HSBC for almost 2 decades in India and South East Asia, opened new currency and geographical markets for a vast array of capital raising entities, while maintaining a deep interaction with regulatory bodies in different jurisdictions. He now works at a boutique Corporate Finance Advisory outfit in Singapore, covering Asia Pacific region.

DGCAMP serves as a substitute to the current manually-intensive, time-bound and costly processes involved in the issuance of real world securities for corporates, governments, and non-profits.

About Ms Arifa Khan, Founder Himalaya Labs, Capital Coin


Arifa Khan is Ethereum India Partner.

Arifa's latest project is setting up a Decentralised Capital Markets Platform for Initial Public Offerings through a tokenised platform for securities. She will be leading the Capital Coin ICO in early 2018 as CEO and Founder. Arifa is Member WhartonUK Club Committee, Founder Europe-India Conclave Series, speaker at ICBI's "Payments International 2015" and an acclaimed painter. Arifa has spoken at several international blockchain conferences alongside Vitalik Buterin. She was a speaker at several international blockchain conferences in 2017 in Macau, China, Ethereum India Summit featuring Vitalik Buterin, Davos (D10e), Istanbul (ICO Summit), Bengaluru Tech Summit, Kiev (Blockchain UA) etc.

She is a London based Blockchain & Fintech expert, a seasoned Banking & finance, strategy and operations executive, with over 15 years experience in Investment banking, Leveraged Finance/ Financial Sponsors Coverage/ Debt Products & Credit. She has worked with two suisse banks Credit Suisse & UBS, which honed her ability in deal origination, analysing strategic growth maps of companies, leading teams for impeccable execution. She has deep sector expertise in Banking & Financial services & Fintech, operational insights, the business acumen to forge big strategic partnerships. She currently advises Government of India on infrastructure financing. Arifa has an MBA from The Wharton School of Business, USA. She is also mathematically gifted, and has a B.Tech from IIT Madras. She is a Blockchain evangelist. Her profile features in Femtech Leaders.


Hello folks
2017 has been a smashing year for the blockchain industry. 2018 is going to be even bigger! Get ready for 2018!
18 July 2018
Himalaya Capital Exchange CEO Arifa Khan & CSO John Puttick
Ask me Anyting Session in London 6-9pm
6:00pm - 8:30 pm
Venue : The Angel, 73 City Road, London
We have just launched the white paper at Himalaya Crypto Summit 25-26 May in Mumbai. Please access the white paper here: http://wolfgangflatow.com/himalaya
Watch John Puttick's talk on the future of Capital Markets here
https://www.youtube.com/watch?v=mj11rK0FS3g
John Puttick has a fifty-year career in the development and governance of technology-based enterprises. He is a systems professional with a long list of accomplishments in successful systems architecture, development, delivery and management. He formed and built GBST into a significant international systems provider to capital markets with operations in all key time zones. During this time, GBST developed a good reputation as and innovator bringing many firsts to its clients - STP, real-time portfolio, WFM, smart contract evaluation, online trading, multi-entity & multi-jurisdictional ledger to name some. GBST platforms transact $Billions per day and manage in excess of $500B AUM.
John currently Chairs Over The Wire Ltd and TandA Ltd, both IT service companies. He has extensive experience in governance in the non-profit and higher education sectors. We are pleased to have John's skills and unstinted support available to us full time during the formation stages of Himalaya Capital Exchange.
Arifa Khan is the founder & CEO of Himalaya - Capital Exchange, a next generation stock exchange on the Blockchain. It is a project aimed at creating a tokenised platform for Initial Public Offerings (IPOs) on a global, borderless, stock exchange. This Platform as a Service (PaaS) eco-system would offer an alternative to investment banks that are currently mandated to lead- manage IPOs, and give corporates and other entities raising public capital, a more democratic option at much less cost and with instant access to global investors. The platform would run on smart contract algorithms and at a later point make use of Machine Learning and AI in creating a marketplace for securities. Arifa is currently India Partner of the Ethereum Foundation, and has been a Blockchain evangelist since 2014.
Arifa Khan is a Blockchain researcher based in London, and has been an adviser to The Chief Minister of Andhra Pradesh. She is currently building the Ethereum community in India and lobbying with the government on behalf of the crypto community. She is inspired by the vision of crypto founders Satoshi and Vitalik, and wants to contribute to realising their vision, and to build an architecture for big real world use-cases and explore intersection of futuristic technologies like AI, blockchain etc. Arifa also advises Govt. of India on infrastructure financing.
She was an Investment banker with Credit Suisse & UBS and experienced in Leveraged Finance/ Financial Sponsors Coverage/ Debt Products/Capital Markets & Credit.
Arifa has been listed as a Top 100 Fintech influencer by Lattice 80. She was also listed in Economic Times 30 under 30. She is a widely published author in mainstream media. She has given keynote speeches as an internationally sought after speaker in over 10 countries across Europe, Asia, China.
She travelled to the USA in 2002 to pursue an MBA with Finance Specialisation at Wharton Business School, University of Pennsylvania. She is mathematically gifted, and has obtained a Bachelor of Technology degree from the world renowned Indian Institute of Technology, Madras.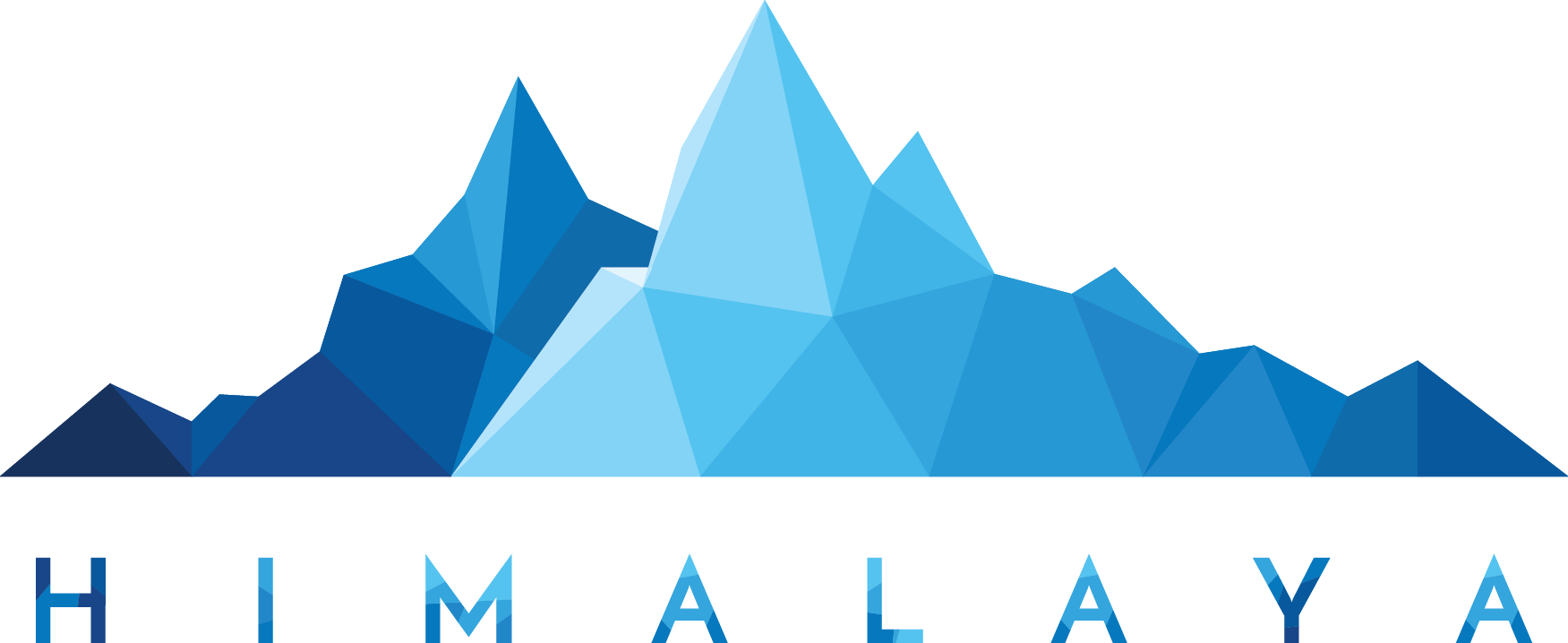 Drop us an email team@himalayalabs.com
Join our telegram channel for daily updates. http://t.me/capitalcoinsummit
http://t.me/capitalcoinico
Join our wechat group "Capital Coin" .
************************************

Himalaya Labs would be presenting their revolutionary next generation stock exchange platform - Himalaya Capital Exchange, a crypto NASDAQ that runs entirely on smart contracts- for entrepreneurs around the world to raise capital from global investors in seconds, for legally compliant shares and bonds.


About Himalaya Labs Ltd
Himalaya Labs is a Blockchain venture creating the world's first decentralised capital markets platform for investors and issuers, where smart contracts do the job of investment banks and intermediaries. A traditional stock exchange is replaced by an algorithm-driven marketplace where algorithms guide the listing price, and the token economy participants regulate, curate and monitor the risks and rewards of companies accessing public capital through ISTOs "Initial Security Token Offerings". The token marketplace plays the role of investment banks, cutting out the 10% IPO fees. Founder & CEO Arifa Khan is an IIT Madras graduate and a Wharton MBA with a background in investment banking and Cryptocurrencies.
Speakers, Sponsors, Exhibitors
For further details, email team@himalayalabs.com

Nick Szabo the polymath crypto pioneer to grace Himalaya Capital Exchange White Paper Launch at Himalaya Crypto Summit in Mumbai 24-25 May 2018
Watch Nick Szabo Video here
See video here
https://youtu.be/UCcVb-DRZ3I
Sign up for How to Launch a Successful ICO in 3 mnontsh workshop 2 August London.
http://himalayaicoworkshop.eventbrite.com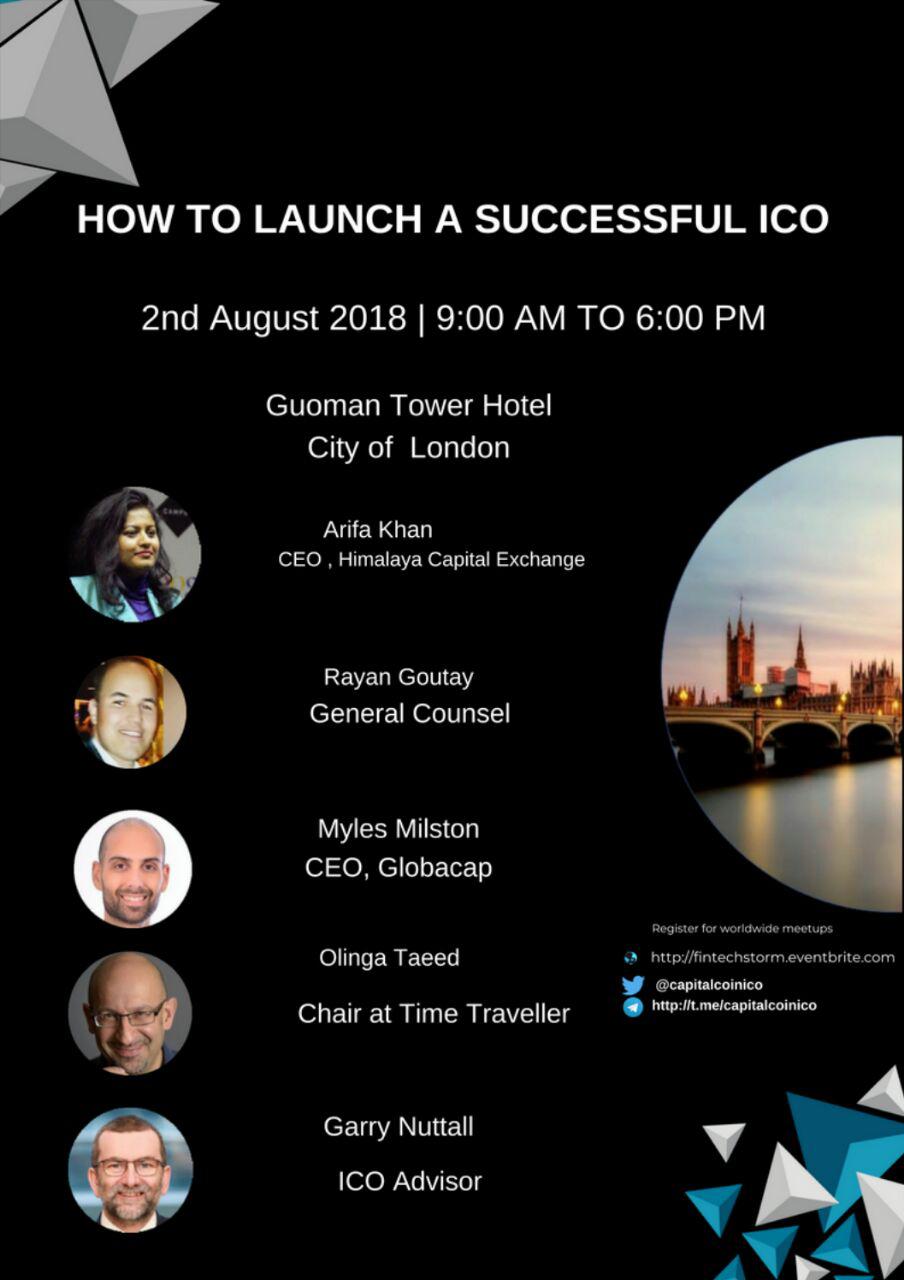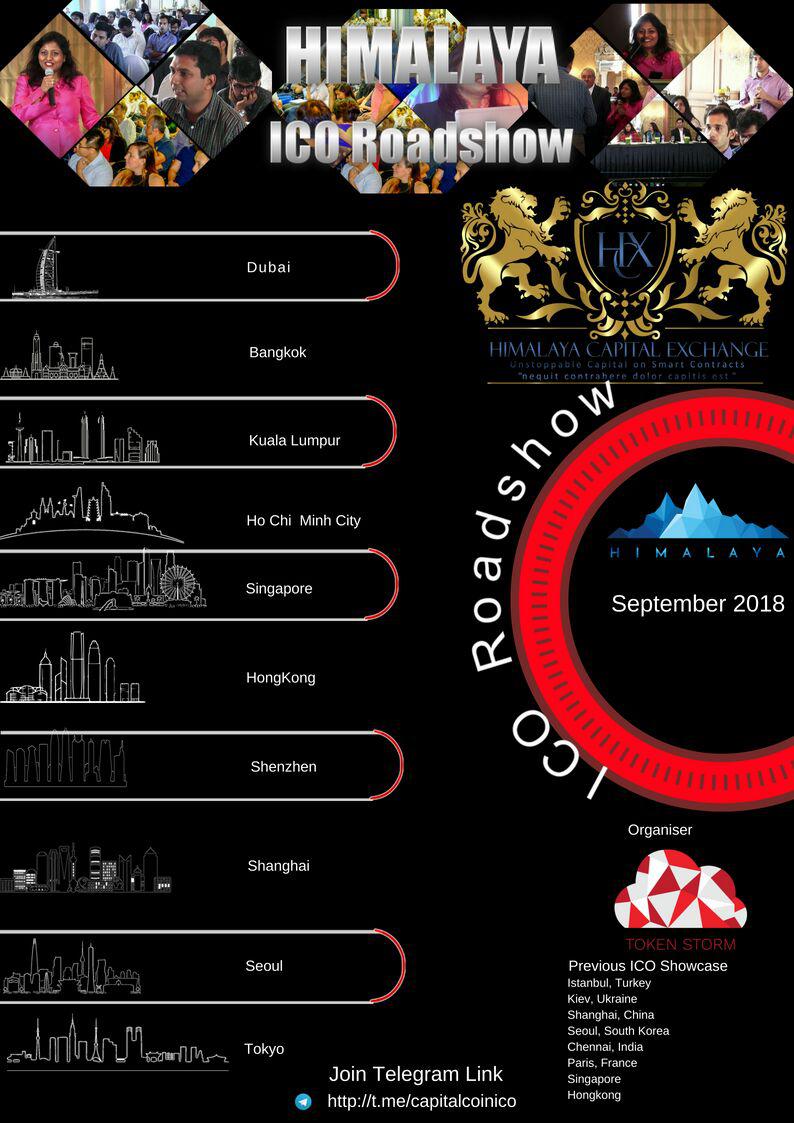 If you'd like to talk to the organisers, or join their project - drop an email to team@himalayalabs.com