Description
Blockchain Thursday is going on tour!
Come join us in having specialized conversations around the topic of Blockchain, Web 3.0 and the future of technology!
Our discussions are part technological, part philosophical, part economical with a twist of imagination and humor.
Every 2 weeks Blockchain Thursday will host roundtable discussions at different Fueled Collective locations.
Guest tickets are required for non-members of Fueled Collective.
Members of Fueled Collective receive tickets at no charge with secret code (Find them in your local FUCO Slack channel).
---
This week's topic is: How Do We Scale???
Let's face it, today, blockchains are slow. However, Rome wasn't built in a day and neither will Web 3.0! So, who's doing the good work at solving this problem? Come join us at Blockchain Thursday this week where we will discuss the projects pioneering this infastructural space. We will talk about Segwit, Lightning, Ethereum's Plasma and more!
This is a casual and open roundtable discussion in a relaxing and studious co-working environment where participation is encouraged!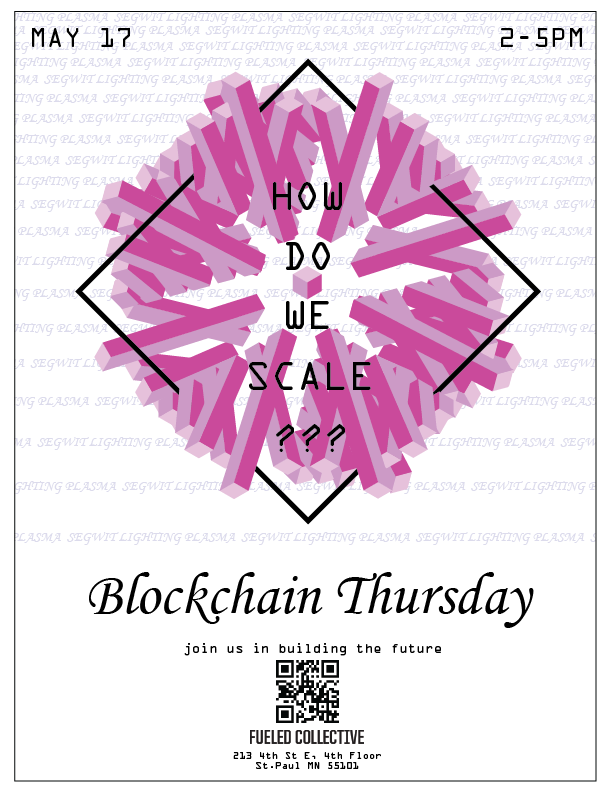 All posters digitally timestamped to a public blockchain: https://www.ascribe.io/app/pieces/47715