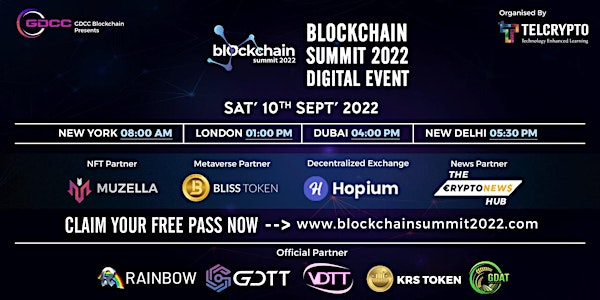 Blockchain Summit 2022
The undisputed Blockchain event where global industry leaders, startups and game-changers unite to unveil the future.
About this event
WHAT TO EXPECT FROM THIS EVENT?
Inspiring Speakers - Hear about blockchain technology, digital currencies, and crypto from visionary speakers with frontline experience.
Interactive Programme - Take part in interactive sessions featuring live Q&A - bring your burning questions that keep you up at night.
Use-Cases - Learn about the latest use-cases from the innovators. Insight from experts on ``how to``!
Exclusive Audience - The event brings together finance professionals and technology leaders in a purposeful, digital setting. Meet and learn from the most influential industry innovators and decision-makers.
On-Demand - Watch video highlights, listen to podcasts, read editorial summaries, and download the market report.
• Do you work in financial services and/or digital currencies,
cryptography, and blockchain technology?
• It is important for you to get the latest industry insight, from experts
on the frontline, delivered in a way that fits your busy schedule.
• We have gathered 15 world-class speakers to discuss the major
topics facing the Financial Services industry, presenting real-world case
studies, and answering your questions.
• Learn about the most pressing topics in the industry and address the
most pressing challenges live.
• Watch video highlights, hear best audio clips, and read editorial
summaries of the most important talking points from the event.
• A live webinar is an interactive, fast-paced presentation that will
keep you engaged - not the usual boring PPT webinar!
• Each session is then adapted so you can review the important
points even when you're away from the live arena.
• Register for free now and take advantage of the on-demand and live
content of the world's leading Blockchain for Financial Services
conference.
For Becoming a speaker mail us on : info.telcrypto@gmail.com
DIGITAL SUMMIT DATE AND TIMING.
10th September 2022
New York – 8 AM
London – 1 PM
Dubai – 4 PM
New Delhi – 5:30 PM