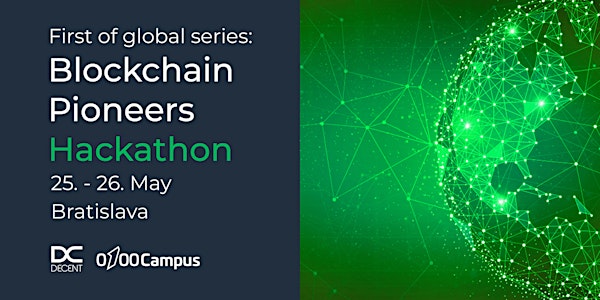 BLOCKCHAIN PIONEERS HACKATHON BRATISLAVA
When and where
Location
0100 Campus Staré Grunty 18 841 04 Bratislava Slovakia
Description


Develop a Solution and Win

~18 000€

in Just 1 Day!
Be a part of Blockchain Pioneers 2018, the first of a global series that will continue to cities like Berlin and Shanghai, and spread out across more than 3 continents!
Hack, learn, pitch, be the best, and win not only a big prize, but so much more! The winner will get a chance to compete with winners from other cities and possibly get mentorship and collaboration with DECENT as well.
Besides meeting a lot of new innovators and entrepreneurs, you will have the chance to learn from the domain experts who will host our series of workshops throughout the event.
DECENT is an immensely fast growing startup with one of the first ICOs ever done! We are looking for solutions that can be built on our custom-made blockchain platform, DCore, along with future collaborations.
REGISTRATION
You are free to register individually or as a team of 2-5 people. Teams will be nominated based on their project description - please continue with registration to provide a description of your idea. If you'd like to attend and don't have your own idea or team we will assign you to one.
TECHNICAL INFO
The solution you or your team come up with will be developed on DCORE. Please find more information here: dcore.decent.ch
Technical documentation: docs.decent.ch
And Web SDK: github.com/DECENTfoundation/dcorejs
TOPICS
Enterprise – Projects that have the potential to improve operational efficiency, e.g. process enhancement, automation of manual tasks, reduction of reconciliation tasks, etc.
Transformation – Projects that have the potential to enable business model innovation, or have implications in how businesses, Government and society interact, and are associated with institutional change.
All projects will be judged for their viability and impact.
OPEN IDEAS provided by DECENT
Topic 1 - B2C Token Based Premium Content Distribution
Design a platform to allow media companies the ability to distribute the premium content thru Decent smart contracts.
E.g. a plug-in to their video player that would be behind the scenes. All using the Decent token to encrypt and unlock the content.
Topic 2 - B2B Content Distribution Service for Broadcasting Industry
Design a basic streaming service. Service should authenticate subscriptions and content transactions using DCore and stream HLS (HTTP Live Streaming) file from CDN. In addition to this, the services should be able to redistribute royalties or license fees to respective parties.
Topic 3 - Blockchain Ad Management Platform
Design a digital advertising platform that would manage, deliver, report and settle transactions related to online advertising services. The aim of the platform is to shorten the digital advertising supply chain, enable transparent self-executing contracts, and settle payments in a fast, efficient, low cost manner.
Topic 4 - United Hospitality Reward & Loyalty System
Design a phone based cashless payment system that would engage travelers, hospitality and leisure businesses, merchants and other actors and enable a direct interaction and easy targeting of interest groups. The system should be motivational and rewarding for both business and travelers to ensure its mass adoption.
Topic 5 – Smart Contract Enabled Blockchain Smart TV App for UGC (User Generated Content)
Design an open source Smart TV App based on Decent smart contract blockchain to enable the users to upload UGC (mainly short movies, songs, ebook etc.).Different platforms can be used like Android, Apple TV, Web OS etc.
PROGRAM
Friday May 25th:
14:00 - Registration
14:30 - Welcome to 0100 Campus and DECENT's Blockchain Pioneers Hackathon!

14:40 - Instructions (premises, wifi, schedule, org. team, etc)
14:45 - Presentations of all ideas & Team forming
15:30 - Introduction to DCore
16:00 - Hackathon begins!
18:00 - Workshop: Michal Vanovčan - Blockchain and Traditional Banks (discussion)
19:00 - Workshop: Matej Nemček - How to CRYPTO
20:00 - Dinner
21:00 - Hacking continues
00:00 - Midnight snack
Saturday May 26th:
08:00 - Breakfast
10:00 - Workshop: Vladimir Liulka - ICO is a Good Choice for Startup...or not?
11:00 - Workshop: Martin Hauge - How to Pitch Your Project Like a Pro
12:00 - Lunch
17:00 - Final presentations submitted
18:00 - Final presentation to judges (5 min presentation, 3 min Q&A)
19:30 - Winners announced
20:00 - End
WHERE
The event will take place in 0100 Campus, Staré Grunty 18 Bratislava, 2nd floor, from Friday, May 25th to Saturday, May 26th.
PRIZES
Teams will compete for the best project and can win up to 20,000 DCT! They will have a chance to compete with the winners from future DECENT Hackathons from all around the world and to collaborate with DECENT.
0100 Ventures will also award a 0100 Campus prize, which will consist of free use (for a limited time) of 0100 Campus coworking space and mentoring sessions with 0100 Campus network including entrepreneurs, investors and technology professionals.
JUDGES
Michal Géci – Head of Innovations, DECENT

Peter Študent - Head of Software Development Team, DECENT

Martin Králik – Head of Product Management, DECENT

Tomáš Varga - Head of Strategy, DECENT
MENTORS
Richard Roznovjak – Blockchain Developer, DECENT

Patrik Csokas – IT Manager, DECENT

Ronald Filo – Head of Research, DECENT
FOOD
We've got you covered! Friday dinner, Saturday breakfast and lunch will be waiting for you. Plus some snacks and beer!
If you'd want something extra there's bar facility at hand and access to grocery store and other restaurants.
REIMBURSEMENTS
Teams and individuals coming from outside of Bratislava will be eligible for travel reimbursement. Please apply for reimbursement at the registration. One person is eligible for 150 Eur. In order to be eligible, please bring the travel document or receipt to the event.
OTHER INFO
For updates and more info, please see:
https://www.facebook.com/0100campus/
FAQs
Are there ID or minimum age requirements to enter the event?
If you are under 18 years old, please contact the organizers.
How can I contact the organizer with any questions?
In case of any questions please contact us at tereza@0100campus.com
Workshop Partners: Slovenská Sporiteľňa, Danube.Digital, Naytrolabs, ProgressBar
Media Partners: Slovak STARTUP, Refresher, Startupers
Network Partners: Blockchain Slovakia, Progressbar, Jihomoravské inovační centrum