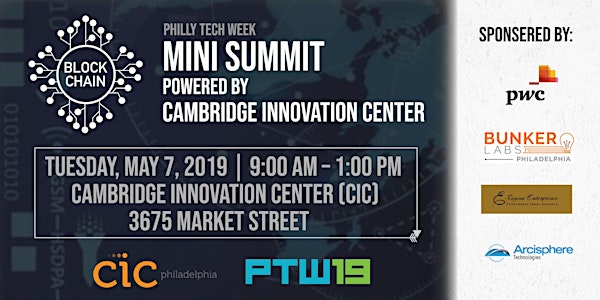 Blockchain Mini Summit powered by Cambridge Innovation Center
When and where
Location
Cambridge Innovation Center (CIC) 3675 Market Street Philadelphia, PA 19104
Description
Blockchain Mini Summit powered by Cambridge Innovation Center
Event produced and managed by E-Region Enterprises for #PTW19
Please join Philadelphia's influential BlockchainThought Leaders for a half-day conference on how blockchain technology is impacting industries and our community.
Moderators:
Beverly Chandran, IT Program Management and Cyber Security
Ms. Beverly Chandran is an accomplished entrepreneur (IT and Real Estate Expert) with 25+ years of relationship management, telecommunications, information technology, banking, and real estate experience. Highly effective communicator and team builder with master negotiation strengths as well as the ability to lead, reach consensus, establish goals, and attain results in an expedient fashion. Outstanding performance with Fortune 100 companies as well as small 8A designated businesses. She is passionate about taking a leadership role in developing STEM programs and services around policies that shape advancements in employment, technology, housing, and environmental issues. Connect with Beverly via LinkedIn or email her at ChandranTechInfo@gmail.com
Carmilia Henry is a Senior Executive with extensive experience in managing, designing, implementing successful customer and business solutions in Technology, Finance, Banking, Public Utility, Healthcare, Investment Management, Credit Cards and Chemical Operations Industries. Ms. Henry has an exceptional track record with performing Risk Management, IT and Cyber Security Assessments, assembling and inspiring effective teams, developing cost benefit savings, exercising risk management best practices while achieving global productivity improvements and top-winning executive leadership solutions. Carmilia also has over 15 years in Risk Management, and 10 years experience as a Chief Information Officer (CIO) and Chief Technology Officer (CTO) in both public and private companies in her 25+ years of diverse experience.
Agenda:
9:00 -9:30a
Topic: Blockchain, Cryptocurrency and its impact on the digital economy
Speakers: Eileen Gadsden, MBA - is an IT Thought Leader, Blockchain Evangelist, and third generation US Military Veteran. As Founder of E-Region Enterprises, she provides her clients with solutions for operational challenges using finance, marketing, and technology strategies. E-Region Enterprises core clients are technology and STEM non-profit organizations. In 2018, Eileen was selected for PA Governor Tom Wolf's Teacher in the Workplace/Johnson Controls cohort to educate teachers on careers in STEM. In 2013, Eileen was recognized by the NAACP Philadelphia Chapter (104 Most Influential Women in Philadelphia) and CBS Philly Brotherly Love for her work as Chapter President of BDPA Greater Philadelphia (2012-2015), BDPA is a nationally recognized professional IT organization committed to reducing the digital divide through education, career development, professional networking, and entrepreneurism. In 2018 Eileen has begun evangelizing the benefits of blockchain as a solution and workforce development. Through a joint partnership agreement/sponsorship with Jim Sullivan, Archisphere/E-Region Enterprises will be offering blockchain certification courses through Government Blockchain Association.
9:40-10:00a
Topic: Blockchain Apps: Ethereum, Smart Contracts, and Universal ID Management
Speaker(s): James Sullivan, President and Technical Lead of Arcisphere Technologies. Jim Sullivan is a Software Engineer with 17 years of experience in the Computer Science and information technology field. Jim has a Bachelors of Science in Electrical Engineering from the New Jersey Institute of Technology (NJIT), a Masters-of-Science in Computer Science from Villa Nova and an MBA. Jim is certified by MultliChain Blockchain, AWS, IBM, IBM DevOps, SAFe and others. As a software engineer and a consultant, Jim has extensive IT experience with pharmaceuticals, healthcare, financial services, insurance, defense, and many other industries. As a solution provider with Arcisphere Technologies, Jim is a Blockchain professional. Arcisphere recently became partners with the MultiChain Blockchain company. Arcisphere is also AWS, IBM, McAfee and SAFe partners. Jim is also a software developer with expertise in web and mobile and has built web-based Blockchain applications. Jim is enthusiastic about delivering solutions for the client.
Jai Vyas is a Solutions Architect at Veritone Inc an AI-based Company in Costa Mesa California. Jai has worked with several startup companies driving innovation and strategy. He was previously worked at Calkins Media as Director of Digital Strategy and Innovation and Frankly Inc as Director of Solutions Engineering. Jai has a passion for innovative technologies and has helped many partners implement and create new revenue sources from them. Jai has a Bachelors of Business Administration from Hofstra University and an MBA from Long Island University.
10:30 -11:15a
Topic: Blockchain and its impact on Supply Chain Management
Speakers Include:
11:30-12:15p
Topic: Blockchain Healthcare and Artificial Intelligence
Speakers: Ed Burkstel, Founder of Clinical Blockchain Mr. Bukstel has 30 years of clinical data integration, data security, and communications experience. He has successfully licensed systems and services to companies, including international pharmaceutical and managed care organizations. Mr. Bukstel designed one of the first Electronic Medical Record Systems that incorporated data communications standards and was a founding member of the ASTM E1238 Standard that became the foundation of HL7. He has been a national speaker on electronic data interchange and has been a guest lecturer at The Wharton Business School. Mr. Bukstel has written extensively on Blockchain and Healthcare and founded Clinical Blockchain in August 2016 to address Patient-Doctor Messaging on a Blockchain Platform. Mr. Bukstel also teaches Advanced Pharmaceutical Blockchain Certification curriculum for the CFPIE.
Mike McCoy, Accenture, Blockchain Implementation Manager. Mike McCoy is a Blockchain and Emerging Technology Implementation Specialist running the CMT Blockchain Practice in the Northeast at Accenture and leading the 'Blockchain for Healthcare' curriculum starting at Thomas Jefferson University this fall. Mike helps build technical architecture and advise enterprise companies on how to utilize blockchain technology to interoperate and share data faster with more security. In his work, he believes that distributed ledgers, automation and AI have the power to change the ways businesses operate and continue to functionally grow siloes where all consortium members receive value. A Philadelphia native, he also has worked on projects utilizing Machine Learning, Quantum Computing, Big Data, Data Science and Data Analytics.
12:20 -1:00p
Topic: Texel Tulips - Using Blockchain in Gaming
Speakers: Sam Weinrott/Texel, founded in 2018, is an online gaming experience, a digital art installation, and a social experiment. Our tulips are programmatically generated, genetically expressive, provably unique, and stored on the blockchain. Each tulip is a beautiful, unpredictable piece of digital art. Soon, you'll be able to plant, grow, breed and exchange them. The Texel team includes Mark Willis (artist, designer, directed web & digital strategy at Harvard University), Sam Weinrott (developer, filmmaker, Philadelphia blockchain community leader), Eric Manganaro (blockchain developer, musician, natural language processing at University of Pennsylvania), and Andrew Malkin (blockchain engineer). The team is based in Philadelphia.
THIS EVENT WILL BE FOLLOWED UP BY A HAPPY HOUR SPONSORED BY ARCISPHERE, BUKER LABS & PWC.

POST EVENT HAPPY HOUR WILL BE FROM 2:30 -4:30 PM AT
Landmark Americana, University City
Address: 3333 Market St, Philadelphia, PA 19104
MUST HAVE WRIST BAND TO ENTER (These will be handed out at the event, first come first serve)
Signature Sponsors:
Cambridge Innovation Center (CiC)
Edward Bukstel

Clinical Blockchain CEO

Beverly Chandran

IT Program Management and Cyber Security Senior IT Professional

Eileen Gadsden

E-Region Enterprises Managing Principal

Christopher Gilchrist

PwC Senior Mgmt Blockchain

Billy Gouveia

Jumbbit Co-Founder

Mike McCoy

Accenture Blockchain Implementation Manager

Dhairya Pujara

Ycenter CEO

Jim Sullivan

Arcisphere Technologies President

Joe Witte

TagOne VP of Ecosystems and Partnerships