Event Information
Refund policy
Contact the organizer to request a refund.
Eventbrite's fee is nonrefundable.
Did you know that there are a range of positions on blockchain that you can explore without ever having to code. Live Streaming Event.
About this event

BlockDriven Academy is a leader of blockchain space when it comes to information and events. As the largest blockchain community in NYC, we bring you latest events, information and research when it comes to the blockchain industry. This events has been featured in Fortune, Forbes, Huffington Post, Crains New York, CCN, Bitcoinist.
Update Wednesday, May 6th: Early bird tickets sold out.
Update Friday May 8th: Running low on regular tickets.
The blockchain industry has been very resilient to the COVID19 crisis and we bring to you the latest updates and research on what is happening in terms or jobs, future and growth on blockchain.
In this live stream session we will cover answer to this questions:
Where is the most in demand positions in the blockchain space?
How big is the blockchain space project to grow in the next 5 years?
Which industries are growing their blockchain presence?
Whats next in blockchain space?
Companies that are aggressively expanding?
What are some blockchain hiring trends that our blockchain experts see?
What skills you need to have for the blockchain space?
Ask Blockchain experts your questions
Extensive Q&A
Did you know that there are a range of positions on blockchain that you can explore without ever having to code. Blockchain space has seen some tremendous change over such a short time, and we will keep you up to date on the major trends, changes and developments.
"When it comes to remote-only roles, the numbers are more dramatic. Since the beginning of January 2020, the share of all job postings that are for remote roles related to cryptocurrency and blockchain increased by a whopping 40.3%. In March 2020 alone, the share of all job postings that are for for remote roles related to blockchain increased by 42.86 %. " - Forbes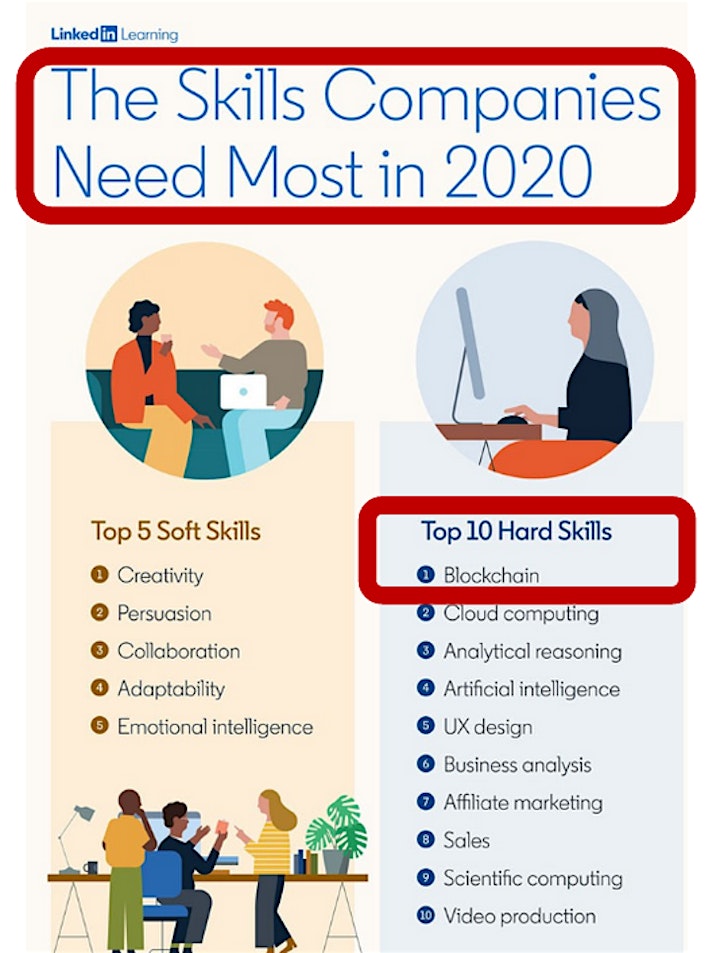 As part of BlockchainDriven, we have seen the blockchain space undergo rapid changes from being crypto and marketing focused in 2017, developer focused in 2018 to project management in 2019.
"Last year, cloud computing, artificial intelligence, and analytical reasoning led LinkedIn's global list of the most in-demand hard skills. They're all on the list again this year, but a skill we weren't even looking at a year ago — blockchain — tops the list of most in-demand hard skills for 2020. " - LInkedin
Now you can discover what blockchain job trends that are leading in 2020, it is not accidental that LinkedIn called Blockchain the #1 Skill in 2020

All these questions and more will be covered at the session. If you wanted to get a deeper look into potential opportunities in blockchain. This session will have it all.
We will be presenting internal research and in depth analysis for this future facing session, and you are an exclusive audience. Get an in depth look into the future hiring trends of blockchain, see what's coming up around the next hiring corner, and get the chance to be the first to act on these findings.
If you are curious about the blockchain space, this is the session for you. You might be already working or just interested for the future, this will lay out facts, details and insights into the depth of the desirable blockchain industry.
"According to Indeed's data, companies hiring for jobs related to blockchain in 2020 include:
IBM
Cisco
Deloitte
Coinbase
JPMorgan Chase
Facebook
Accenture
Ripple
EY "
- Forbes
Even if you are not looking to join the blockchain space just yet, it is unquestionably growing very rapidly and will affect almost every industry over the next few years. A recent Forbes article "Inside Blockchain's Coronavirus Hiring Spree" reported an increase in jobs from top companies looking for roles in blockchain.
The objective of this session is to help you understand what is possible in blockchain space, and help you see and assess realistic opportunities in this growing space even despite the crisis.
We have 2 experts in blockchain sharing what is next for career in blockchain. They will shed a light on what to expect from blockchain space job market in 2020.
Art Malkov - Chief Digital Officer at BlockchainDriven / Advisor at Columbia IBM Blockchain Lab to Market Accelerator/ Managing Director at BlockchainWeekend
Speakers:
He was one of the early pioneers of the blockchain digital space and has been working full time at BlockchainDriven since 2016. He is a founder of BlockchainNYC, largest blockchain community in NYC. Art is a digital advisor and mentor for Columbia-IBM blockchain accelerator startup cohort. He is a managing director and visionary of BlockchainWeekend, a 50+ blockchain events initiative in collaboration with NYCEDC that took place this November 2019 in NYC. Art has been featured in Business Insider, Forbes, New York Times, Huffington Post, Crain's New York, Bitcoinist and a range of other publications and conferences.
Harrison Wright, The Blockchain Recruiter
As a veteran in the staffing industry, Harrison aids individuals and companies to find their perfect career and hiring match in blockchain space. He sees potential and helps individuals find their perfect fit in the blockchain space.
Podcast on Careers in Blockchain with Art Malkov and Adam Torres.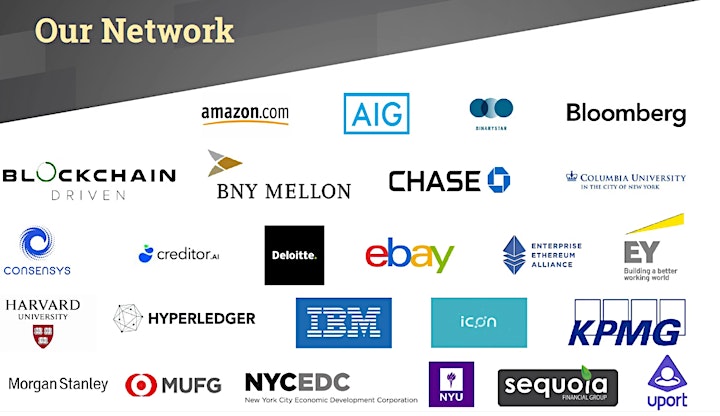 With this Eventbrite ticket in addition to this session, you will get complimentary access to BlockDriven Academy library of blockchain information for 30 days.
And as a BlockDriven Academy member, if you miss this session live, you will have access to the recording. We are adding new sessions, expert interviews and job updates weekly. In addition, you will get curated versions of blockchain activities from blockchain pros and experts, who will guide you through the crypto news noise and focus only on important elements of blockchain growth and innovation. Including trends, jobs and much more.
As a BlockDriven Academy member you will :
Prepare for the new job market paradigm
Be up to date on all the important upcoming blockchain events
Get complimentary and discounted access to biggest blockchain conferences and events
Direct access to expert analysis and impact news in blockchain space
Community forums - learn and engage with like minded blockchain community
Be the first to know about blockchain job openings and opportunities through our weekly job and news update (Starts in mid may)
A growing resource section with discounts, tools and exclusive material only for Academy members.
Monthly live Q&A calls to answer all you questions
All attendees of this session will receive 1 month complimentary membership to BlockDriven Academy as part of this ticket.

RSVP in advance as we are limited capacity. First come, first serve sitting.
Date and time
Location
Refund policy
Contact the organizer to request a refund.
Eventbrite's fee is nonrefundable.
Organizer of Blockchain Job Market in 2020: Opportunities Ahead [Live Streaming]- May 13