Description
Series of CMII Blockchain Events on October 5th is as follows:
5-5:30p - Introduction to Blockchain for Virtual Reality:
In the Virtual Reality world pictured in the movie Ready Player One, what prevents someone from copying your painstakingly crafted avatar, or stealing your digital home, or worse, your reputation? What was stopping the evil mega corp (IOI) in the movie from changing the rules itself? Blockchain promises a way to own, sell, and track ideas fairly in a Virtual World. Elizabeth Strickler and Scott Driscoll will present a brief introduction to blockchain and highlight several Virtual Reality projects utilizing blockchain.
5:30-6p - Blockchain in Entertainment Panel:
As entertainment expands from linear screens and pages, blockchain is the "coin of the realm," uniting powerful fan communities in ways we haven't seen since the dawn of the Internet. Learn how blockchain presents new opportunities in storytelling and world building, gameplay, story experience, content delivery, and even data mining. If you're a fan, a creator, and investor, or a developer, this is the panel for you.
Panelists: John Adcox - Gramarye Media, Arthur Stepanyan - Gramarye Media, Elizabeth Strickler - CMII, Chris Klaus - Kava, Angeleen Wilson (moderator) - Georgia Blockchain Coalition, and Al Meyers - Monetizr.
6-6:15p - Q & A
6:15-7p - Blockchain Game and Virtual Reality Demos:
We'll have several demonstrations of Virtual Reality projects running that you can see and try. We will also play a game/simulation that tangibly demonstrates how blockchain and smart contracts function.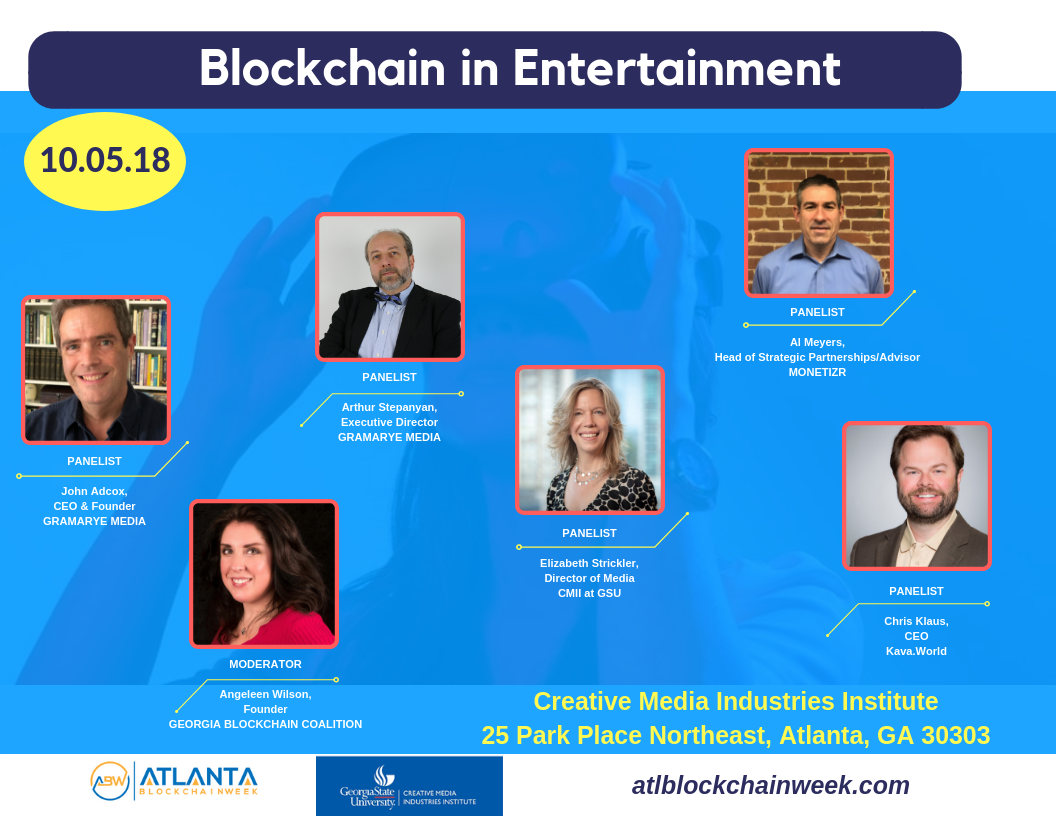 The College of Arts and Sciences Event Center is on the 2nd floor bridge between the CMII facility and the 25 Park Place building
Transportation:
Drive: Park at T-Deck
Streetcar: Park Place
Marta: GSU, 5 Points or Peachtree Center
Uber/Lyft: 25 Park Place, 30303

Click here to learn more about Atlanta Blockchain Week: atlblockchainweek.com