Blockchain in CT: What Does the Insurance Industry Need?
Description
Hartford InsurTech Hub and BlockchainCT partnering and are excited to invite you to our February event!
This event will focus on blockchain and how regulations may need to be structured to best support blockchain use cases within the insurance industry. It will touch on the regulatory, legal, human resources and other requirements that the industry requires to make development and implementation of blockchain insurance applications successful in CT.
During the first part of the social you can expect to hear from a well-known panel to cover a variety of topics as described below. During the second part of the social, we will ask to gather your thoughts and feedback.

Panel Members:
Katie Wade
Connecticut's 32nd Insurance Commissioner
Katie was appointed commissioner by Governor Dannel P. Malloy in 2015 and has recently departed this position. Before being appointed the Insurance Commissioner, Katie previously worked at Cigna, where she led a 130-member national team responsible for federal and state governmental affairs, public policy and U.S. compliance for Cigna's health, group life and disability businesses in her capacity as Vice President of Public Policy, Government Affairs, and U.S. Compliance.
Andrea Tinianow, Esq
Driving Innovation at the Nexus of Law, Business and Technology
Andrea is the Chief Innovation Officer, Executive Vice President for Global Kompass Strategies, a US-based management consulting firm. Andrea advises organizations in the private and public sectors on a broad range of initiatives involving blockchain and other emerging technologies, including creating strategic partnerships; developing new products and services; entering new and untapped markets; and identifying breakthrough opportunities. Andrea conceived and was the founding director of the Delaware Blockchain Initiative which gave rise to the "Blockchain Amendments" to Delaware's General Corporation Law. Andrea writes about the world of blockchain as a contributor to Forbes.com. She is an advisor to the Wall Street Blockchain Alliance. She is also an advisory board member of the Weinberg Center for Corporate Governance at the University of Delaware.
Patrick Schmid
Vice President of RiskBlock Alliance
Patrick G. Schmid, PhD is an economist and Vice President of The Institutes' RiskBlock Alliance—a risk management and insurance blockchain consortium. He oversees RiskBlock's products, operations and technology departments. Dr. Schmid also offers blockchain thought leadership for The Institutes and coordinates the RiskBlock consortium of insurers, brokers and reinsurers. He collaborates with industry-backed working groups and technical partners in developing production-ready applications that can lower costs, improve the customer experience and drive efficiency across the insurance industry.
Dr. Schmid formerly served as the head of The Institutes' Enterprise Research department, where he led a team of data scientists and researchers in developing analytical solutions and market insights. He has also served as the Director of Research for the Insurance Research Council (IRC), a division of The Institutes. He has an MA and a PhD in economics from Temple University.

Susan Joseph
Founder & CEO of B3i North American Representative
Susan Joseph is the B3i North America Representative, runs a Blockchain Working Group for a global insurer, and advises on digital rights, token strategies and incentives. She is a JD/MBA and former General Counsel who has been consulting in blockchain for the past three years in the areas of consortia, insurance, identity, financial services, real estate, and humanitarian concerns. Susan is also a co-founder and Executive Director of the recently launched Diversity In Blockchain, Inc. NFP which sets Best Practices for the industry. She was the first Executive Director of ID2020, consulted for IBM blockchain/identity and is an Advisor to OneWorldIdentity. She is a member of the Wall Street Blockchain Alliance, the Digital Chamber of Commerce, co-chairs the newly formed ACORD blockchain insurance working group, and sits on the FT Insurance Innovation Advisory Board.
Rohit Puranik
Portfolio Head & Associate Vice President, Infosys Ltd
Rohit is Portfolio Head & Associate Vice President at Infosys. He has over two decades of IT leadership and client management experience. Over the last couple of years, Rohit has played a significant role at Infosys through several strategic domains led engagements and client advisory roles. Rohit leads the New England region and was key in opening the Hartford Innovation Hub for Infosys. Rohit has extensive experience in client relationship management, innovation and mentoring of global delivery teams operating out of Canada, China, Dubai, India, UK, and the USA.
Rohit is the recipient of many organizational awards at Infosys. He has some very strong industry experience in Insurance, Healthcare, Long Term Care and Telecom industry verticals. Prior to joining Infosys, Rohit was a design engineer at GBGL, India. Rohit holds an MBA from the University of Connecticut and General Management from Harvard Business School.
Elizabeth Menke
Managing Director, Bentley Associates.
Elizabeth's background is in consulting and investment banking. She began her banking career in the financial institution's groups at Goldman Sachs and Rothschild. She is currently a Managing Director at Bentley Associates in New York. She is also the founder of BlockchainCT, a 501c3 dedicated to connecting the blockchain community in CT and helping make CT a center of blockchain excellence.
The discussion will be moderated by Hartford InsurTech Hub Managing Director, Dawn LeBlanc and BlockchainCT founder Elizabeth Menke.
Agenda

5:30pm - 5:45pm: Arrival and Welcome
5:45pm - 6:15pm: Panel Discussion
5:15pm - 6:45pm: Thoughts and Feedback
6:45pm - 7:30pm: Networking & Refeshments

The panel will be followed by networking and light refreshments. Please RSVP so we may plan accordingly. We look forward to seeing you there!
Hartford InsurTech Hub powered by Startupbootcamp Partners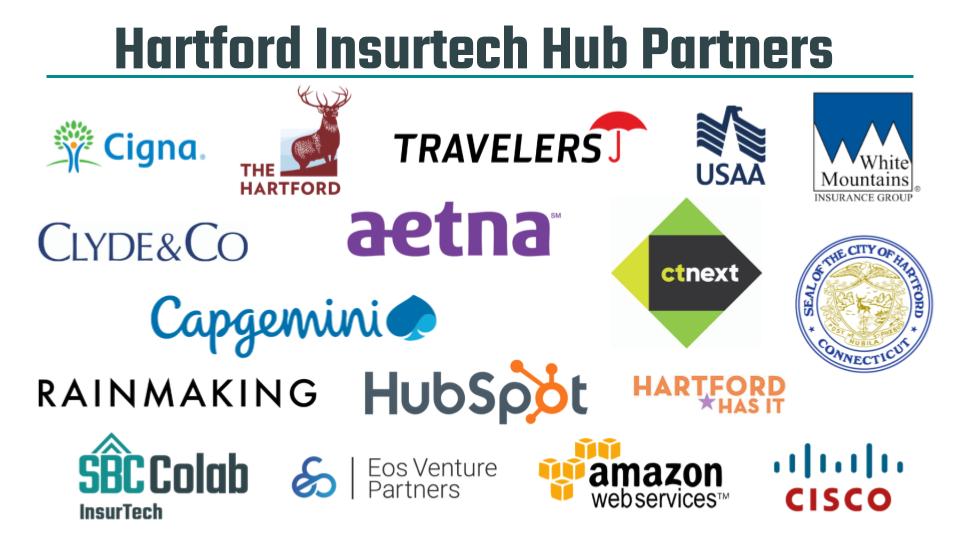 Global InsurTech Partners

Enablement Partners