Description
LEARN, NETWORK,
&

ENJOY A NIGHT ON THE TOWN

February 22nd from 5-10pm we are gathering Chicago at Venue 610 to show the world where blockchain technology is taking us. In the beginning we will focus on business & society. The focus will shift to cryptoassets as the night progresses. Kickoff 2018 in style with a new understanding of a new technology.



TICKETS $69
Discounted valet parking avaliable
Full details on our website www.blockchaininchicago.com
The great hall holds 450 seated in luxury seats. The giant HD projector screen hangs high over four white leather chairs. The balcony extends over the side of the room giving three options for seating during the panels and speakers you came to see.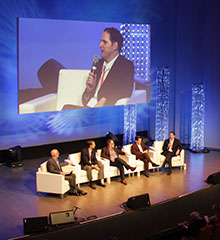 The landing holds 200+ people. Coffee, refreshments, and our workshops will be set up here. Learn, mingle, and network with our entrepreneurs, ICOs, and learning workshops. The landing will be open for the duration of the event.


OUR FANTASTIC LINEUP
(5:00-5:30) Welcome Reception
Check-in, snacks, & refreshments
(5:30-5:35) Guest Host Introduction
Holly Glowaty (Fintex Women/K+H Connection)
(5:35-6:00) Panel on developing the blockchain
Hannah Rosenberg Moderator (BOB Meetup/Velas Commerce/CBP)
Dr. Conrad Barski (CEO, Forward Blockchain)
Dev Bharel (Nussbaumer Projects)
Predrag Tomasevic (BTC Pay Server)
FEATURED PRESENTATION
Kim Parnell (CEO & Cofounder, Blank)
(6:00-6:15) Building Apps Without Code
Kim is the co-founder of Blank – A radical new way to build apps without code. AI technology automatically generates beautiful user interface design, and smart contracts, tokens and blockchain technology enables interoperability of data, app features or entire apps on the network.
Kim shares her entrepreneurial journey across many social media channels, including Instagram, Facebook, Twitter and her YouTube channels, The Grind With Kim Parnell and the soon to launch show, The Business Behind.
(6:15-6:45) Women Driving Chicago's Blockchain Ecosystem
CM! Winters (City Colleges of Chicago/The Professors)
Holly Glowaty (Fintex Women)
Hannah Rosenberg (BOB Meetup/Velas Commerce/CBP)
Lexy Prodromos (Chicago Blockchain Center)
(6:45-7:00) How to not get owned by hackers
Security Expert Jim Holcomb (Evolve Security)
(7:00-7:30) Panel on Blockchain for Social Good #BSGC
Reshma Kamath (Juris Doctor, Pritzker, Faculty, Blockchain Research Institute, ABA NextGen Fellow)
Marquis Davis (Urban Array)
Soren Spicknall (Microsoft/BSGC Meetup)
Matt Wolf (dndln.org)
FEATURED PRESENTATION
Dan Novaes (CEO Current)
(7:30-7:50) Elevating Chicago as a Hub for Blockchain
Current is creating a digital token and protocol that is a method of exchange for time, attention, and data in the digital landscape. It's starting with media, creating an all-in-one personalized experience that rewards users for streaming from the networks they love, like Spotify YouTube, SoundCloud and more.
Current has closed $36 million in its private token sale and will distribute several millions of dollars worth of its "CRNC" utility tokens to the approximately 250,000 people who have signed up to participate in its public token sale.


(7:50-8:10) Chicago Blockchain Project Presents
Blockchain Entrepreneur $1,000 Award Presentation
Disruption Joe (Chicago Blockchain Project)
(8:10-10:00) 100 COINS Q&A ENCORE
A Power Hour of the top 50 coins followed by audience Q&A
Disruption Joe (CBP)
Danny Johnson (Pink Coin)
David Carman (Fintank)
Special Guest:
Marguerite (@Coin_Artist)
Check out this Medium Post on how someone solved the puzzle to find Decred coins in her artwork!
FREE WORKSHOPS
Provided by CBP members & sponsors
BUYING YOUR FIRST BITCOIN
Crypto Tax Law
Gordon Law Group
ENTREPRENEUR SHOWCASE
$1,000 Crowd Choice Award
Entrepreneurs will be given a 4ft section of a table to decorate and set up a display or demo of their product. Attendees will be given two votes each that cannot be used for the same project. Email joe@disruptionjoe.com to apply.
The Speakers


Conrad Barski

Forward Blockchain




Dev Bharel

Nussbaum Projects




David Carman

Fintank




Marquis Davis

Urban Array




Holly Glowaty

Fintex Women




Jim Holcomb

Evolve Security




Disruption Joe

Chicago Blockchain Project




Danny Johnson

Pink Coin




Reshma Kamath

Blockchain Research Institute




Dan Novaes

Current




Kim Parnell

Blank




Lexy Prodromos

Chicago Blockchain Center




Hannah Rosenberg

Velas Commerce/CBP




Soren Spicknall

Microsoft




CM! Winters

City Colleges of Chicago




Matt Wolf

Dandelion