Description
Executive leaders and decisions makers are invited to join the Blockchain in Banking Seminar on the 4th and 5th of April. A wide spectrum of topics including Tokenisation, Investments and Crypto Banking will be scrutinized along with Blockchain real world use cases. Attendees will have the privilege to learn from financial experts, crypto engineers and first movers during this 2-day course at Swisscom Blockchain AG in Zurich.
Agenda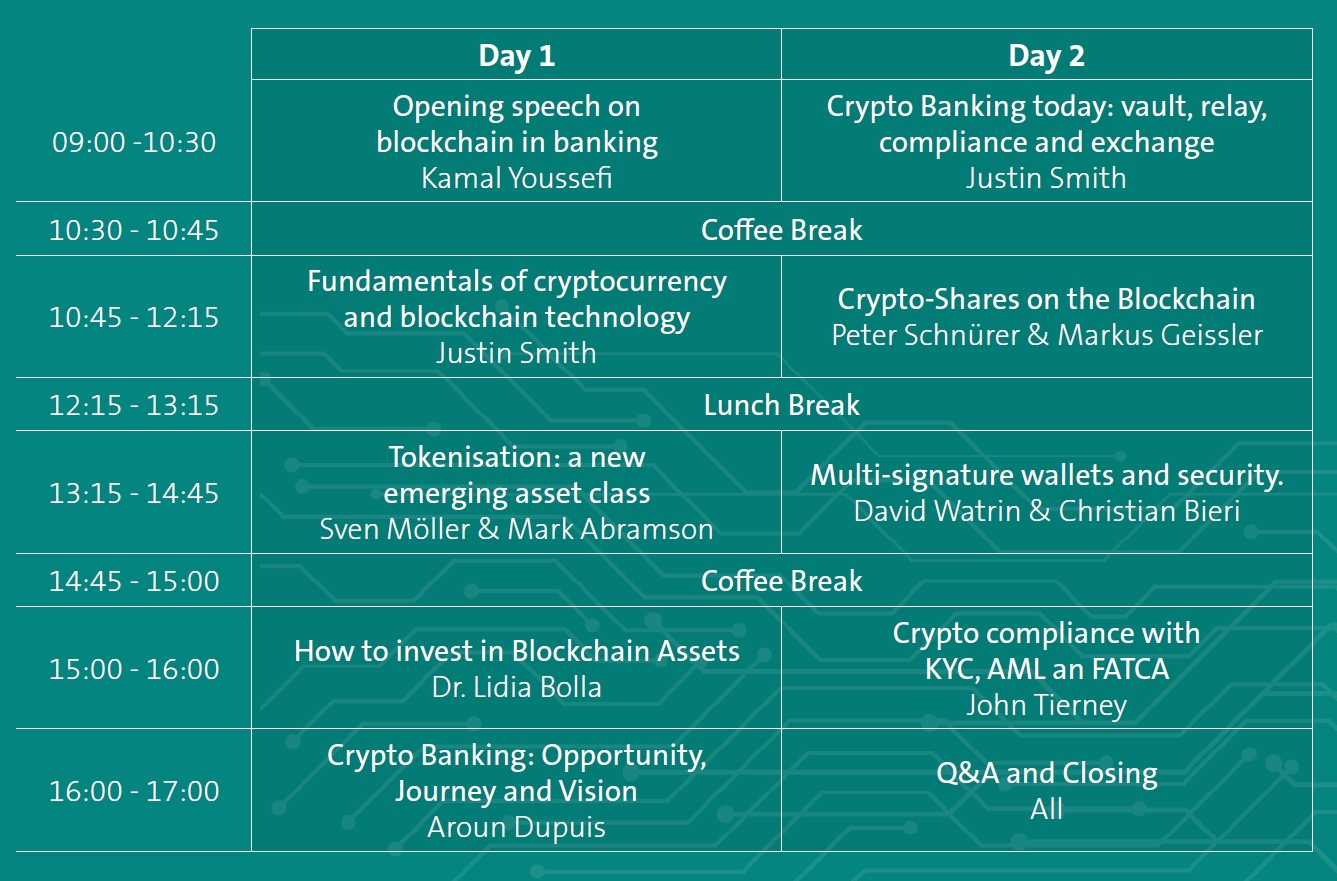 Limited seats available
Speakers:
Dr. Lidia Bolla
Lidia is Co-Founder and Managing Partner of the blockchain advisory boutique vision& and acts as Head Distribution at the digital real estate project CROWDLITOKEN. Previously, Lidia worked for major investment firms in various asset management roles in Zurich, London and Hong Kong. Lidia holds a PhD from the University of St. Gallen, specializing in quantitative asset management.
Aroun Dupuis
Aroun is a vibrant professional with 7 years experience in front-line commercial roles as FX sales and Investment Advisor. In the last years he worked for Bitcoin Suisse and Falcon Private Bank for Crypto Trading and Investment Analysis.
Justin Smith
Justin is the project lead and technical architect of Swisscom Blockchain's SBX distributed cryptoasset exchange. Justin leads the X Wallet project, an iOS interface for the privacy-focused cryptocurrency.
David Watrin
David is the Head of Product Unit "Security & Intelligence" at Swisscom. He has a passion for identifying new technologies and taking the business to new levels. David has a track record turning these insights into products.
Peter Schürer
Peter has background in banking, economics and IT. Being a crypto-finance enthusiast since the early days, he has initiated several blockchain projects, given speeches about the disruptive potential of DLT and worked with the government in Liechtenstein as member of the responsible expert-group on the new blockchain act. Peter is the CEO of Daura AG, a joint venture of Swisscom and the legal company MME.
Markus Geissler
Markus holds a Bachelor's degree from the University of Zurich in Business and Economics, majoring in Banking and Finance. Before he joined daura this February, he worked in the financial industry for several years.
John Tierney
John's background includes 30+ years in capital markets starting in the mid 80's as an Open Outcry trader on the Liffe Exchange in London before moving into electronic trading (DMA) in 2000. More recently he has headed up the European sales teams at Lombard Risk and UK Cap Market sales at SoftwareAG. At Coinfirm John is responsible for Enterprise Account Sales Globally.
Kamal Youssefi
Kamal has well-grounded and deep knowledge in distributed ledger technologies as well as is financial services and crypto banking. His previous projects at Ernst & Young dealt with re-designing and extending legacy systems using emerging technologies and applying agile methodologies.
Mark Abramson
Mark Abramson started on Wall Street some 25 years ago as equity analyst at Bear Stearns, where he covered a number of equity REITs. He later was responsible for overseeing several billion dollars' worth of European/global equity REIT investments for Heitman LLC.Mark is a member of the supervisory board of Echo Investment SA, one of the largest publicly traded real estate development companies in Europe.
Sven Moller
Sven is leading the Tokenisation Services at Swisscom Blockchain AG. During his time at Ernst & Young and at Swisscom he led tokenisation projects, from ICOs, STOs and Stable Coins.

Please contact our team, if you have any questions about the training program or you're interested in further group registration discounts: Blockchain@swisscom.com
Visit our website for more information: https://www.blockchain.swisscom.com/academy
Or follow us on:
LinkedIn: https://www.linkedin.com/company/swisscom-blockchain/