Location
Block Space
4151 Middlefield Road, Suite 100
Palo Alto, CA 94903
United States
Description
Blockchain Holiday Party & Block Space Launch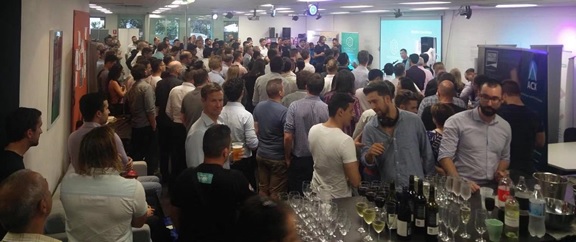 About the Block Space Launch Party
Bitrue and Block Space (Cheetah Mobile's new blockchain incubator) invite you to the biggest holiday party at Block Space's new incubator office in the heart of Silicon Valley!
Please join us for a fun, informative and unforgettable evening with experts and influencers from the blockchain and cryptocurrency communities. You don't want to miss this special opportunity to learn more about Block Space's incubator program, industry leader Bitrue.com and new blockchain investment opportunities.

Enjoy delicious food, drinks and the opportunity to network with blockchain technology and cryptocurrency experts who will give talks and share their insights. There will be blockchain startup and ICO pitches and Demo Tables.

Free tickets are now gone. Prices now only $20

Please register one order per person but you can register your friends or coworkers so long as you use their individual name and email. If you order more than one ticket with the same name/ contact info, we will delete your additional tickets. This is so we have a record of everyone attending.

YUMMY MENU:
Hors D'oeuvres


Charcuterie Board


Cured Meat & Sausages served with Dijon mustard, spicy pepper sauce, herb sauce


European & California Cheeses served with grapes, dry fruits, assorted nuts with fresh baguette and crackers


Hummus Topped with Olive Oil & Parsley served with pita chips


Mediterranean Displayartichoke hearts, olives, pickled cucumbers, roasted red pepper


Tuna Tartar Bite on Cucumber with Wasabi Sauce


Mini Assorted Puff Pastry with cheese & spinach, cheese


Hot Hors D'oeuvres


Italian Style Meatball with Marinara or Pesto Sauce



Desserts - Cream Puff, Lemon Bar, Brownie

PITCH or HOST DEMO TABLE TO MEET THESE INVESTORS REGISTERED:

Angel Investor, Alfred Mandel

500 Startups Robert Neivert Venture Partner

Accelerated Digital Ventures, KeithTeare,Executive Chairman

Cagan Capital, Michael M.,Business Dev

CAI International, Inc.,Gary Sawka,Board Member

Crossvine Capital, Henry Fan, Managing director

CTZ Capital Carol,Cai, Founding Partner

Dell Technologies Capital, Ryan Wexler, Venture Capital Analyst

Deyao Fund, LP, Louie,Gu, General Partner

DNA Investments, LLC, Joe Jasin, Managing Director

Google, Miten Mehtad, Consultant (Program Manager)

HBCI, Henry Poon, Director

Krypital Group. Junjie Chen, Investment Manager

Newstyle capital, Shenpei Shen, Investor

Rhapsody Ventures, Vincent Lui, Director

Silicon Valley Data Capital, Curtis Feeny, Managing Director

SkunkLock, Inc., Daniel Idzkowski, CEO

TheFabric, Ashutosh,pande, Head Products

Tsinghua Blockchain Capital, Nick Zhang, Investment Manager

Ultrafund Capital, AnnShin, Founding Partner

US Angels, John Ricci, Managing DIrector

USBC Michael Gurevich, Manager

Vision Passage, Vic Kapur, Angel
_________________________________________________________________
Event Schedule:
4:00 - 4:30     Open Doors and Registration
4:30 - 4:40     Opening talk by Emi Yoshikawa, Senior Director at Ripple
4:40 - 4:45     Litecoin Foundation presentation by Kerry Washington, Litecoin Foundation Mobile Developer
4:45 - 4:50 QuarkChain presentation by Qi Zhou, Founder & CEO at QuarkChain
4:50 - 5:00 Host presentation by Curis Wang, Bitrue CEO & Co-Founder
5:00 - 5:20    Top Trends and Predictions for 2019 - What's Hot, Uncertain and Hype?
Panelists include:
Andrew Yang, Litecoin Evangelist, Author of "Understanding Litecoin" and COO of BlockFuse
Emi Yoshikawa, Senior Director at Ripple
Qi Zhou, Founder & CEO at QuarkChain
Robert Neivert, Venture Partner at 500 Startups
Curis Wang, Co-Founder & CEO at Bitrue
Moderated by Radhika Iyengar-Emens, Founding Partner of StarChain Ventures
5:20 - 6:00    Blockchain Startup Pitches
Hear pitches and demos from promising blockchain ventures.
6:00 - 8:00    Party and Demo Showcase: Demo Tables, networking, food and drinks.
Hosted by :


Partnered with:



Investors and Experts:
Join our panel and hear pitches from selected blockchain startups and ICOs. Please send an email to info@angellaunch.com with your name, company, title and area of expertise.
ICOs, Blockchain and Crypto Startups: Reserve a Pitch or Host a Demo Table
Register to attend, pitch to investors or host a demo table and be featured in the Demo Showcase. This is an ideal opportunity for ICO, blockchain and crypto startups looking to meet qualified investors. All pitches and demos should pertain to blockchain technology.
If you want to pitch, host a demo table or sponsor, contact Angel Launch at (310) 621 6850 or info@angellaunch.com. All presenting startups must relate to blockchain or crypto markets.
Who Should Attend, Pitch or Demo:
。 Anyone in the blockchain and cryptocurrency communities
。 Startups seeking partners or customers
。 Business professionals seeking clients
。 Developers looking for work or a job
。 Blockchain enthusiasts curious about exciting new projects and insights from experts
。 Startups seeking investors
。 Anyone hoping to meet potential collaborators, mentors or friends
Host a Demo Table in the Demo Showcase:
You can share a six-foot demo spot or reserve your own (each table is equipped with Wi-Fi and electrical outlets). Please bring your own table cloth and signage, and email a description of your project to info@angellaunch.com .
Startups Register to Pitch to Investors:
Early Stage Startups: Seeking seed funding or a round from $100,000 to $2,000,000

Mid-Stage Companies: Seeking growth capital from $1,000,000 to $10,000,000

Selected startups will give pitches to the audience, including investors. After each pitch you will have 2 minutes of questions and/or comments from the judges. All startups pitching for this event must have a mobile app, service or device, and all pitches must be related to blockchain technology or cryptocurrencies.
Parking: You may only park in parking spots marked CM. Please do not park in any spot marked Poynt. There is free parking in the Summer Winds Nursery's parking lot next door and there is plenty of street parking.
Apply to Speak or Any Questions?
Please email: valeriemin@bitrue.com