"Blockchain for the Supply Chain" - LA Chapter

Friday, March 16, 2018 from 7:30 AM to 9:00 AM (PDT)
Event Details
"Blockchain for the Supply Chain"
   
Guest Presenter:



Barbara Bickham



CTO, Technology and Entrepreneurship
Aerospace and defense are industries characterized by complex products, deep supply chains, and a decades-long aftermarket with multiple, often shifting, participants. Significant investment, effort, and technology have yielded progress in managing these areas, but the need for continued industry growth and efficiency demands more. As aerospace and defense companies invest in digital technologies to support these goals, one emerging technology is gaining attention... BLOCKCHAIN.
Blockchain is an emerging technology being leveraged for industry growth and efficiency.  At its core, Blockchain is a transactional record that maintains and records data in a way that allows multiple stakeholders to share access to the same data and information confidently and securely.
Popularized in the world of crypto-currencies, blockchain has gained increasing attention in manufacturing environments and other business applications.  Blockchain's origins in facilitating accurate, auditable, and secure record keeping across a group of dispersed investors translates well to aerospace and defense, an industry with multiple participants, that requires reliable and auditable records, while placing a high value on security. While blockchain technology and standards are still maturing, aerospace and defense companies have a unique opportunity to prove the business value of blockchain and set its place alongside other technologies in their digital strategies.
Blockchain offers aerospace and defense companies an intriguing value proposition to augment existing and future technology investments.  Join us for a discussion that will reveal that the real value of these investments is in understanding the uplift that can be achieved by integrating blockchain with other emerging technologies.... Artificial Intelligence, IoT, and Augmented Reality.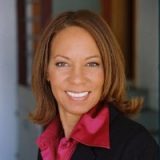 Barbara Bickham
is a CTO with extensive experience in Technology and Entrepreneurship. Her
current areas of expertise are in Internet of Things, Blockchain, Augmented Reality and Artificial Intelligence.
Barbara is currently a CTO and Advisor for several companies in industries ranging from FinTech, Fashion, Wearables, Artificial Intelligence and Blockchain. Previously, Ms. Bickham was the Director of Engineering for Flexeye where she architected, designed and coded the 2014 Gartner Cool Vendor Award Winning REST API for their IoT Platform eyehubiot.com.
Ms. Bickham founded TechGenii, Inc., a digital strategy company; Wilderforex.com, a Forex Software company; and PCNLA an investment association connecting Southern California
businesses with venture funding.
She is on the Advisory Board of the MIND Institute, MindMusic and Yummy Society; and a Mentor for Springboard Enterprises, Stubbs Alderton PreCellerator and MakeInLA. She is an Advisor and EIR at the Bixel Exchange.
She holds degrees from University of Chicago, New Entrepreneurs Program, an MSCS from
West Coast University and a BACS from University of California, Berkele
When & Where

Jeffer, Mangels, Butler & Mitchell
1900 Avenue of the Stars
7th Floor
Los Angeles, CA 90067


Friday, March 16, 2018 from 7:30 AM to 9:00 AM (PDT)
Add to my calendar
Organizer
The Aerospace & Defense Forum is a global aerospace and defense leadership community of over 2000 with seven chapters providing opportunities for sharing of information, current events, and analysis, mutual support and encouragement, partnering, innovation, and performance breakthroughs.
Website: AerospaceDefenseForum.org