Location
Neue Schönhauser Str. 3-5
Neue Schönhauser Straße 3-5
10178 Berlin
Germany
Blockchain from the social impact perspective. Join us to learn about digital identity projects and their social impact!
About this event
How can blockchain tackle a global challenge of over 1.2 bn people living without proof of identity? Are blockchain projects from the digital identity space addressing the right aspects of the problem? Is digital identity limited only to human identity? What is, or will be, the impact of blockchain projects?
Our first event is focused on DIGITAL IDENTITY - one of the key potential of Blockchain technology AND also a grand global challenge:
1,2 bn people in the world live without documents that prove their identity
US identity theft victims lost $15.4 billion in 2014
82% online businesses report problems with fake users
Only 71% of overall births are registered
Only 46% of all children under 5 years of age in sub-Saharan Africa have their births registered
ABOUT :
We believe that the ever-growing blockchain community of Berlin would benefit from connecting with the social impact practitioners, who could help to validate blockchain solutions.
Our meetups are open to anyone who is interested in the social, environmental and economic impact topics. No technical knowledge of blockchain is required, we aim to spread the knowledge and raise awareness about decentralized technologies like blockchain.
Topic practitioners and researchers are especially welcome to join!
The Blockchain for Social Good Berlin meetups are curated by PositiveBlockchain.io in cooperation with BerChain & GIZ Blockchain Lab.
AGENDA:
18:00 - Networking, Drinks
18:25 - Welcome note - Maciej Bulanda, PB
18:30 - Introduction to the topic: Digital Identity - Viktor Peter, GIZ
18:37 - Explaining Blockchain to a non-tech audience
18:40 - JOLOCOM presentation
18:50 - TAQANU presentation
19:00 - SPHERITY presentation
19:10 - SIKOBA presentation
19:20 - PANEL DISCUSSION
Carolina Soto, Innogy Innovation Hub
Viktor Peter, GIZ Blockchain Lab
*ReDi School of Digital Integration (tbc)
20:00 - Networking, Drinks
20:30 - End of the meetup
We're looking forward to seeing you!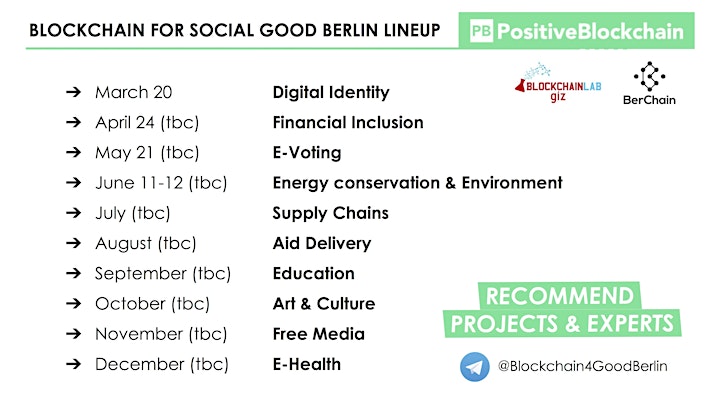 To receive updates about the upcoming events sign up to our Meetup group.
Join the conversation on our Telegram channel and suggest topics and experts.