About this Event
One of the UN Sustainable Development Goals (no. 7) is to provide access to affordable, reliable, sustainable and modern energy for all by 2030. To meet this objective the global economy requires a profound energy transition: from high-emission intensive model to low-emission (renewables) decentralized energy economy. Whereas the solutions for green sources of energy are widely known (solar, wind, hydro etc.), the technological aspects of energy distribution, storage, and consumption remain still in the sphere of research, debate and experiments.
With the development of new technologies that are driving exponentially the power consumption (e.g. IoT devices, blockchain) the pressure to disrupt the energy market is mounting. Not only the existing infrastructure is at its capacity (resulting with blackouts), but also the market and its regulations do not keep up with the popular demand to produce and trade the green energy (solar panels and energy sharing).
Blockchain is set to disrupt the energy market through a multitude of solutions that add value including added resilience to the grids, incentivisation of renewable energy production and create innovative financing models.
In this meetup, we will present the state of the current energy market, solutions being developed using blockchain technology, followed by a panel discussion on the current challenges when it comes to implementation- regulatory hurdles, interoperability issues.
The event is curated by Positive Blockchain and hosted by Innogy Innovation Hub.
AGENDA:
18:00 - Arrival & settle in
18:20 - Welcome note - Sandeep Bajjuri, Positive Blockchain
Introducing the concept of the meetups, organizers, the agenda, and next speaker
18:30 - Introduction about Energy Transition and Blockchain
18:40 - Gordon Thompson from Innogy Innovation Hub
18:50 - Anais Bonnard from EDF
PROJECT PRESENTATIONS (10 min + 3 min Q&A)
19:00 - DEEP, Dr. Mervyn G Maistry
19:15 - Greeneum, Assaf Ben-Or/Ricardo Amaral
19:30 - OLI Systems, Dr. Ole Langniss
19:45 - PANEL DISCUSSION with all speakers - moderated by Mateo Sotomayor
20:15 - Open Discussion - audience
20:30 - Networking
20:45 - Event concludes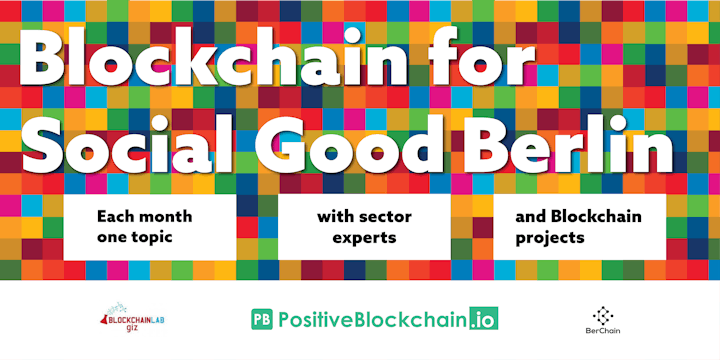 The Blockchain for Social Good Berlin meetups are curated by PositiveBlockchain.io in cooperation with BerChain & GIZ Blockchain Lab.
What is the idea behind Blockchain for Social Good meetups?
We created Blockchain for Social Good meetups in order to bring together Berlin's large tech and social sector communities in a mutually beneficial way. We believe that the ever-growing blockchain ecosystem in Berlin can benefit from connecting with social impact practitioners, who could help to validate blockchain solutions. In turn, our meetups provide a learning platform for practitioners in the social impact sector (be it the academia, think-tanks, NGOs or public agencies), and the general public, to learn about blockchain in a non-technical way.
Each month we explore a different topic (digital identity, financial inclusion, democracy, energy, supply chains, humanitarian aid and more.) through short project presentations and an open panel discussion, focusing on key challenges and opportunities in that area. You can keep up to date with the topics of our upcoming events via our media channels below.