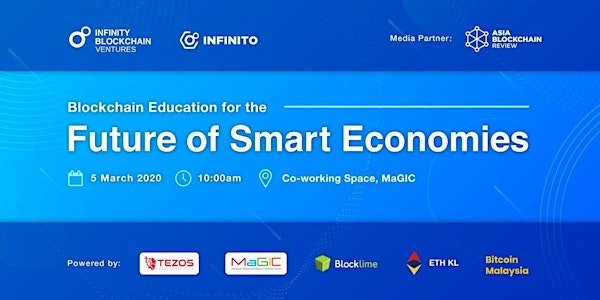 Blockchain Education for the Future of Smart Economies
Topic: Blockchain Education for the Future of Smart Economies
When and where
Location
Co-working Space at Malaysian Global Innovation & Creativity Centre (MaGIC) 3730 Persiaran Apec Cyberjaya, Selangor 63000 Malaysia
About this event
INTRODUCTION:
What is 'Smart Economies'?
"Smart Economy" describes all actions aimed at transforming and strengthening a municipality's economy.
Improving the overall business climate, a city's attractiveness for start-ups, investors, businesses, and new (highly qualified) talent as well as growing the economy in an innovative and sustainable way to increase competitiveness are the most important goals.
What Is The Event About?
IBV and Infinito are bringing together industry players to talk about what they do and how they are growing in Southeast Asia . With more opportunities in the industry, students and lecturers alike need to be aware of the market trends to prepare them for the future. Ask any questions you have on protocols, work opportunities and what the market has in store. As well as, how other sectors like finance, supply chain and fintech fit in the ecosystem.
This event will discuss creating a way to help students learn more about blockchain technology and share what is the current landscape of blockchain in Malaysia and how global players are supporting students by proving the introduction of education courses and use cases. Topics will touch on how blockchain can help "Smart Economy" to be more effective and efficient.
Tezos Southeast Asia and others will introduce their own blockchain course to the universities and students and make a great chance for students and lecturers to have a knowledge sharing session and understand how to apply blockchain on education courses.
Who should attend this event:
Students and lecturers looking at understanding Blockchain and Smart Economy
Anyone who is curious about blockchain and isn't entirely sure about what it is all about
Companies looking at blockchain applications and what is currently available in the market
In summary what you will learn about:
Blockchain 101 & Smart Economies
Malaysia Blockchain Landscape Outlook
Global take from different companies in the region such as Tezos Southeast Asia and EthKL
What it takes to implement blockchain solutions for businesses 
AGENDA:
9:30AM -10:00AM - Registration
Blockchain Landscape in Malaysia
10:10 AM - Infinity Blockchain Ventures (IBV), Cris D. Tran
Use cases of Blockchain & Introduction of education course 
10:30 AM - Infinito Solutions, Fedor Bushlanov
11:00 AM - Tezos Southeast Asia, Gregory Tan
11:25 AM - EthKL, Harith Kamarul
11:50 AM - Panel (IBV, Infinito, EthKL, Tezos Southeast Asia)
12:10 PM - Lunch
Blockchain Community & Education landscape in Malaysia
1:10 PM - Blocklime, Harpreet Maan
1:35 PM - Bitcoin Malaysia, Jason Chew
2:10 PM - Panel and Q&A (IBV, Blocklime, Bitcoin Malaysia, EthKL)
2:30 PM - Networking
4:00 PM - End
Event hosted by: Infinity Blockchain Ventures (IBV) 
Infinity Blockchain Ventures (IBV) is a consulting agency dedicated to enlightening and paving the way for clients towards business success in their blockchain journey.
Event co-hosted by: Infinito Solutions
Infinito Solutions (Infinito) provides an ecosystem of blockchain products, services, and solutions for users and businesses to manage and build and enjoy blockchain applications.
Media Partner: Asia Blockchain Review
Asia Blockchain Review is the largest initiative for media and community building in Asia for blockchain technology. It aims to connect all blockchain enthusiasts on a regional scale and facilitate the technological foundation of blockchain through a range of group discussions, technical workshops, conferences, and consulting programs.
About The Speakers:
Infinity Blockchain Ventures - Cris D. Tran, Regional Head, Managing Director
Infinity Blockchain Ventures (IBV) is a consulting agency dedicated to enlightening and paving the way for clients towards business success in their blockchain journey.
Cris D. Tran is the Regional Head and Managing Director of Infinity Blockchain Ventures (IBV). IBV is a dynamic consulting and development firm dedicated to providing practical blockchain solutions that can be used seamlessly. He is also the Director with QRC Group, the world's largest investment company working at the intersection of Blockchain and RegTech with offices in Hong Kong and Japan.
Tezos Southeast Asia - Gregory Tan, Business Development Manager
Tezos Southeast Asia is the official regional community for advancing awareness and commercialisation of Tezos' smart contract technology in Southeast Asia. 
The Tezos Certified Developer (TCD) aims to equip students with a deeper understanding of blockchain technology, with a focus on Tezos technology, and competency to build on Tezos. Through Tezos Certified Developer programme, TSA hopes to support the blockchain ecosystem development while readying students for the impending Industry 4.0. 
Gregory Tan is part of the business development team at Tezos Southeast Asia, which focuses on use cases for Tezos protocol and the development of security tokens. Prior to joining Tezos Southeast Asia, Greg was part of Kyber Network's business team, growing the protocol's defi ecosystem. Before joining the blockchain ecosystem, he was a commodities trader at a large Japanese conglomerate.
Infinito Solutions - Fedor Bushlanov, Leader of Business Development
Infinito Solutions (Infinito) provides an ecosystem of blockchain products, services, and solutions for users and businesses to manage and build and enjoy blockchain applications. Fedor has over 10 years of professional experience in business development and sales in the spheres of digital video (since 2006) and Blockchain (since 2017). He is primarily engaged in the development and management of professional software products in addition to international B2B sales of cutting-edge technological solutions. With his profound knowledge of IT technology along with a strategic and innovative business mindset, Fedor utilizes his expertise to empower and guide businesses, startups, and aspiring developers through the evolving landscape in the technology-driven era.
ETHKL - Harith Kamarul, Organiser
Ethereum is the leading decentralised smart contracts platform and Kuala Lumpur is home to some of its best-known projects. ETHKL is a community for learning, sharing and applying this blockchain technology in a Malaysian context.
Harith works on Community at Etherscan, an Ethereum block explorer, and is Organiser at ETHKL. Previously, he led Data Analytics and launched a USD 5 million Token Sale at HelloGold. His prior experience includes Great Eastern Life and BFM 89.9. Harith graduated magna cum laude with a BSc in Actuarial Science from the University of Wisconsin-Eau Claire.
Blocklime - Harpreet Maan, CEO & Co-Founder
Blocklime technologies is blockchain thought leader & enabler based in Cyberjaya. Blocklime is a service startup focusing on developing blockchain technology, educating developers & technical consulting.
Harpreet has diverse experience in software development, blockchain development, and information technology. Harpreet envisions a future where blockchain is integrated into everyone's daily lives, and he firmly believes that blockchain's applicability can be extended beyond financial and asset management. With this vision, he founded Blocklime, a Malaysian-based blockchain company.
He has also started on thought leadership focusing on blockchain technology and its potential applications in fintech, insurtech, and regtech. He believes that it is crucial to build talents and blockchain communities by conducting blockchain training held by Blocklime Academy. He envisions that the potential and impact of DLT technologies will be great for the betterment of society and acts as an enabler to pave access to the adoption of DLT technologies.
Bitcoin Malaysia - Jason Chew, Managing Partner 
Founded by Colbert Low since 2012, Bitcoin Malaysia began as a blog website and has since grown organically to become the largest crypto community our country has to date. (53,000 members in FB group). Bitcoin Malaysia is an open advocate of the responsible use of all cryptocurrencies and blockchain technologies.
Jason's experience in cryptocurrencies and blockchain began with Celebrus Advisory, a recognised Top 10 blockchain consulting company in Asia Pacific. Jason is also the Managing Partner for BitcoinMalaysia, a platform that has been building the local crypto community since 2012. Jason has played an extensive role advocating the safe and responsible use of cryptocurrencies, helping new entrants into the space differentiate the real and fake through his easy to understand talks. Originally from the renewable energy sector, Jason is also the founder of EMPOWER - a startup that is developing a blockchain-based defi product for the renewable energy sector, that issue loans so that more people can install solar panels for their residential rooftops.