Description
Vela Wood Presents...
Blockchain Breakfast: Summer Series with Lacey Shrum
Join us for part two of this year's Blockchain Breakfast Summer Series. Designed to be an open conversation with attendees, each Blockchain Breakfast features Lacey Shrum and other local blockchain personalities in a non-technical, interview-style format – over croissants, coffee, and intimate convo.
For our fellow attorneys out there, this event is CLE accredited!
---
Who Runs the Cash?
Communities, Governments, & Private Enterprise!
Join Fred Constantinesco, Bitcoin enthusiast, and Lacey Shrum for a lively discussion about the topic of money, and who is in charge of it. They will discuss traditional fiat currency, blockchain enabled decentralized currency, and the upcoming privately issued Facebook currency, Libra.

---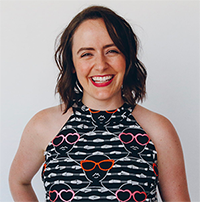 Meet Your Host, Lacey Shrum
Lacey is an associate attorney at Vela Wood, where she serves businesses using blockchain technology and cryptocurrencies, and is the founder of Smart Kx, a smart contract management software which involves taking part of a traditional contract and "sprinkling a bit of code" behind it to make it self-executing.