Description
Vela Wood Presents...
Blockchain Breakfast: Summer Series with Lacey Shrum
Join us for part three of this year's Blockchain Breakfast Summer Series. Designed to be an open conversation with attendees, each Blockchain Breakfast features Lacey Shrum and other local blockchain personalities in a non-technical, interview-style format – over croissants, coffee, and intimate convo.
For our fellow attorneys out there, this event is accredited for a hard-to-come-by CLE ethics hour!
---
Lawyers, Regulators & The Private Sector:
Is Blockchain the Secret to a Healthy Relationship?
Almost any business interacts with regulators in some way, and the relationship is often...delicate. Join Lacey Shrum and Cole Davis as they discuss how blockchain allows us to implement an "endogenous theory" of regulation – a fluid, real-time drafting of regulation and enforcement between the private sector and regulators, replacing the current before/after approach.
Previously a musician, commercial banker, and corporate and entertainment lawyer, Cole Davis is the founder of Switchchord, a blockchain-based music licensing and copyright management platform.
---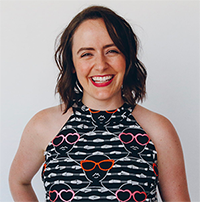 Meet Your Host, Lacey Shrum
Lacey is an associate attorney at Vela Wood, where she serves businesses using blockchain technology and cryptocurrencies, and is the founder of Smart Kx, a smart contract management software which involves taking part of a traditional contract and "sprinkling a bit of code" behind it to make it self-executing.