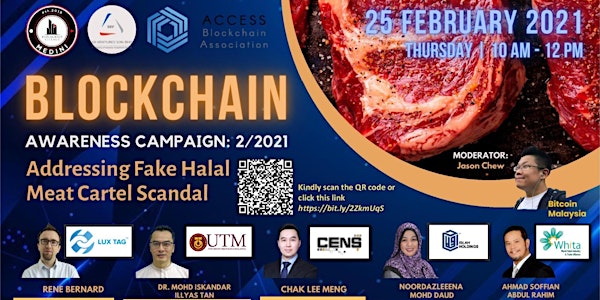 Blockchain Awareness Campaign 2/2021- Meat Cartel Scandal
BVAM Webinar Series [Blockchain Awareness Campaign 2/2021] - Meat Cartel Scandal
About this event
Blockchain Village @ Medini (BV@M) Awareness Program 2/2021
"Meat Cartel Scandal in Malaysia"
IIB Ventures the custodian of Blockchain Village@ Medini Program will conduct a Blockchain Awareness Program to address the issue of fake halal meat cartel scandal in Malaysia with the details as below:
Date: 25th February 2021 | Thursday
Time: 10am – 12pm
Platform: Microsoft Teams
BV@M Awareness Programme is designed to educate and spread awareness on the Blockchain technology and its potential to mitigate the ongoing issue. The key objective and major outcomes of the program are:
• Creation of awareness on the Blockchain Technology and its potential applications to the agri-food industry
• The program is also to raise the awareness on the development of the Blockchain Technology in Malaysia
Agenda:
Part 1 – Introduction to Blockchain & Halal Meat/Food Industry
10.00am Welcome remarks by Moderator, Jason Chew
10.05am Opening Remarks by BV@M
10.10am Blockchain 101
10.20am Introduction on the Halal Meat/Food Industry
Part 2 – Virtual Panelist Session
10.30am Introduction by the Panelist
10.40am What are the trust gaps faced by the halal industry?
10.55am Case studies on the Blockchain implementation in the Food and Halal Industry in Malaysia and around the Region
11.25am How can Blockchain Technology address the gaps in the Halal Food Industry?
11.40am What is needed now to further progress in 2021?
11.50am Closing Remarks by BV@M
12.00pm Webinar ends