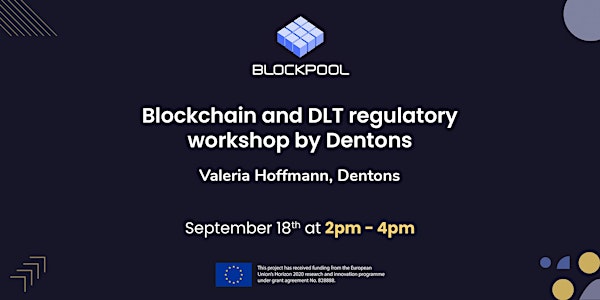 Blockchain and DLT regulatory workshop by Dentons
This presentation is part of the Blockpool online Bootcamp on September 17 -18, 2020.
About this event
This workshop is split into two components. First Valeria Hoffmann from Dentons will provide an overview of the current European regulation framework with respect to Blockchain and DLT. The second part of the workshop will split the participants into smaller groups to discuss key regulatory challenges.
The findings of the discussions will be included in Blockpool's policy recommendations to the EU.
workshop agenda:
14:00-14.20: The current European regulation in a nutshell (Valeria Hoffmann, Dentons)
14.20-14.40: Discussion round and experience exchange
14.45-15.15: Workshop in small groups
Based on prepared questions and answers participants consolidate their views/answers
15.15-15.45: Presentation of workshop results, 10min per team
15.45-16.00: Closing
Speaker
Valeria Hoffmann (Dentons)
Bootcamp agenda
Tap on the links for more information about other events within the framework of the Blockpool Bootcamp: https://bit.ly/338Dwn9
Details
Location: Zoom (access data will be emailed shortly before the start of the event)
Language: English
Registration required via Eventbrite; dial-in via zoom (installation required); maximum number of participants: 300.
Disclaimer: This project has received funding from the European Union's Horizon 2020 research and innovation programme under grant agreement No 828888.