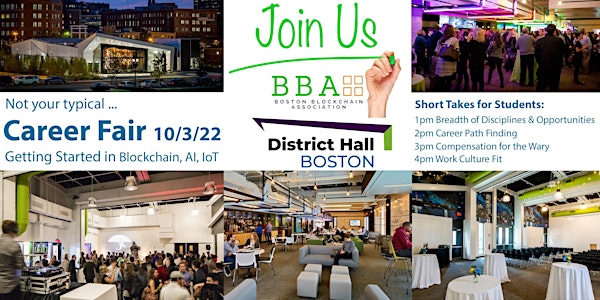 Blockchain | AI | IoT | Metaverse - Web3 Careers Boston
The Boston Blockchain Association, a leading, global conduit for Blockchain and Web3 education hosts Web3 Career Fair 2022.
When and where
Location
District Hall Boston 75 Northern Avenue Boston, MA 02210
About this event
Not your typical Career Fair, the objective is to BOTH connect Students and Career Changers/Explorers with potential Web3 careers AND educate on how to build a Web3 talent profile.
What are the Self-development habits and resources?
What are the Skillsets entrepreneurs, start-ups, and incumbent enterprise are looking for?
Compensation can include Salaries, Stock Options, and Tokenization. What's best?
How do you identify a Work Culture Fit that achieves your goals for Work/Life Balance, Diversity, Background, and Ideology?
Plus hear sound bites from professionals sharing their fulfilling Journeys.
Come for the whole afternoon or stay for an hour.
October 3rd 2022 - A day that could change your life.
Because "All boats rise with the tide."
Space is limited. Sign up NOW!
Schedule for Talks:
Plus, topical networking tables on multi-disciplinary careers:
Customer Experience/Analysis
Metaverse Concepts
Finserv/Accounting
Data Science/AI/IoT
Regtech/Govtech/CivTech
Sales/Bizdev
This will be good. #BostonBlockchain