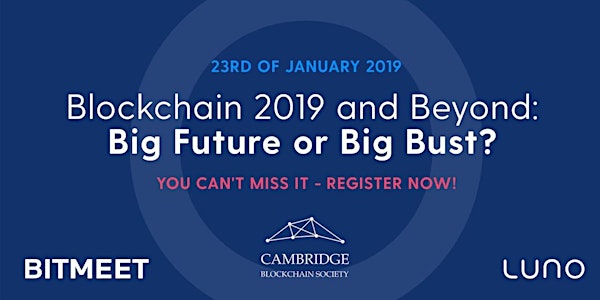 Blockchain 2019 and Beyond: Big Future or Big Bust?
Blockchain 2019 and Beyond: Big Future or Big Bust?
When and where
Location
Lecture Theatre 4 (LT4), University of Cambridge Judge Business School Trumpington Street Cambridge CB2 1AG United Kingdom
About this event
BITMEET x Cambridge Blockchain Society
2018 was an eventful year of spectacular booms and busts in the blockchain space. Startups, enterprise blockchain, regulation, funding - some are calling 2019 the year blockchain 'grows up', while others are more skeptical. Where will blockchain go from here, what real impact may we see, or is it all fluff?
Join Cambridge Blockchain Society and BITMEET for an evening with our panel of experts to explore these questions and more:
Is there a future for blockchain? What might we see (and not see) in 2019?
What lessons can be learned from 2018?
What are some really exciting projects and use cases?
What are the biggest barriers to adoption?
Enterprise or institutional adoption of blockchain: will we see this in 2019, or are we still years away? Or is "enterprise blockchain" an oxymoron?
What is the state of regulation that may impact blockchain projects and where will it go in 2019?
Agenda:
18:00 – 18:10 – Opening Remarks
18:10 – 18:40 – Panel Discussion :
18:40 – 18:50 – Audience Q&A
18:50-19:00 - Brief Recruitment Presentations
19:00 – 19:45 – Networking, Luno app test for volunteers & Refreshments (Pizza and Drinks)
Our partner for the event, Luno is offering €15 to test and provide feedback for their app:
a) Download the Luno app (iOS & Android)
b) A unique code will be provided at the meetup
c) When you redeem that code IN the app, your account will be topped up with €15 (you can do anything you wish with it)
d) We will ask users to fill the survey after playing with app: Link to survey
Co-hosted by:
University of Cambridge Blockchain Society
Founded by students in 2018, our mission is fostering Cambridge's blockchain ecosystem by maintaining a distributed network for enthusiastic students, academics and industrial partners.
Our mission is simple: we are here to unite, educate and help blockchain enthusiasts like ourselves discover career opportunities in this space.
Why? Because blockchain technology is going to change the world. Our concept is based on 3 essential foundations:
A community for like-minded people to establish a strong network of people in the field of Blockchain
A knowledge 'pillar' purely to help you understand Blockchain to the highest degree
Finally, after gaining all the connections and knowledge we can give, we're here to help you pursue the perfect Blockchain career opportunity