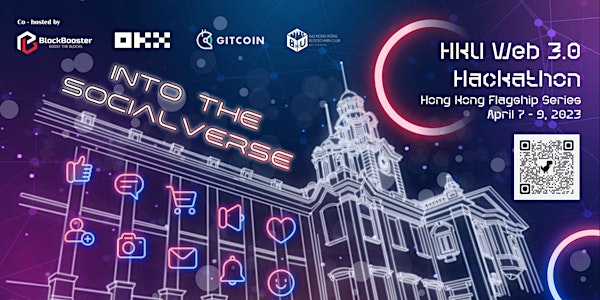 Blockbooster Web3.0 Hackathon Hong Kong - Into the Socialverse @HKU
Themed "Into the Socialverse," this event will be a genesis hackathon that focuses on the web3 social applications layer in HKU
By Blockbooster, OKX, Gitcoin, HKU
Date and time
April 7 · 9am - April 9 · 8pm HKT
Location
香港大學 Pok Fu Lam HK, HKI Hong Kong
About this event
2 days 11 hours

Mobile eTicket
(Hong Kong, March 8, 2023) Web3.0 Hackathon@HKU will be held from April 7-9, 2023, at the University of Hong Kong. Themed "Into the Socialverse," this event will be a genesis hackathon that focuses on the web3 social applications layer. The Hackathon is co-hosted by BlockBooster、OKX、Gitcoin, and OxU Hong Kong Blockchain Club, and supported by various units of HKU, including Techno-entrepreneurship Core, Centre for Asian Entrepreneurship and Business Values and HKU FinTech, etc.
The Hackathon will offer a total prize pool of more than 500k HKD for winners with additional sponsored challenge rewards, follow-up investment opportunities and incubation possibilities. The event will comprise three parts: builder-focused workshops, online panel discussions & project reviews and a Demo Day.
The mentor committee comes from a diverse panel of industry-leading experts, including top-ranked degens, successful founders, and builders in the fields of Defi, Governance, NFT, Game/Guild, Security, Smart Contract, and Data. Workshops will feature leading Web3 social projects such as Mask Network and Galxe.
BlockBooster aims to establish the first Web3 innovation development and project ecology cultivation center in Hong Kong, partnering with 20+ industry leaders and 10+ local financial and technological leaders and institutions.
The mentor committee includes Azeem - Gitcoin, Chess - Quest3,Chris- Conflux, Duan Wei - NextID, Jeff Hu - Hashkey, Johnson - Hooga Gaming, Joshua - RSS3, Jun Hao - Altlayer, KC - Hooga Gaming, Mark - DODO, Meow - Cavis, Mike - Go+, O - SCB10x, Outprog / XiaoJay - EverFinance / AR, Sam&Li Ni - Avalanche, Wenqing - KNN3, Xin - EthSign, Yajin - Blocksec, Yisi - Mask. The event also invited ecosystem partners such as Altlayer, Arweave (EverVision&PermaDAO), Mask and NextID.
Blockbooster Web3.0社交元宇宙駭客松將於2023年4月7日至9日於香港舉行
Web 3.0 駭客松@香港大學將於 2023 年 4 月 7 日至 9 日在港大校園內舉辦,首屆活動主題為《走進社交元宇宙》,是一個專注於 Web3 社交應用層的駭客松。本次活動由 BlockBooster 與 OKX、Gitcoin 及香港大學生區塊鏈社區合作主辦,並得到香港大學科創中心、商學院亞洲創業及營商價值中心、HKU FinTech 等部門共同支持。
活動將提供總價值超過 50 萬港幣的獎池給獲勝的創業團隊,以及額外的贊助挑戰獎勵、後續投資機會和孵化機會。該活動將分為三個部分:針對創業者的工作坊、線上分享討論以及 Demo Day。
OKX全球機構業務部董事總經理 Lennix Lai 表示:「香港註定將開啟新的 Blockchain 敘事,OKX 已經做好了準備。我們很高興與 Blockbooster 一起見證更多富有創意和創新性的 SocialFi 項目誕生。OKX 也期待為他們提供更多支持。」
在活動期間,行業領袖將討論 Web3 社交發展趨勢、市場狀況和發展生態等主題。Blockbooster 導師們將為創業團隊提供線下線上專案諮詢支援,包括產品市場適應性反饋、市場策略、合約審計等。活動目標是幫助創業者正確定位產品方向並加速開發進程。在 Demo Day 期間,頂尖行業風險投資公司和交易所將參與評審,幫助創業團隊對接投資者和行業資源。該活動還將與 Gitcoin 和 DoraHacks 合作,探索香港駭客松主題的專案資金匹配的機會。
香港大學商學院亞洲創業及營商價值研究中心總監 Joseph Chan 先生表示:「這是一個令人興奮的平台,我們將見證創造性的以人為本的設計與技術創新相結合。我期待看到參與者作出有影響力的區塊鏈探索,創造價值,並促進社區和社會的變革!」
該駭客松的導師委員來自行業各領域,包括去中心化金融(DeFi)、去中心化自治組織(DAO)、非同質化代幣(NFT)、社交遊戲/公會、安全、智能合約和數據的行業頭部機構。活動同時也邀請到排名前列的 Degen、行業成功的創始人和開發者,其中包括 Mask Network和 Galxe 等領先的 Web3 社交項目團隊分享。
HashKey Capital 研究總監鄭嘉梁表示:「通過 Web3.0 駭客松,核心開發者們將聚集在一起,共同開發創新的區塊鏈產品,與整個社區和參與者共同前進,並為香港作為Web3中心奠定基礎。」
是次導師委員會包括但不限於 Azeem – Gitcoin, Chess – Quest3,Chris- Conflux, Duan Wei – NextID, Jeff Hu – Hashkey, Johnson – Hooga Gaming, Joshua – RSS3, Jun Hao – Altlayer, KC – Hooga Gaming, Mark – DODO, Meow – Cavis, Mike – Go+, O – SCB10x, Outprog / XiaoJay – EverFinance / AR, Sam&Li Ni – Avalanche, Wenqing – KNN3, Xin – EthSign, Yajin – Blocksec, Yisi – Mask。該活動還與Altlayer、Arweave(EverVision&PermaDAO)、Mask 和 NextID 等生態合作夥伴合作。
通過與 20 多個行業領袖和 10 多個本地金融機構和技術領袖的合作,BlockBooster 旨在在香港建立第一個Web3 創新開發和生態項目培育中心,與海外和國內 Web3 團隊建立牢固和長期的合作關係,以促進駭客松及未來的孵化項目的可持續發展。
有關更多資訊,請訪問 BlockBooster 網站或通過 contact@blockbooster.io 聯繫 BlockBooster 團隊。
關注推特: https://twitter.com/0xBlockBooster
Link3: https://link3.to/blockbooster
Discord:https://discord.gg/4zeFUTuFU5
電郵地址: contact@blockbooster.io