Description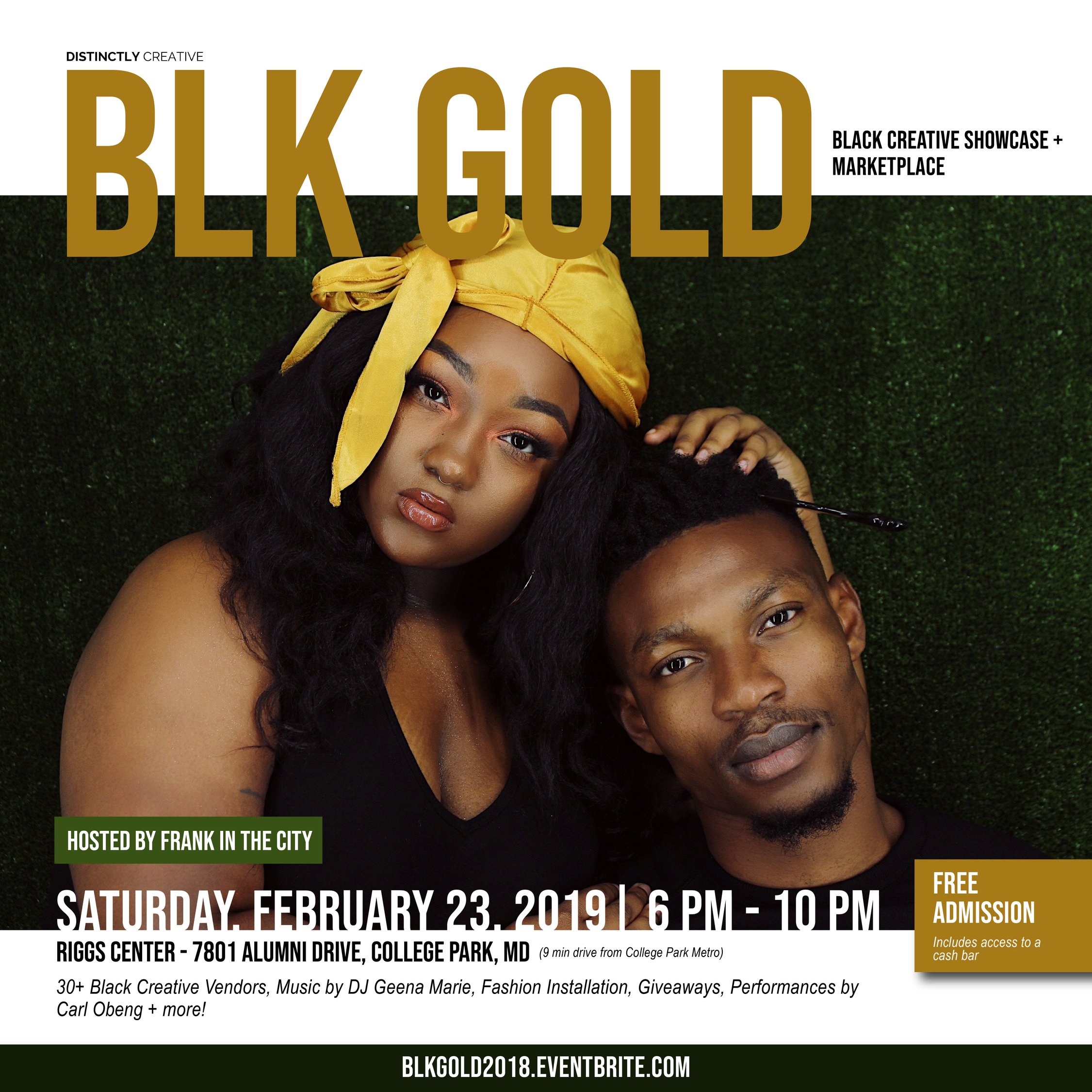 Join Distinctly Creative for BLK GOLD: Black Creative Showcase + Marketplace on Saturday, February 23rd from 6-10 PM at the Riggs Alumni Center in College Park, MD -- hosted by Frank in the City.
Grab all of your creative friends, entrepreneurs, and those looking for good vibes to this interactive event showcasing + celebrating black creativity through vendors, music by DJ Geena Marie, live painting, a fashion installation, giveaways, performances by Carl Obeng, + more!
This event is FREE to attend. The first 50 guests will receive a Black Creatives Matter poster. We'll also be doing a giveaway for one of our Black Creatives Matter t-shirts and three day passes to our new coworking + makerspace (opening in February of 2019 in Mount Rainier, MD)

For more info about all of the featured vendors,designers, and performers you can click the links below.
-----
After BLK GOLD, also make sure to join us for the after party from 9 PM - 12:30 AM at black-owned Trinity Grill & Bar (3010 Hamilton Street, Hyattsville, MD) for drinks, food, and good vibes!
---
FEATURED VENDORS:
Fashion + Accessories:
Art & Multimedia Design:
Beauty, Hair, and Skin Care
Books
Home Goods
Featured Designers
---
FAQs
Was this event rescheduled?
Yes, the originally planned date for BLK GOLD was Sunday, December 9th. However, due to issues with the venue it was rescheduled for Sunday, February 23rd. For info as to why you can visit our blog at distinctlydc.com
Metro + Parking options?
There is a free parking lot around the venue. The closest metro is the College Park metro, which is a 9 minute drive from the venue.
How do I become a vendor, showcase my artwork, etc.?
If you are interested in becoming a vendor you can visit distinctlydc.com/blkgold2018
How can I get involved with BLK GOLD?
If you're interested in volunteering or being a partner for BLK GOLD, you can email info@distinctlydc.com
Are all ages allowed?
The event is 18+; however, it's 21+ to drink.
MEDIA PARTNERS
Faith-Amina is a host and content creator. She has created "The We Talk Art 101 Podcast" that is now "The Faith Amina Show". A show that interviewing guest who are spectacular people on taboo topics , celebrities, newsmakers and trend setters. Along with having two short documentary ( Polyamory: Millennial new way of life, and Kanye are your fans really fans? ) Faith has guess host on many different showcases and podcast. She love to get to know people so don't be afraid to reach out.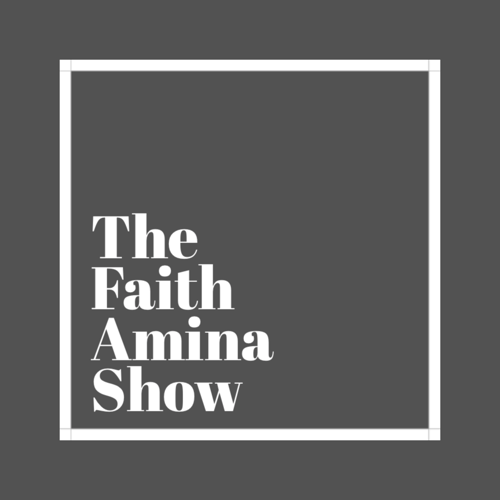 Arabia Morgan, is the the host and creator of Arabia Asked You, LLC (AAY). "Arabia Asked You" can be best described as a pop-up talk show, that interviews assorted individuals and group panels about various topics that are relevant to today's society. While the initial premise of the show was a focus on relationships, the show has broadened its topic discussion to also cover a broad array of topics, including travel in the most exotic locations. She can be seen anywhere from the plains of Africa, to the beaches of Puerto Rico or even here, her home, the United States. Although she is primarily located in Washington, DC, AAY, LLC is liable to pop up anywhere you are. She feels that everyone has an opinion and she enjoys providing a platform for them to be heard.

Arabia is a Maryland native, who has her bachelor's degree in Media Communication Studies, with a minor in Theater. She also obtained her masters degree in Marketing. She believes that beauty is nice, but its brains and creativity that make you phenomenal! Arabia believes that it is her duty to make sure that everyone knows how amazing they are.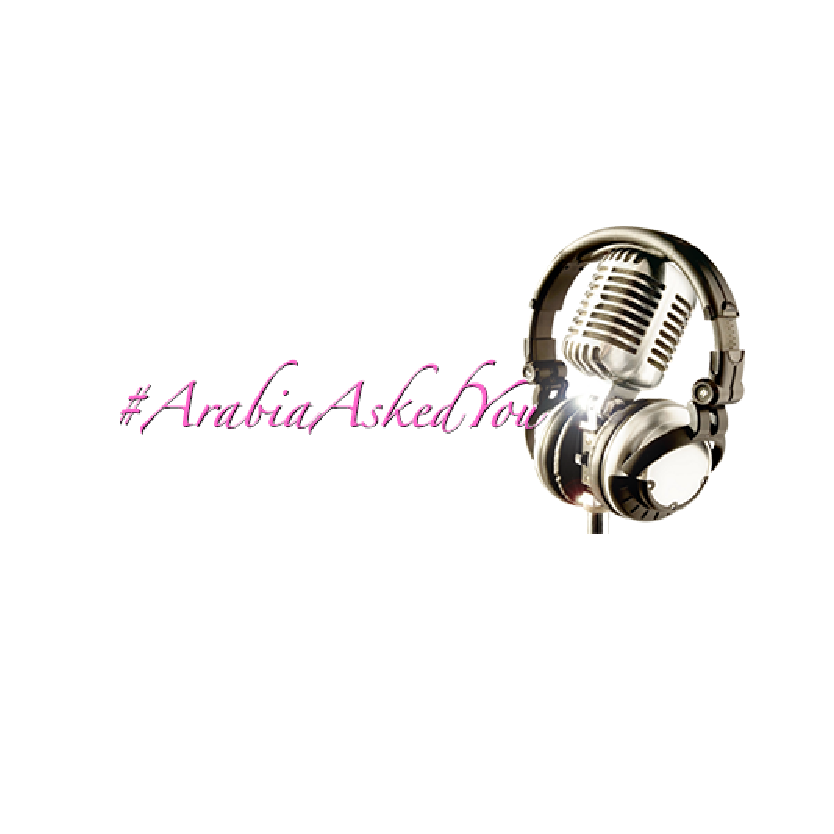 Your two favorite Curvy Girlfriends following the growing plus-size Fashion Scene from the DMV via Podcast! Covering events, trends & trending topics!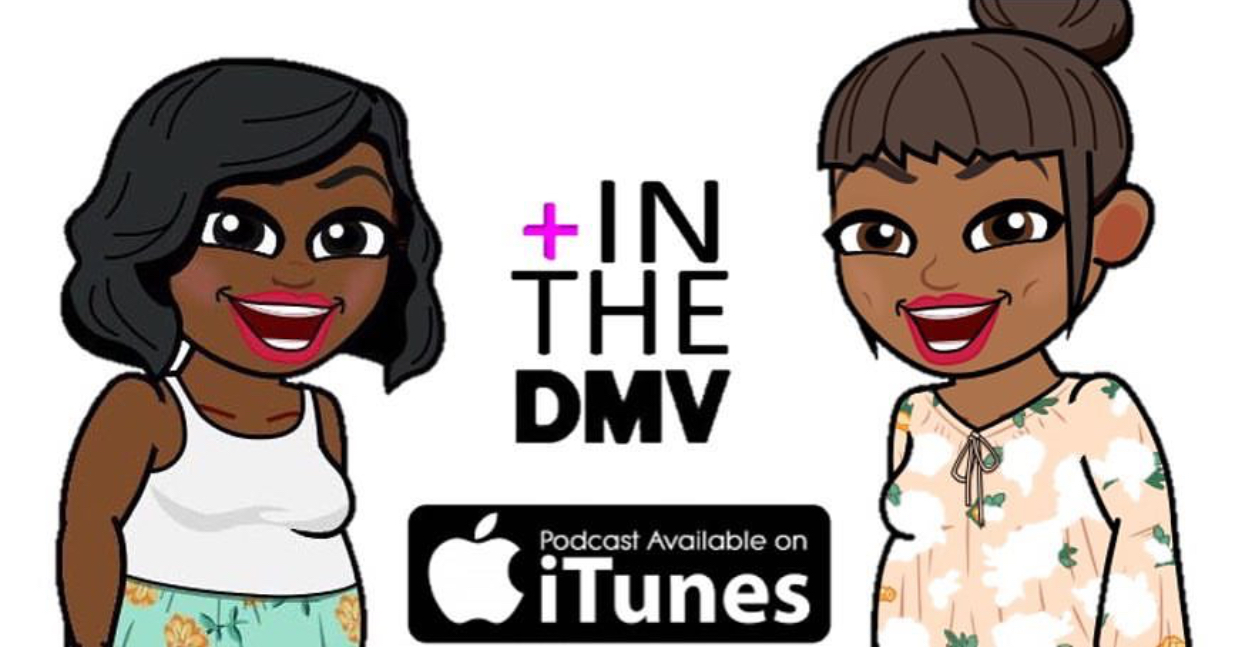 BLACK GIRLS WHO PAINT is a safe space created to support and empower black women painters as they navigate through their artistic endeavors and daily activities by promoting sisterhood, community, and positive representation.
Although we tend to be few and far in between as we dig deeper into our artistic journeys, black women painters are a force to be reckoned with. Representation needs to reflect this. As such, BLACK GIRLS WHO PAINT is also a platform formed by a black girl (woman) who paints and believes in increasing our visibility. Not only will the versatility of our art be showcased through weekly themes, meaningful conversations and relationships with other black girl and woman painters will be sparked, as well.
- Sasha-Loriene, Founder and CEO of BGWP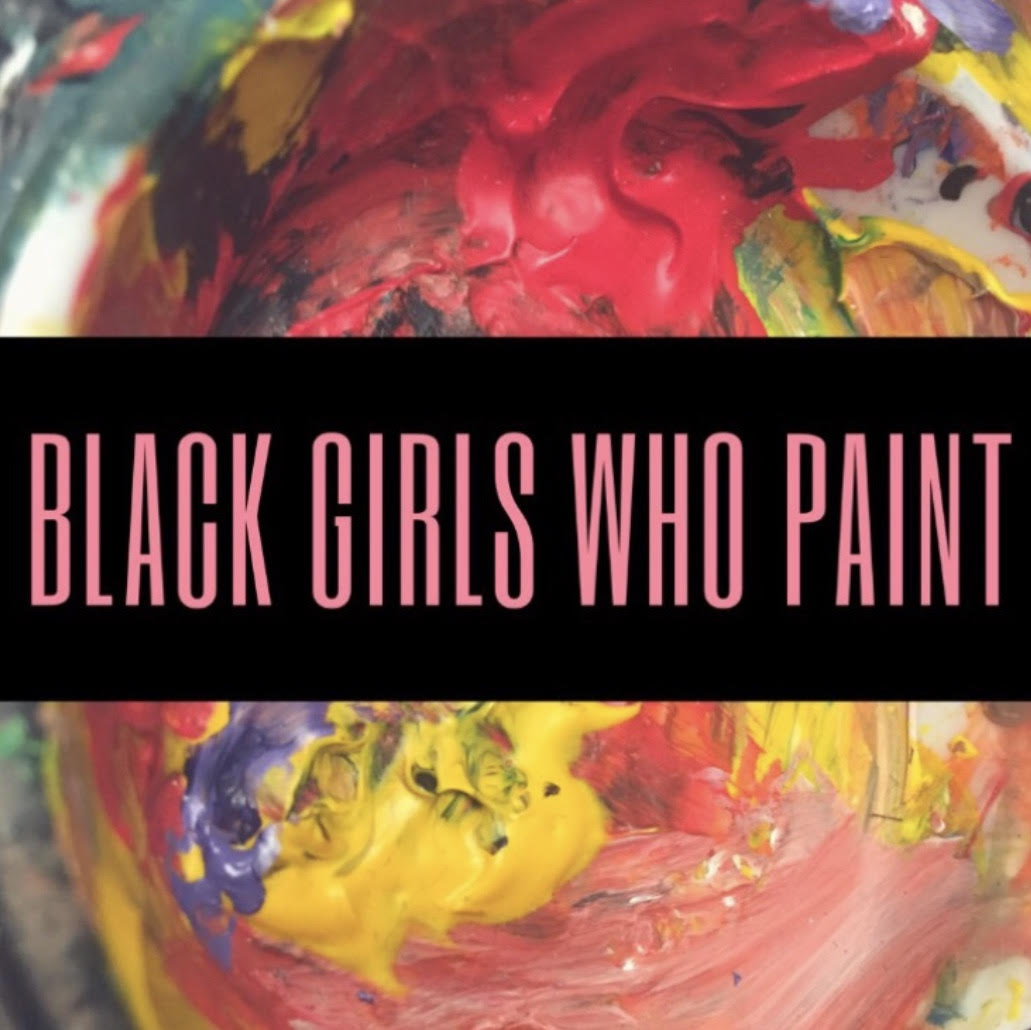 The Sparks and Pours Podcast began in April of 2018, created and hosted by JaLisa Dove. JaLisa is a Raleigh, N.C. native, who moved to Washington, D.C. to pursue her dreams. Graduating with a Bachelor of Science in Broadcast Journalism from North Carolina A&T State University, she had the tools and knowledge to give life to her podcast idea.

Sparks and Pours was created to hear the stories from different walks of life, and create a comfortable speaking space. So far on the podcast she has interviewed small business owners, entrepreneurs, authors, artists, and even conducted round table discussions with friends. Releasing an episode every Wednesday, which JaLisa refers to as "New Episode Wednesday", the podcast can be heard on platforms such as iHeartRadio, SoundCloud, and Spreaker. Stay tuned as this is just the beginning for JaLisa Dove and the Sparks and Pours Podcast.

"Find Your Spark and Pour Yourself into It" – JaLisa Dove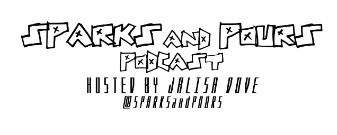 Kemi Ajibare is the founder of StyleBdyKemi, providing personal shopping and image consulting services.
As a social media personality, Kemi connects one-one-one with her followers provide content that inspires their shopping and personal style.
She's known for introducing new brands, shopping tools, and style tips to her DC, MD and VA audiences.
Additionally, Kemi is a tech-savvy lifestyle writer who uses imagery and data-informed content to attract and maintain readers.
In her personal life, she's a proud wife and mother of Nigerian descent who celebrates the beauty of individuality.