Description
Ready to party at BlizzCon?
Entry to the party is free! Everyone gets access to all of the activities:
Fan Art Gallery with almost 200 pieces of art on display. They will ALL be given away as prizes at the end of the night.
"The Forum" will have discussions and presentations going on all night across two different rooms. There will be some unique guests including cosplayers (with costumes), a live art demo, a beer specialist, and, of course, a lot of Blizzard topics.
World of Podcasts will be doing live shows during the entire party, featuring segments and entertainment from some of your favorite podcasters.
The "Tavern" lets you grab a seat and play games with friends. We'll provide several different games, including live pub quizzes and a "Real Life" Hearthstone Tavern Brawl with physical cards - just not the fisticuffs.
The "Tap Room" will have fan-favorite personalities hanging around, excited to meet you. They will also be doing autographs, so come prepared!
The Photobooth features Blizzard related props and a green screen with cool backgrounds - and we'll be tweeting pictures all night.
$11 Poster Bundle Ticket:
You get all of the same access as the free ticket, including the extra giveaway entry. The cost of the ticket covers the cost of the art and poster tube. This is for pickup at the event only. No shipping.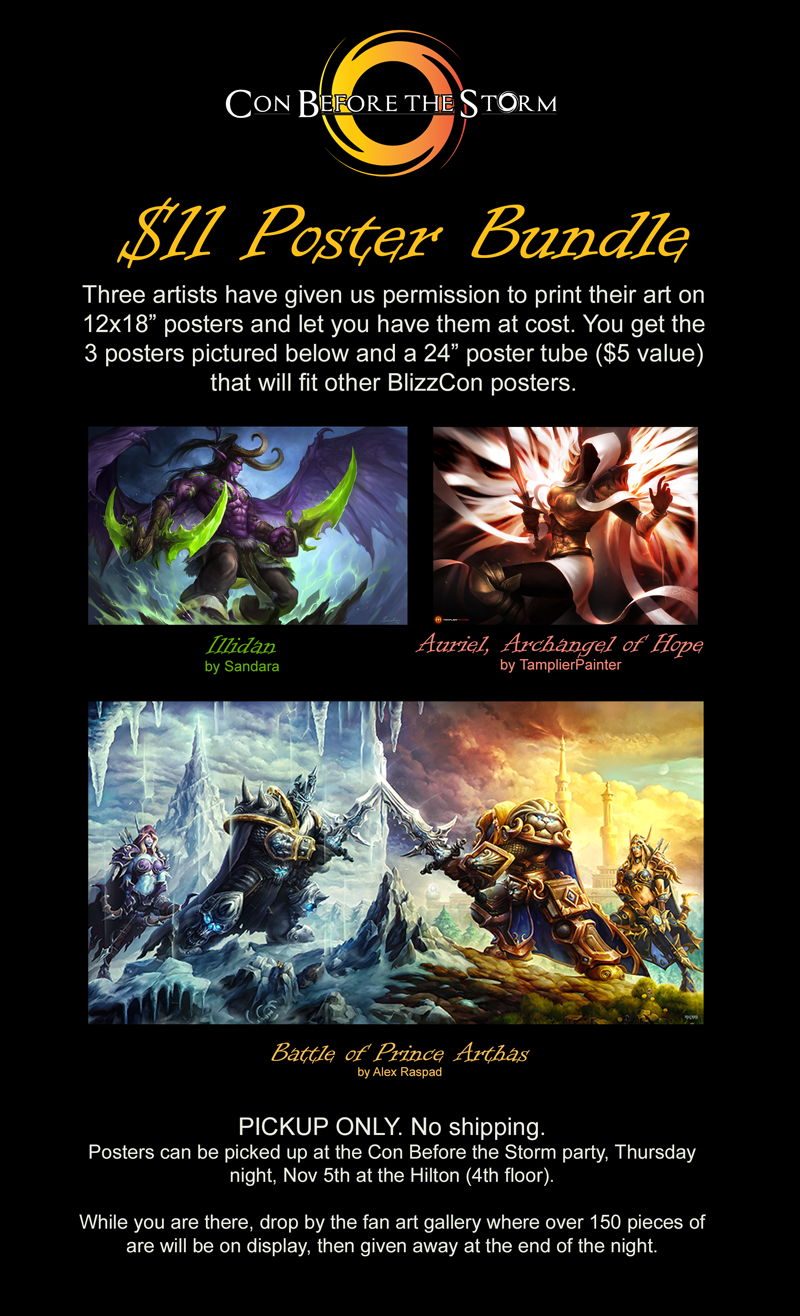 $15 Poster Bundle & Donation Ticket:
Add $4 more to help support the party. We'll use it for some extras at the autograph table, feeding the volunteers, and all sorts of things to make this a fun event.
FAQs:
Q: Do I need a ticket?
A: No, but it gets you an extra entry to win prizes. It also helps us get a headcount so we know how many bartenders to hire - and the more accurate this is, the less chance there will be lines for drinks!
Q: How do I get my posters from the poster bundle?
A: Bring your ticket (or have it on your phone). Head to the "Loot" room at any point during the night. We will have your posters ready and waiting. No need to rush or worry, we will have one set aside just for you all ready to go! We will not be shipping these. Any that aren't picked up by party close will be given away.
Q: Will there be lines to get in?
A: No! Before it opens at 6pm, people may end up forming a line like last year, which took only 15 minutes to let everyone in. However, this year, if that happens, we will be prepared and you'll get in even faster.
Q: Will there be room or will I get turned away?
A: Yes, there will be room. We've doubled the size of last year's party and rented out two whole wings of the 4th floor. Last year we had over 3,000 people stop by and it was never too crowded. So grab your friends and let's party together!
Q: What if I'm going to BlizzCon solo - can I meet people?
A: YES! Stop by The Tavern and grab a table to play some games, or hang out in any of the activity rooms; there will be a lot of common topics to chat about with your soon-to-be brand-new BFFs!
Organizer of Blizzcon Party: Con Before the Storm