Event Information
Location
Youth Centre
Jalan Kampong Berangan
Kampung Salambigar, Jalan Muara, Brunei Darussalam
Bandar Seri Begawan, Daerah Brunei-Muara BS8211
Description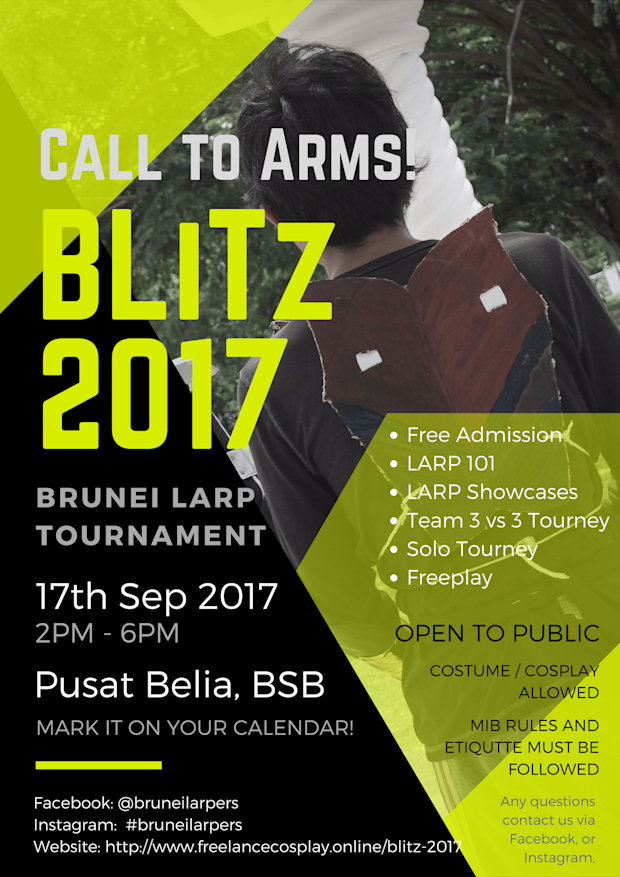 We're the Brunei LARPers, comprises mostly members of the Freelance Cosplayers. We are a small community that have been around for 4 years. We've only started LARPing since 2015, and now LARP has become part of our recreational activities.
BLiTz 2017 - Call to Arms! is a low-budget project focusing on a LARPing Tournament. Whilst also introducing the basics of LARP, the project emphasizes the importance of the sub-culture and the how it could motivate and influence youths. The project is quite small but we believe it will be (and should be) a huge impact. As in LARP, props and costumes are needed to be made, prizes and incentives would also help motivate the the participants, and not to mention the advertisements, banners, and rental of the sports hall. Since this will be our first impression, it is important to us to have the funds and support for this project to be able to create a sustainable impact and to gain the interest of everyone who attended.
Every bit of contribution helps! We will utilize every single contribution from this campaign! We won't have any space for profit as our passion drives us to even take out money from our very own pockets! And with the help from supporters, this will definitely push us up to even higher achievements and we will have the supporters to thank for that!
What We Need & What You Get
Brunei has an equatorial climate. Sometimes it gets rainy and sometimes it gets too hot. So it is imperative that we get a wide indoor space for the Tourney for everyone, especially for the onlookers and participants.
In truth, we do need quite a lot for the funding since there is a lot of costs to cover, but as was mentioned previously, we are gearing up to make a great impact and even we will use up our own personal funds. We may need to cover for the costumes, props, hall rental, insurance, refreshments, and all other miscellaneous, so any contributions is very much appreciated!
We have perks for advert spaces on our banners and posters, so for those who want to reach out to Bruneians, can take advantage of this! Every bit of contribution will go to the event itself. Even if there is any surplus, we will be reserving that for our next event or will be donated to charity.
The Impact
In Brunei (and Asia), LARP is still quite unfamiliar. Although Cosplay, and TableTop Games has been around, locals are still quite unbeknownst about LARP. Help us make LARP known to everyone! Support us to bringing fun to the people via a hobby that's active and creative.
We have done several events in the past, but this is our first ever for crowdfunding. We hope to be able to promote the sub-cultural hobby and boost up our community at the same time.
Risks & Challenges
There are many risk factors to the project. Hence we have planned the event very meticulously so as to minimize any problems that may arise. But even if there are problems, we believe that we will be able to overcome it. We have done LARP sessions on a monthly basis, and even done for the general public. We do spot checks on the props and equipment, safety briefings, and other health and safety related proceedures. We even have trained members on standby.
Date and Time
Location
Youth Centre
Jalan Kampong Berangan
Kampung Salambigar, Jalan Muara, Brunei Darussalam
Bandar Seri Begawan, Daerah Brunei-Muara BS8211
Refund Policy