Description

The Blissful Living Retreat.......
Is a truly powerful experience designed to help brave hearted, courageous women reset and awaken, to a joyous, more connected and empowered way of being.
At every age and stage, life has its own rhythm. You can't always choose what happens to you, but you can choose how you react and feel about it.
Truth we all want to feel loved, accepted, like we matter and to be successful in a life that is in alignment with who we are. The retreats introduce you to my life changing blissful living methodology and empowerment program.
All BLR experiences begin with a foundation of honouring yourself, accepting who you are and letting go of the identity you have created as a result of your experiences.

How to turn your wounds into wisdom, identify what you really want in each area of your life, what is blocking you and how to release these blocks to become an energetic match for all that you desire. Awareness becomes a means that allows us to realize our full potential. Using energetic tools and inner resourcing, you will learn a daily practice for cultivating everyday bliss. With love and faith you will transform pain into healing. Everyone looking for a happier, more peaceful, successful and enlightened life should aim to overcome their energy blockages, and raise their energetic frequency to a level of love. When you finally discover how to show up in the life you truly want, you begin living the life you once only dared to dream about. It's that profound, that life-changing and that powerful.
Perhaps now you're denying parts of yourself you don't like; maybe your hiding, sabatoging and avoiding reality...
You feel that you're not where you want to be in your life.
What you're living right now doesn't feel truly right for you, and you need support to tune in to your heart to uncover what you actually want.
You're lacking clarity and you have conflicting desires.
You feel confused and overwhelmed and you need help to choose the right option and create a crystal clear vision.
You feel stuck.
You feel ready to move forward, but you have no idea how to start, what steps to follow and how to get there.
You keep changing your life, but you're still not happy.
You find yourself thinking "Once, I get that promotion/job/home/relationship etc. then I will be happy", but you arrive there and still feel unsatisfied.
You're being held back by fear and doubt.
Your inner critic is keeping you paralyzed and stops you every time you attempt to take action.
You're lacking self-confidence.
Although you want to feel good and experience more joy and less fear – deep down you don't really feel like you deserve it.
You're longing to find your tribe and soul family.
You want to feel more connected to the most important people in your life. You try to make the best of it all but your best just doesn't feel good enough.
You're tired of feeling unbalanced and less than energized.
You would give anything to feel vibrant, sexy and fully alive.
You're craving a soul vacation and yearning to level up.
You're ready too up-level your bliss and gain new momentum and results in any area of life such as; your relationships, health, finances, career or business, and you need someone to stretch and guide you.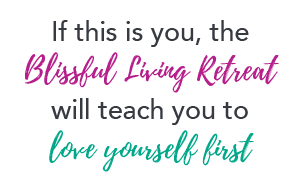 IT'S TIME TO ELEVATE YOUR FREQUENCY TO LOVE
Love is the most powerful healing force there is and tremendous freedom can be found through;
Learning to love yourself as you are, right now

Making peace with your body

Being present with your feelings in this moment

Understanding the effects of stress and trauma on the body

Integrating new skills and practices to support healing

Overcoming emotional suffering, unresolved trauma & adversity

Fostering resilience, owning your power to live fully & love fiercely
Join me along with an intimate group of women for a revolutionary experience!
Your getaway includes;
2 nights accommodations in an intimate and exclusive setting with unlimited access to the amenities of the resort
All meals, beverages and snacks included. Enjoy wining and dining ~ with your choice of fresh organic, gluten free and vegan cuisine prepared by our own on-site gourmet chef.
Sacred self-love practices + rituals for uncovering your deepest desires.
Soul-shaping reflection time, journaling, meditation and yoga for connecting with your essential self – Mind, Body and Soul.
A personal workbook to document your revelations, aha moments, insights and breakthroughs.
Connect, laugh, grow and celebrate with fun like-minded women!
Enjoy intimate bon fires, sound healing, and new friendships.
A special gift + much more! Expect some great surprises!!
FAQs
How do I sign up?
Please register here; https://form.jotform.com/91857616949274
Note: Once payment and registration is confirmed, you can expect to receive a welcome package on or before August 30th, 2019.
This will entail all relevant retreat information including;
Address

Map and Directions

Retreat Agenda

Meal Plan

What to Expect

What to Bring
How can I contact the organizer with any questions?
Please email info@amandawillett.com
What's the refund and cancellation policy?
CANCELLATION POLICY
Please note that there will be no refunds or discounts for arriving late, leaving early, flight cancellations, travel delays or illness. If you cancel your participation in a retreat for any reason, the cancellation policy below will apply, with no exceptions. We wish we could compensate people for unforeseen circumstances (injury, family emergency, etc), but we have costs already incurred when reserving retreat centers and hotels. We have designed our cancellation policy to be as compassionate as possible in the case that your plans change. But to protect yourself further, we strongly encourage you to purchase travel insurance.
IF YOU CANCEL THE BLISSFUL LIVING RETREAT:
60 days or more prior to the start of the Blissful Living Retreat, you receive: 100% credit of the cost of the full retreat toward another Retreat within 12 months.
31-60 days prior to the start of the Blissful Living Retreat, you receive: 50% credit of the cost of the full retreat toward another Blissful Living Retreat within 12 months, and will forfeit the remainder.
0-30 days prior to the start of the Blissful Living Retreat, you receive: no refunds or credits will be given.
To cancel, you must send an email stating that you wish to cancel to Amanda and her team at: info@amandawillett.com.
IF WE CANCEL THE BLISSFUL LIVING RETREAT:
If we need to cancel a retreat due too lack of participants or unforeseen circumstances , we will refund to you all deposits and payments you have paid. We cannot however compensate you for airfare or travel costs incurred. To cover these risks, we highly recommend you purchase travel insurance.