TICKETS NO LONGER AVAILABLE. Venue CHANGED. Contact All One Planet (the organiser) for future events.
About this event
Above is the 1 minute trailer for the retreat day.
Connecting with peace opens the door to your True Nature - incl. peace, bliss and love (beauty). Experience it yourself...\
If you can connect to the calmness, the stillness within, it is easier to recognise the aspects of your True Nature normally clouded by the stress of life.
ONLY for meditators - no beginners.
With your deposit (non-refundable - unless cancelled by us), you will gain access to an online course to help you. Get access ASAP so you get the most from the retreat. It includes short videos, audio, meditation and articles - on tranquil abiding and retreat.
See a 5 minute video on What is Tranquil Abiding? below.
For some, this retreat will be their 1st step toward the blissful beauty of Tranquil Abiding.
Single-pointed-focus on the breath is a simple & safe vehicle to take you through the 9 abidings toward Tranquil Abiding. On attaining Tranquil Abiding, you release the last of the underlying stress your body is carrying and are enveloped in bliss. You have also trained your mind and are in charge of it. There are so many benefits to Tranquil Abiding...
This retreat will take you to level 3-4 (or higher) of the 9 abidings.
See a 5 minute video of the stages to Tranquil Abiding in the resources you will have free access to once you register.
It is expected, you will attain moments of peace and notice how this makes it easy to access joy and beauty (your True Nature).
The release of stress is also going to happen, so expect moments of odd feelings and angst (shadows of stress as it goes), typically followed by a deeper level of peace.
To help with the shadows, and to get into the bliss, we shall be using a special meditation to induce GAMMA waves - similar to Tibetan monks and nuns!
Distraction is the enemy of tranquility. Therefore, to help you get the most from your limited time on retreat - normal Retreat rules apply. No talking, no touching, no eye-contact, no devices (phones, tablets, etc), no missing the meditation sessions, and no other meditation - until 3pm.
Secure your place now. Places are limited, plus you get access to resources so you gain full benefit from the retreat day. :)
The Venue
Vegan lunch and snacks are provided. Let us know if you have a dietry need (not just a preference).
Who is leading this retreat?
Colin Ellis was a RM Commando at the age of 16. In his 30s, he studied Tibetan Buddhism and other spiritual traditions. He has been a retreat co-ordinator (at a Buddhist retreat centre - see photo of Colin below). He has decades of meditation experience.
He has been on 3, 6 & 9 month meditation retreats in solitary and silence. He now leads retreats.
Colin is also an award-winning author, who also develops courses on meditation and mindfulness. See his books on Amazon (search for QC Ellis).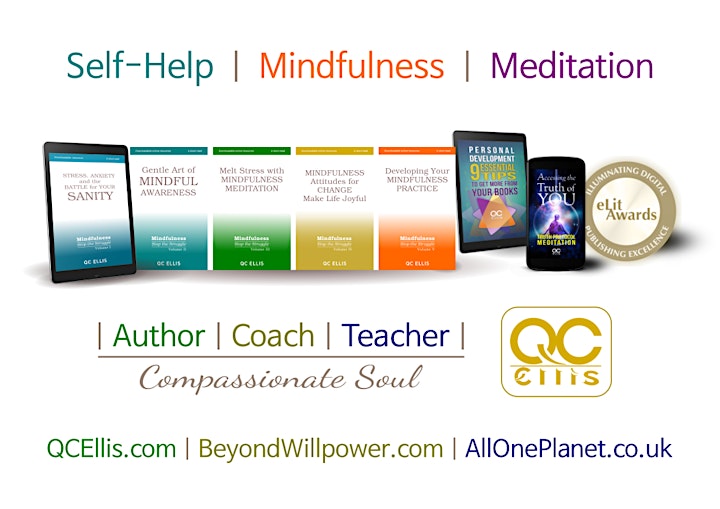 Organizer of Blissful Beauty of Tranquility - Meditation, One Day Retreat
We aim to provide you with the right amount of information to take your insights deeper. Thus, although the materials via the books & courses published by us are comprehensive, the workshops and retreats are geared toward giving you the experience you need for real insight and Awakening. 
All One Planet Ltd. is a company founded by transformation coach and meditation teacher, Colin Ellis (aka author QC Ellis).