Description
This is a 5-week course, beginning on THURSDAY March 16, 2017
This series will meet on THURSDAYS from 6:30-8:30, March 16 to April 20.
Blissborn is a childbirth education class emphasizing the power of your own mind to create a blissful birth. Topics covered include: The labor process, normal variations in labor, coping techniques, positions for natural labor and laboring with an epidural, and what to expect immediately after delivery.
This class focuses on evidence-based, natural childbirth, as well as helping you to understand standard local hospital proceedures & protocol. This class is great for first time parents or a refresher as well as for those who plan to birth at home.

Learn techniques that will shorten your labor and minimize your discomfort.
Each class contains:
A review of the last class

What's happening in today's class

Activities

Discussions

Hypnosis (usually everyone's favorite part!)

Homework (really interesting reading and more hypnosis!)

Q & A time (in the live class, of course)
Each couple gets a comprehensive 234-page Blissborn Parent Manual and six powerful practice CDs with great hypnosis sessions.
---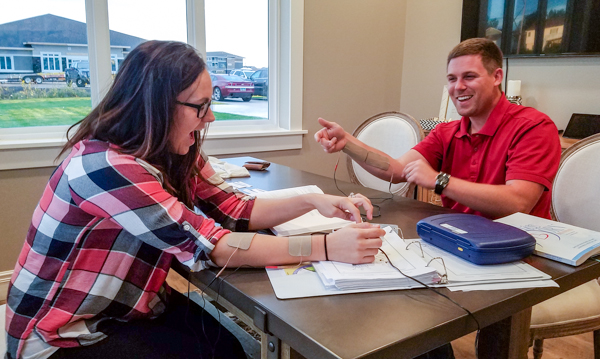 Class 1: Discovering Self-Hypnosis
Learn the secret to profound relaxation that offers no resistance to labor, and how to re-activate it with a simple word prompt. Experience the power of visualization.
Class 2: Practical Skills for Mom and Partner
Moms need lots of support in labor! Partners become hypnosis coaches and learn about what REALLY helps moms. Practice staying in hypnosis while walking and opening your eyes. Learn about birth anatomy,terminology and phases of labor.
Class 3: Birth Without Fear
Fear is a message from the deeper mind. Learn to identify the fears that could derail an otherwise perfect birth, and transform them into calm and confidence.
Class 4: Tame Labor Pain with your Brain
Learn the secrets of the mind that have allowed people for thousands of years to reduce sensations in their bodies and suffering in their minds. Practice different ways to control sensations in hypnosis.
Class 5: Putting it all Together
Put together all the skills and info from the first four classes so you'll feel confident and excited about your birth. Learn all about birth plans, labor positions and the pushing phase. Partners practice their 'duties' and special hypnosis techniques. Look beyond birth to your plans for the baby. Learn how to use hypnosis to speed healing, jumpstart breastfeeding and get by on less sleep. In hypnosis, create the blueprint for the labor and birth you desire.
Disc 6: Bonus
This is a bonus CD to use in labor.