Sales Have Ended
Ticket sales have ended
Looking forward to meeting you, and being part of your journey while on your quest to find B.L.I.S.S.!
Sales Have Ended
Ticket sales have ended
Looking forward to meeting you, and being part of your journey while on your quest to find B.L.I.S.S.!
The October BLISS Retreat for Women is a Virtual Event that will be hosted on a Private 2 day Zoom by Patricia Jo Grover
About this event
Ladies are you on a quest to find BLISS?
Would you like to learn how to....
Believe in Yourself
Love Yourself
Identify what is holding you back
Set free what no longer serves you
Set course on achieving even your biggest dreams & goals
Then this is the 2 day retreat that you have been looking for, and you don't even need to leave your own home!
Imagine learning how to finally put yourself first without feeling guilty about it at all!
Commit to just 2 days of showing up to this amazing retreat and to showing up for yourself.
Attendees who are located in the U.S. and register to attend IN TIME will be mailed a beautiful Welcome Gift that contains items items that will aid you on your quest for BLISS!
(unfortunately due to the Global Pandemic we can not offer the Gift Boxes being set outside the Continental U.S. at this time because the package could be tied up crossing the boarders for to long, you would never receive them in time)
Important Notice- Wanting to be clear right up front...
Ladies ONLY, and this event is JUST for YOU time...Meaning attendees...
1. Must have their cell phones shut off (or at least notifications , ringers, etc off)
2. Must not have the distractions of dogs, children, spouses or significant others
3. And must respect that as much as this event is for each individual woman who attends to leave having found their own BLISS that we want to be as respectful and supportive of every woman who chooses to attend, and has carved out this time specifically just to attend this event.
The Gift Box that we will be sending to you will have instructions inside to help you to prepare to make the BLISS Retreat an unforgettable and invaluable experience!
As soon as you register through this link we will e-mail you another special gift just for you to use while you are waiting to receive your Welcome Gift Box in the mail, when you receive that email you will also be asked to reply to it with the Shipping Address for us to send your Welcome Gift Box to!
If a man is reading this they can purchase a Ticket for the special woman in their lives who they would like to have attend the BLISS Retreat (wife, mother, sister, girlfriend, co-worker)
NOTE.. know up front that this even is for WOMEN ONLY, any man that tries signing on to the event will be promptly removed, with NO REFUND of the ticket fee.
Ladies, you are more that welcome to purchase a ticket for your self and as many other women as you would like to have attend with you! Each woman would need to be signed in on their own Zoom Account.
As a matter of fact we will have special gifts that we announce at the event for the women who share the love the most to other women and get them to attend the BLISS Retreat!
*There is a no refund policy period, even in the listed senerios..in full or partial for anyone who can only attend one of the days, or who has to be removed if they are being disruptive to the other Attendees experiences.
Find out a little about your Host...
https://PatriciaJoGrover.com , The Goal Achievement Strategist
PatriciaJoGrover.com is the complete platform created by Patricia Jo Grover and is the parent company of The Rise Above Your Show / Podcast, The Empowerment Network & Mastermind Group, The Rise Above Summit and Ultimate Achievement Books which produces the Rise Above Series of Anthology Books & Workbooks, as well as any & all the Services, Courses, Workshops, Webinars, and Events that Patricia Jo Grover herself has created and Speaking Events that she does. On top of that Patricia has created a BLISS Retreat for Women to be able to find just that. Every aspect of each leg of PatriciaJoGrover.com was created to offer encouragement, education, and empowerment to people on their own journeys to Goal Achievement. Each leg of the platform was designed with taking into consideration the thousands of hours that Patricia has put into her own personal and professional development and to work in conjunction with the system that she has created with the first book that she wrote as a tool to goal achievement. Patricia Jo Grover is also known as The Goal Achievement Strategist, who has strategically built her platform to create achievers out of all who utilize the tools that she has created to help others from having to learn things the hard way! Patricia Jo Grover of PatriciaJoGrover.com is also a philanthropist and gives to Non-Profits that make a positive difference in the lives of women and children who have experienced domestic abuse of any kind. This specific cause is near and dear to her heart as she is now considered to not just be a survivor herself but a thriver by herself and many others worldwide.
Patricia Jo Grover, The Goal Achievement Strategist uses her complete platform and offers 1:1 Services associated with Goal Achievement and offers her unparalleled Peer-to-Peer Mentoring & Accountability Membership Program.
Patti has over 30 years of Business Management & Ownership Experience from creating them to selling and making a profit from their sale. Several of the Management Positions in were in Fortune 500 Companies. With her years of business experience, she has recruited, trained, coached, consulted, taught, and mentored over 2500 Entrepreneurs, Corporate Employees, and Staff of her own Businesses.
Patti incites action through Encouragement, Education, and Empowerment while she teaches how to Articulate, Activate, and Achieve with Curiosity, Courage, and Consistency!
All that she now does, and that she is choosing to live her life Purposefully, Joyfully, and Gratefully was made possible by the wisdom and knowledge that here childhood that most people couldn't conceive let alone believe has given her. All of the products and services that Patricia has created as part of her platform were spurred on by the needs that she herself found that she had wished had been available to her as she was on her own life's journey developing both personally and professionally. She now being not only a survivor but a thriver of how domestic abuse in a home can effect children well into adulthood chooses to donate not only time, talents, but also proceeds from the 10 % profits of her book sales a charity that focuses on the needs of Women & Children who have been affected by Domestic Abuse of any form in the US.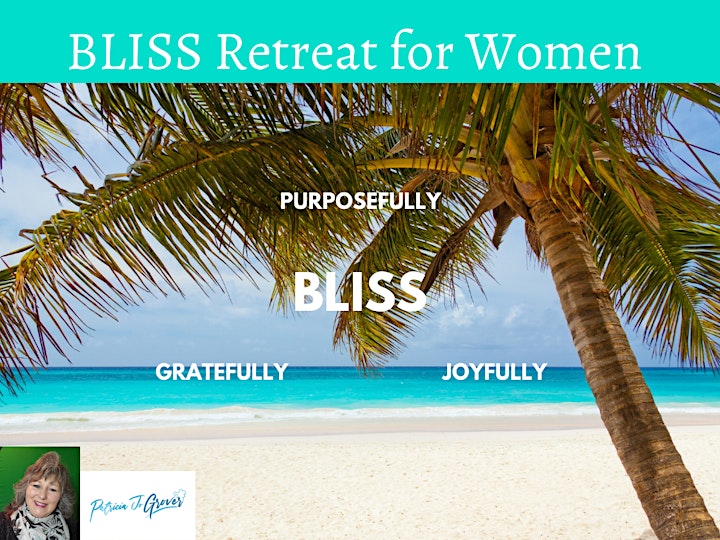 Date and time
Location
Refund policy