Bliss Dance

Friday, June 24, 2011 from 7:30 PM to 9:30 PM (PDT)
Event Details
BlissDance:
Bliss
is the balance that happens
When we fully embrace
Both our shadow and our light
And come to rest
In love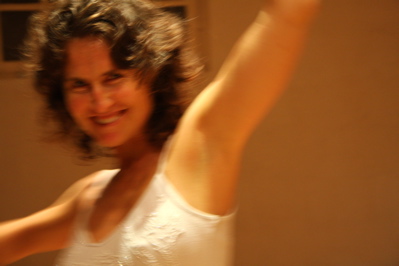 With Shakti Malan (Ph.D)
Friday 24th, June 2011

Roco Dance studio
Fairfax, CA
    BlissDance is an expression of Tantra, the art of integrating the sacred and the sexual, abd using this as a force for awakening. In a BlissDance session, you explore your inner and outer worlds through movement and stillness, music and silence.
   BlissDance draws on the wisdom of Biodaza and various other dance, movement and meditation traditions.
    One of the first principles of Tantra is presence - being present is the here and now, in your body, in your sences. Another is the connection between our passion, our sexuality, and our hearts. BlissDance is a space where you can come to rest into simple beauty of moving in a body, with other bodies, in the dance of life.
    As this happens, you get to experience and confront some of the patterns that keep us from being intimate with life:
Body Armoring
Associations
(for definitions of body armoring and association visit www.erotic-spirituality.com)

    One of the keys of BlissDance is that the dance moves you out of your habits and stuck ways. We act out some of the drama's of everyday life - like having a couple's fight - but do that in a conscious way, as a celebration of the body, and as an act of freedom. In doing that, something gives way, more space gets created, and we can celebrate our freedom more.
  Somethimes Shakti uses ancient shamanic techniques to help shake up the nervous system so that you can slip into this moment with  no mind. Sometimes we dance wild and crazy with little structure and limitation, to let that energy be expressed and accessed in the body. Eventually, as Rumi says:
Somthing opens up
I taste only sacredness
BlissDance is for those who are yearning for presence, freedom and truth. It is for the brave spiritual warriors who are not scared to dance their ridiculousness and to let their vulnerability be felt in the dance as well.
The facilitator: Shakti, Malan
       Shakti is the crator of BlissDance. She has a well established practice as Tantrika in Cape Town, South Africa. For details on her background, the nature and extent of her work, see shakti.co.za and totalitytherapy.com
For more information on Shakti as she visits California June 18th- 27th 2011
visit: www.erotic-spirituality.com
When & Where

Roco Dance Fairfax
56 Bolinas Rd.
Fairfax, CA 94930


Friday, June 24, 2011 from 7:30 PM to 9:30 PM (PDT)
Add to my calendar
Organizer
Shakti Malan, a Dakini or teacher of the art of sacred sexuality is visiting California from South Africa.
visit www.sexualsomatics.com for more info!
This is her last event in California!