Sales Have Ended
Ticket sales have ended
We are sorry, tickets are no longer available for this event.
Sales Have Ended
Ticket sales have ended
We are sorry, tickets are no longer available for this event.
Bliss Dance Festival promotes Womxn Choreographers while empowering Womxn to celebrate their Sexuality, Sex, and Sexual desires.
About this event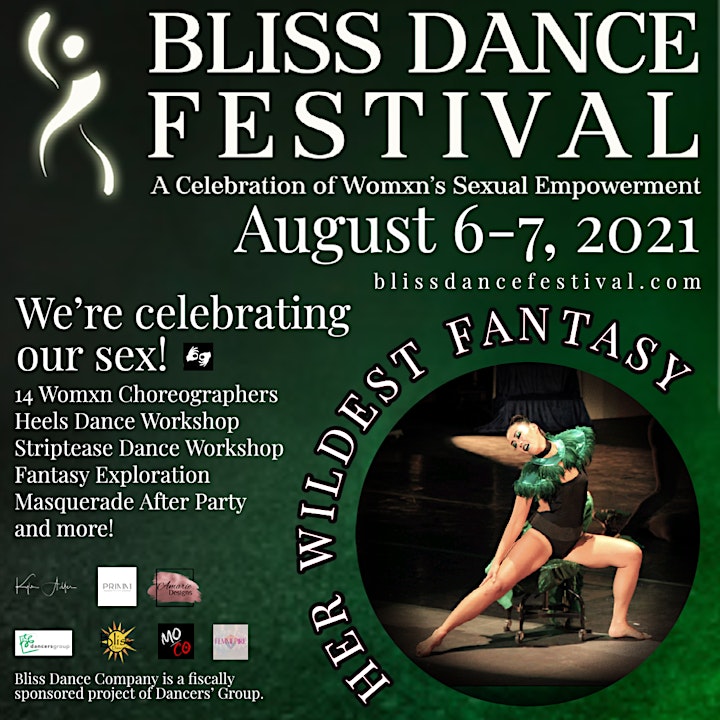 Join us for the 3rd annual Bliss Dance Festival, 'Her Wildest Fantasy', Hosted by Bliss Dance Company. BDF is the only dance festival that celebrates women's sexuality by highlighting up-and-coming women choreographers to showcase their work in the most intimate setting, our own computers! Choreographers will give us a front row seat as they explore their deepest thoughts and wildest fantasies.
This two-day event will not only showcase our wonderful choreographers, but also invites you to play in a variety of workshops to help you explore movement and your desires in a secure, safe, and encouraging environment. We are also bringing back our DJ'd end-of-festival After Party with a fantastical masquerade theme.
Bliss Dance Festival is for all mature participants, ages 18+.
For details and times on each workshop visit our website here.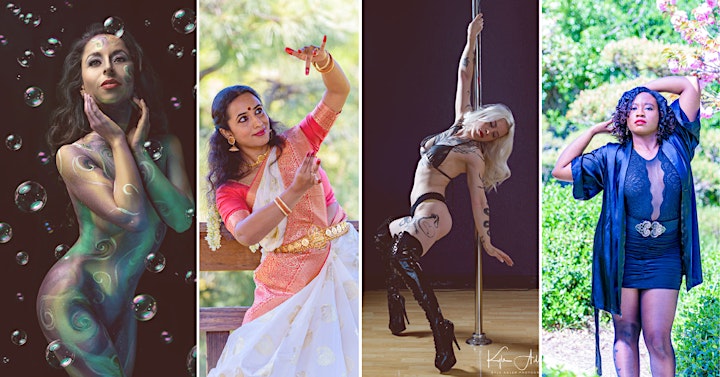 BDF 2021 SCHEDULE
All timing is on Pacific Standard Time. Appropriate for adults 18+. All genders, sexualities, and abilities are welcome.​
ASL Interpretation is available for all Zoom Workshops. ​
FRIDAY, AUGUST 6, 2021
3pm - 3:30pm OPENING CEREMONY & SEXUAL AWAKENING MEDITATION
Led by Cassie Begley and Madi Partovi
Location: Livestream - BDF Website
4pm - 5:30pm SEXUAL WELLNESS PANEL & DISCUSSION
About Fantasy Exploration & Interpretation:
Voyeurism, domination, submission, threesome, moresome...our sexual fantasies are diverse and have many facets to their deeper meaning. Let our panel help us explore our intimate thoughts in this safe and supportive environment.
Led by Chanel Jaali Marshall
Panel: Topanga Turk, Ellice Apostolos, Nudista
Location: Zoom
6pm - 7:30 pm EROTIC CHAIR DANCE WORKSHOP
About Erotic Chair Dance Workshop:
​Slide into your most erotic self while learning a seductive dance using a chair (and your imagination) as your favorite toy. Let's enjoy the ride, and indulge in our beautiful curves and effortlessly sexy body, in this sexually liberating chair choreography. No experience is necessary, this workshop is for all levels from true beginners to experienced dancers.
Led by Itzel Lara
Location: Zoom
8pm - 9pm BDF 2021 FEATURED CHOREOGRAPHERS
Video Compilation A
Location: BDF Website​
9:30pm - 11pm UNLEASHING THE MISTRESS INSIDE WORKSHOP
About Unleashing The Mistress Inside:
​Delve into the fantasy of dominance and shift into your Mistress persona with this BDSM focused workshop. Nudista will guide you through consent, language, and props to explore sensuality using power play. This is your chance to elevate your erotic energy and claim your Mistress power. Bring a friend or come as you are. ​This workshop is for all adults and sexualities.
Led by Nudista
​Location: Zoom
SATURDAY, AUGUST 7, 2021
11am - 11:45am BLISS BRUNCH & SENSUAL TOUCH & STRETCH
Led by Cassie Begley & Madi Partovi
Location: Livestream - BDF Website
12pm - 1:30pm SEXY HEELS DANCE WORKSHOP
About Sexy Heels Dance Workshop:
Get ready to walk into your feminine power with this empowering and sensual dance class. Heels and knee pads are encouraged. This class is for intermediate to advanced dancers
Led by Tessa Shanley of Full Out Studios
Location: Zoom
2pm - 3:30pm EROTICA WRITING WORKSHOP
About Erotica Writing Workshop:
Bring your fantasies to this interactive workshop and make them come to life on the page. Choose your level of spiciness: mild, medium, or EXTRA hot. It's up to you on how much heat you want to infuse. Don't worry! KELLIE, AVA, and MARINA will walk you through every step as we adventure into our fantasies.
Led by Kellie Rice, Marina Adair, & Dana Gaulin
Location: Zoom
4pm - 5:30pm SEXY SELFIE WORKSHOP
About Sexy Selfie Workshop:
Capture your most sexy self guided in a safe space with sex-positive community leader, Topanga Turk. Use what's right in your pocket to take amazing pictures of your sexy self! Topanga Turk will share pointers, poses, materials and the best filters to let you truly see the beautiful person that is YOU!
​Led by Topanga Turk of Femmepire
Location: Zoom
6pm - 7:30pm STRIPTEASE DANCE WORKSHOP
About Striptease Dance Workshop: Strip Tease~ An Introduction to Moving in Your Pleasure.
You have the power to make a person weak with desire. Tap into your body's pleasure then share this beauty with another. Explore the world of allure and tease, be daring, free your sexy and learn the incredible impact you can have on your watcher. Have fun enjoying your own body's pleasure whether you want to share with another or not. All levels welcome!
Led by Ellice Apostolos of S Factor
Location: Zoom
8pm - 9pm BDF 2021 FEATURED CHOREOGRAPHERS
Video compilation B
Location: BDF Website
9pm - 10pm MASQUERADE AFTER PARTY!
Featuring Go-Go Dancer Rachel Helzer, Pole Dancer Grace Garcia, and more!
Location: BDF Website
Date and time
Location
Refund policy
Organizer of Bliss Dance Festival 2021
Bliss Dance Company supports the voice of female issues through the art of performance dance. Our commitment to original and innovative creations come straight out of our artists' hearts and souls. A fusion of diverse disciplines of dance and cultural backgrounds enable us to touch our community with the passion that comes from our life experiences.