Description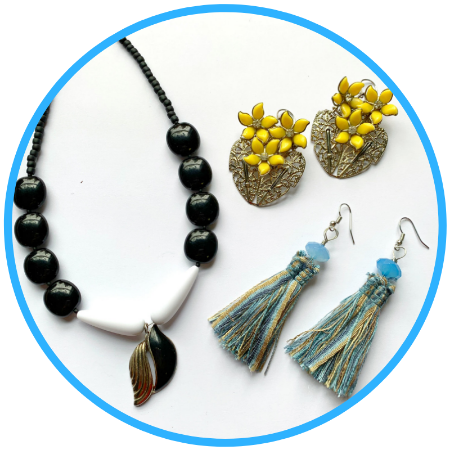 BLING HACK is your chance to learn how to transform broken, underwhelming, and unloved jewelry into one-of-a-kind upcycled creations! In this workshop we'll show you some basic upcycled jewelry design techniques before giving you access to our epic collection of jewelry and findings. You'll learn to make a few necklace styles, and you can explore and design on your own, too. Tools, findings, instruction, and take-apart jewelry are all included!
We'll meet in our upstairs* creative space to eat, drink, learn, make, and laugh with other friendly folks who are curious about upcycling. We'll have a light lunch to share, and you're welcome to BYOB if you want to enjoy something stronger than the water and coffee we'll provide. As an added bonus, we are offering all workshop attendees 10% off any purchases made in our retail shop so you can stock up on supplies for your newly formed jewelry making habit!
Don't worry if you're new to the craft; we welcome beginners and experts alike. We'll share some easy styles if you like to keep it simple, but you can also go rogue and create the upcycled jewelry of your dreams. Grab your friends, reserve your tickets, and we'll see you on April 27th!
*Upcycle Parts Shop is located in a historic building and the upstairs room is accessible by stairs only. We apologize for the inconvenience to those with physical limitations, but if this is you, please know that we are working on offering a similar workshop in a more accessible location later this summer. Please reach out to marissa@upcyclepartsshop.org if you'd like to know those details when they become available.
FAQs
Is this workshop suitable for kids?
This workshop is suggested for adults or adolescents accompanied by a parent. Stay tuned for some kid friendly workshops later this spring!
This is my first time hearing about Upcycle Parts Shop. What's the deal?
We are a creative reuse center located in the St. Clair-Superior neighborhood of Cleveland. In our retail storefront we sell low-cost craft supplies and upcycleable treasures, all generously donated to us by individuals and corporations in our community. Since opening in 2014, we have diverted over 24 tons of usable material from the landfill! Whether or not you can make our workshop, we'd love to see you in our shop during our weekly retail hours. We are open to the public on Thursdays from 2-6 PM and Saturdays from 10-4 PM. Please visit our website for more information about our shop, mission, and donation guidelines: www.upcyclepartsshop.org
What can I expect when I arrive?
Come through our shop door located under the blue awning. We'll then head upstairs for snacks, socializing, and creating. There will also be time to visit our shop if you'd like to purchase any creative materials and upcycle parts. You'll also receive 10% off any in-shop purchases as a thank you for attending this event!
What refreshments can I expect?
We will provide coffee, tea, and water. We will also have light lunch such as pizza and veggies. Please feel free to bring your own snacks, too, as well as your favorite beverage! We have plates, utensils, and glasses so no need to bring those.
Where should I park?
There is street parking available in front of our shop on St. Clair Avenue as well as on Addison. You may also park in the Slovenian National Home parking lot behind the building which is accessible from Addison or E. 64th.
What if I have more questions?
Email our Program Director Marissa at marissa@upcyclepartsshop.org.