Description
Bleux Fest 2019
Get ready for the inaugural Bleux Fest! This years lineup features incredible performances from Lil Jon, AVSTIN James, Nate Nelson featuring T Nate & JVN, Waiavelli, and Henny.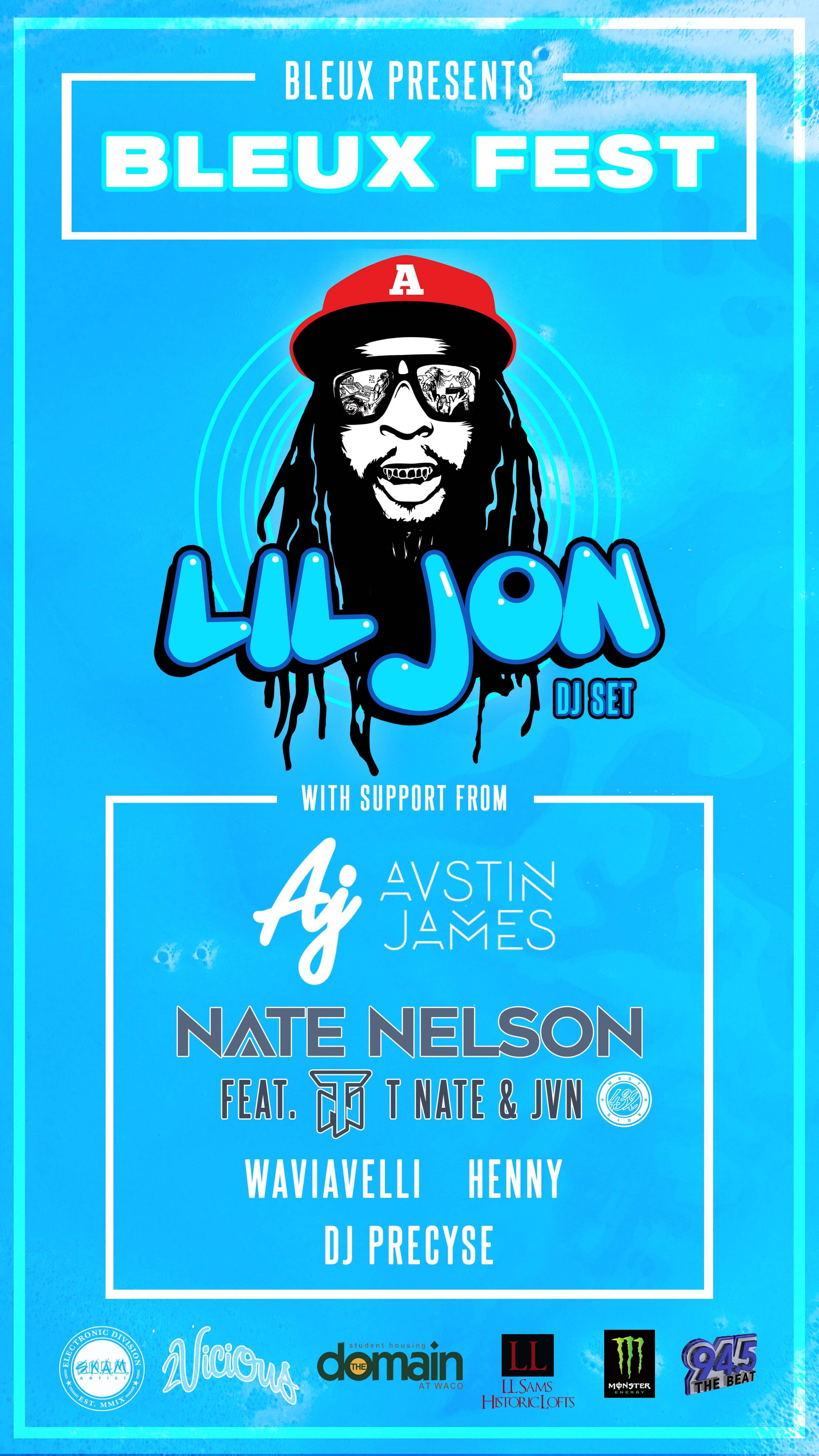 The event of the year will be hosted at Brazos Parking right next to McLane Stadium. Our friends from Monster Energy, Barnett's Public House, Billy Bob's burgers, Pokey O's, The Domain and LL Sams will be joining us for an unforgettable experience.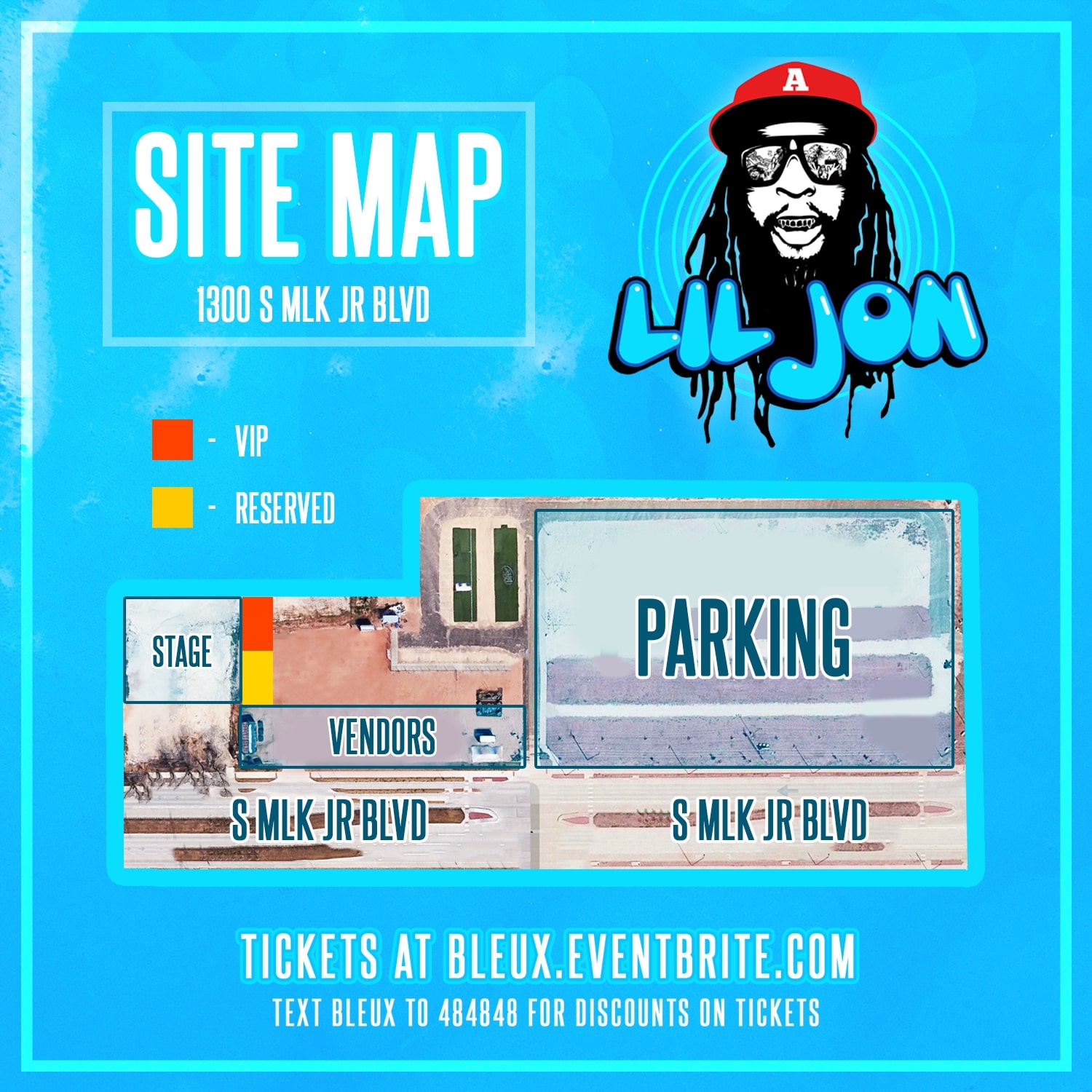 Alcohol will be available for sale courtesy Barnett's Public House (21+)
Follow @BleuxEvents to stay updated and go to BLEUX.EVENTBRITE.COM to grab your tickets! Tickets are limited, so grab yours before they're gone.
Catch a recap of our 2018 performance here
IMPORTANT
Prohibited Items
Outside beverages
Glass
No bags
About the artists
For the last decade plus, the words "Yeah," "Ok," and "What" have been synonymous with multi-platinum, Grammy award winning artist Lil Jon. He has been one of the most prominent figures in music and pop culture alike, performing for hundreds of thousands of fans with Usher & Ludacris, Afrojack, Steve Aoki, Pitbull, TLC (on FOX's American Idol), Yandel, LMFAO and Sydney Samson just to name a few. In 2014, Lil Jon proved once again he's a powerhouse artist teaming up with DJ Snake for their smash hit "Turn Down For What," which created a massive worldwide craze. The string of hit songs haven't stop after that including "Bend Ova" feat. Tyga, "Prison Riot" with Flosstradamus, "Get Loose," (out on DIM MAK) and recent singles "Live The Night," with Hardwell "Savage," with Borgeous and Riggi & Piros and "Take It Off" featuring Yandel and Becky G.
21-year-old Vancouver native Austin McQuay, better known by his stage name AVSTIN JAMES, has released some of the year's most promising, electronic remixes and mashups. Austin burst into the music scene in 2017 with his viral mashup track, "Backseat XE3 (Kendrick Lamar X Whethan)" and quickly made a presence in the USA College market. Finding himself booked at the USA's top party schools, he has completed 3 Tours from the Spring of 2017 to the Fall of 2018. AVSTIN JAMES has taken his mashup-influenced background to the studio, and has been crafting his highly anticipated Hybrid-Trap project. You can expect big things from AVSTIN JAMES in 2019.
Nate started his Dallas Dj career bouncing from bar to bar, it wasn't until he met his mentor and business partner, Glenn Roush, that he leaped head first into the private event world with Leforce Entertainment. Nate's resume includes intimate night clubs, festival stages, working with celebrity athletes such as Lindsey Vonn, Alex Rodriguez, Sean Lee, Adrian Beltre and opening for Waka Flocka and Travis Scott. Nate keeps finding himself leveling up his event game by bringing a high energy, club atmosphere to his weddings and corporate events. Nate is a key founder of Kings of Prom, a festival-inspired school dance production company.

Waviavelli
Waviavelli is Baylor's choice DJ for the moment. You'll recognize him from being the DJ at Scruffs every Saturday this semester but you may have seen him in the BSB also. Graduating this August with a science degree, Waviavelli uses his knowledge of the crowd to craft sets that are sure to keep the dance floor packed, and he does it all on the fly! Listen to him set the tone for the evening as he opens on the Bluex event stage for the second time in a row!
DISCLAIMER:
This event is produced by @BleuxEvents and is in no way affiliated with surrounding colleges or universities.