Description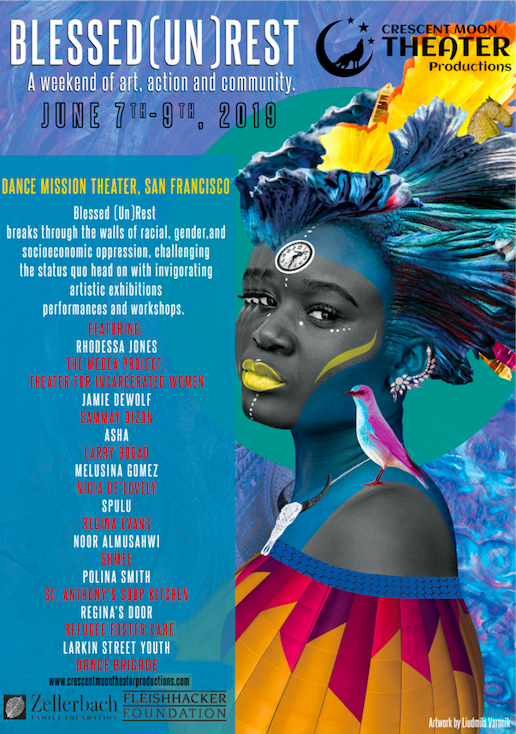 Blessed (Un)Rest breaks through the walls of racial, gender, and socioeconomic oppression, challenging the status quo head on with invigorating artistic exhibitions, performances and workshops.

Specifically, Friday night opens with performances by visionary Bay Area Artivists, including Rhodessa Jones and The Medea Project:Theater for Incarcerated Women.

Saturday afternoon: The Art of Sacred Clowning: Masking the Ritual in the Absurd and Abstract with Melusina Gomez (More details below)

Saturday Evening: Artists present performances inspired by the work of Bay Area non-profits alongside non-profits speaking about the powerful work they are doing the in the community.

Sunday afternoon: Creative action in the mission! Join us as we partake in a creative art project in the mission.

Sunday 2pm Mission Youth Arts Festival at La Raza Park
FB INVITE: https://www.facebook.com/events/657180921410051/
SCHEDULE:
FRIDAY JUNE 7th 8pm:
*Rhodessa Jones
*The Medea Project: Theater for Incarcerated Women
*Jamie DeWolf
*Sammay Dizon
*ASHA
*Larry Bogad
*Melusina Gomez
SATURDAY JUNE 8th, 4:30-6:30pm The Art of Sacred Clowning: Masking the Ritual in the Absurd and Abstract with Melusina Gomez
SATURDAY JUNE 8th, 8pm
Performances and Presentations by:
*SPULU
*Shmee
*Polina Smith
*Regina Evans
*Nicia De'lovely
*Noor Almusahwi
*St. Anthony's Soup Kitchen
*Regina's Door
*Refugee Foster Care
*Larkin Street Youth
SATURDAY JUNE 8th:
The Art of Sacred Clowning: Masking the Ritual in the Absurd and Abstract with Melusina Gomez . This lecture and workshop will explore using the absurd and vulnerable territory of the theatrical clown to address personal, ancestral, and collective themes. We will discuss the use of abstraction and absurdity, instead of a direct approach, and how this might serve your work on both an artistic and ritual level, reaching minds and hearts.
The following themes will be covered:
The role of humor and pathos in ritual theatre
Which specific components make this form of theatre into an act of possible healing, one that can move the hearts of others
Translating principles of ritual and healing into a creative process and distilling this work into an artistic performance
Specific healing concepts from Nahualismo and Curanderismo, the indigenous and post colonial healing traditions of Mexico, as an example of how to bring elements of the sacred traditions into your process in a subtle manner
Grounding the work in metaphor, understanding poiesis, and partnering with the stories of the collective unconscious, like fairy tales, myth, and folklore.
All levels of experience are welcome. Wear comfortable clothes for movement and play. Bring your personal themes and obsessions, stories of interest to you, and one object you might like to work with. No pressure to be brilliant in a short amount of time!

SUNDAY JUNE 9th: 11am-1:30pm Creative action in the mission. Meet at Dance Mission. FREE

SUNDAY JUNE 9th: Mission Youth Arts Festival! More info at: https://dancemissiontheater.org/2019/03/21/save-the-date-mission-youth-arts-festival/
Tickets to evening shows:
General: $22 in advance, $28 at the door
Students/Seniors (65+) with ID: $20 in advance, $25 at the door
Patron of the Arts: $32

Sacred Clowning Workshop: $15

"Art is not a mirror held up to reality
but a hammer with which to shape it."
~Bertolt Brecht

*Blessed (Un)Rest is made possible through the support of the Zellerbach Family Foundaiton and the Fleishackker Foundation