Description
ATLANTA FREE EVENT: Discover 5 game-changing strategies for business and spiritual growth that every Christian entrepreneur needs
You have been in business for a few years now and have experienced success, but you know deep down that God has more for your business.
You have been so busy with growing and building a sustainable brand, that you haven't had time to grow and develop a spiritual strategy for your business.
You might even feel stuck or stagnant in your current business and you are in need of a spiritual push.
You desire to connect with like-minded Christian to support you along your entrepreneurial journey
Join me Friday, October 13th for an evening of networking, corporate prayer, food, and giveaways and a discussion on 5 strategies for business and spiritual growth for your business
This isn't your typical event because - by now, you've probably gone to all the networking brunches, events, and business conferences to last a lifetime. We will discuss harnessing the power of God and the supernatural to achieve business success.
Don't wait - tickets are only free for a limited time and this event will sell out!
Hosted by Tiffany Webb (www.uniqueoccasionsbytnicole.com) a seasoned entrepreneur with a successful event planning company and Chanel Martin an award-winning co-founder of hair and beauty tech company Myavana (www.myavana.com) and founder of Blessed Profits (www.blessedprofits.com)
Click Here to Join the Blessed Profits 31 Day Business Prayer Challenge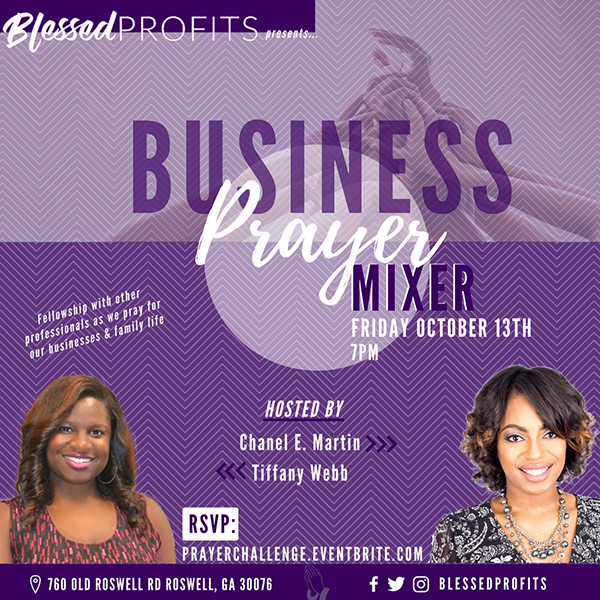 Click Here to Join the Blessed Profits 31 Day Business Prayer Challenge