Description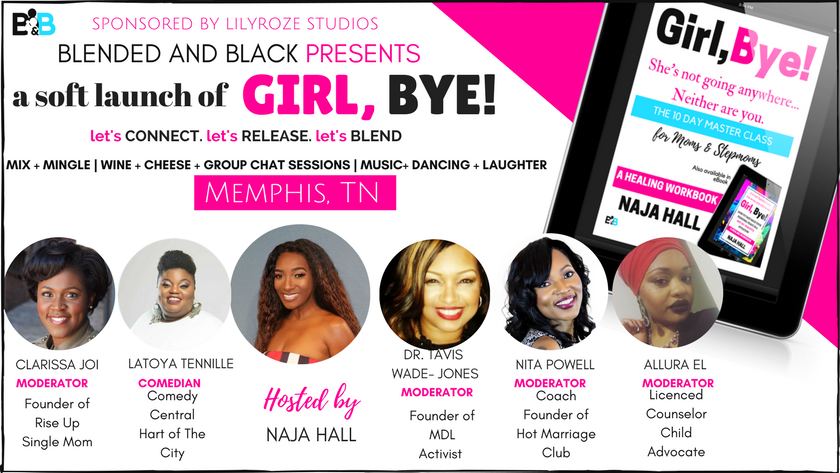 FREE ADMISSION!
Blended and Black is a highly engaged community for millennials in Stepfamilies. We show one another a lot of love online, NOW let's enjoy an evening together! We all know that the holiday season can be extra stressful for those of us dealing with blended situations, so let's meet up for some quality time with our girls! We have a fun night planned for the ladies of our community! Founder Naja Hall will be discussing her new book, Girl, Bye! And we'll be having an open-forum panel discussion on topics such as blended family drama, remarriage, divorce, child-rearing and MORE! Moms and stepmoms, we will see you on December 27th!
*Additional copies of Girl,Bye! may be for sale in limited quantities.
Naja Hall, founder of Blended and Black, will be serving wine and launching her book, Girl,Bye!- A Healing Workbook for Moms & Stepmoms. The 10 Day Masterclass is full of case studies, tough love and daily challenges that will help women find peace in their not-so-peaceful situations. The workbook is also combined with daily videos lessons and an exclusive membership to the Secret Book Club for women that are participating in the Girl,Bye! experience.
Dr. Tavis Wade-Jones Outspoken activist, philanthropist and founder of Modern Distinctive Ladies, Inc. will moderate our group panel discussions during the evening. MDL is nonprofit organization dedicated to empowering young women and girls in the Greater Memphis and Mississippi area, to make healthy choices, create social change and become leaders in their communities. Tavis is a mom, step-mom and a Glam-Ma!
LaToya Tennille Comedy entrepreneur, LaToya Tennille, has taken the world by storm with her stand-up, skits and theatrical comedy productions. She has worked with comedy legends, J. Anthony Brown, Rodney Perry, Tiffany Haddish and most recently Kevin Hart, when she was featured on his Comedy Central Show, "Hart of the City." She's experienced high conflict co-parenting, she's been a self-proclaimed "crazy baby mama" and she's telling us all about it!