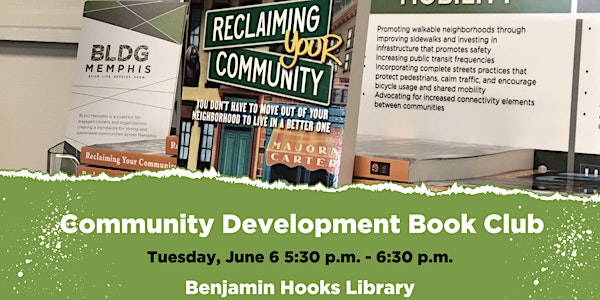 BLDG Memphis Community Development Book Club
Community Development Book Club is back! This year, we are reading "Reclaiming Your Community" but Majora Carter.
Date and time
Tuesday, June 6 · 5:30 - 6:30pm CDT
Location
Benjamin L. Hooks Central Library - Memphis Public Library 3030 Poplar Avenue Memphis, TN 38111
About this event
The Community Development Book Club is reading "Reclaiming Your Community" by Majora Carter this summer. "Reclaiming Your Community" challenges the idea that success is measured by "how far you can get away" from the community. This book addresses the issue of brain drain by presenting a "talent-retention strategy," reminding people that "you don't have to move out of your neighborhood to live in a better one."
The BLDG Memphis team will host the first meeting on Tuesday, June 6th, at Benjamin Hooks Library from 5:30 p.m. - 6:30 p.m. We are asking Community Development Organizations if they would host follow-up meetings in July and August. Community Development Book Club is a great way to start conversations around community development topics. If you or your organization want to host one or both additional meetings, don't hesitate to contact Christina@BLDGMemphis.org.
About the organizer
BLDG Memphis (Build. Live. Develop. Grow.) is a coalition for organizations and individuals who support the development and redevelopment of healthy, vibrant, attractive, and economically sustainable neighborhoods throughout the Memphis region. We accomplish this through policy and advocacy; community engagement and civic engagement; and capacity building programs for community development organizations. 
www.bldgmemphis.org