Description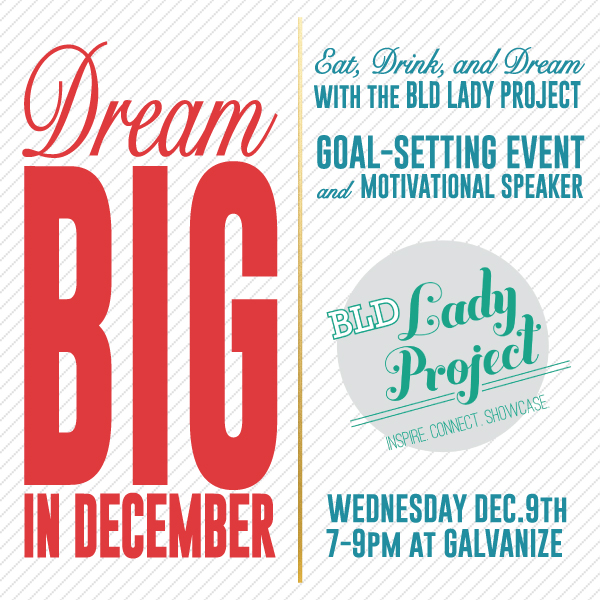 December can be a busy month - holiday parties, gift shopping and tying up loose ends... It can also be a time for sharing gratitude and gearing up for the year ahead!
Join us as we come together for a night of sharing gratitude and setting goals. Our featured speaker and fellow BLD Lady Project member Leslie Herrmann will lead this powerful and aspirational evening. She's built a career as a motivational speaker and life coach and will help us identify our goals - both personal and professional. You'll even have the chance to team up with other attendees as accountability partners!
We'll have drinks and apps to share - RSVP today!
About Leslie, in her own words:
"As an entrepreneur, keynote speaker, author, consultant, mentor, and catalyst I intentionally dedicate my life to empower people to make choices that strengthen their lives. I specialize in helping hopeful, ambitious individuals outline and accomplish their ongoing purpose, vision, and goals with fresh, invigorating perspective."
About BLD Lady Project
The Lady Project is a 501(c)(3) non-profit organization that connects, inspires and showcases awesome women doing amazing things through membership, events and community engagement. The Lady Project is based in Providence, Rhode Island, where chapters in Providence, New Haven, Boston, Nashua, New York City, Washington DC, Seattle, Boulder and Philadelphia host monthly events where women can connect, get inspired and learn about what other awesome women are doing in their cities.
FAQs:
Q: Do I need to be a lady to come to the event?
A: Yes! Our events are for those who identify as a female.

Q: Do I need to be a member to come to this event?
A: Nope! This event is open to all ladies. Some of our events are members only, though. Learn more about membership here.