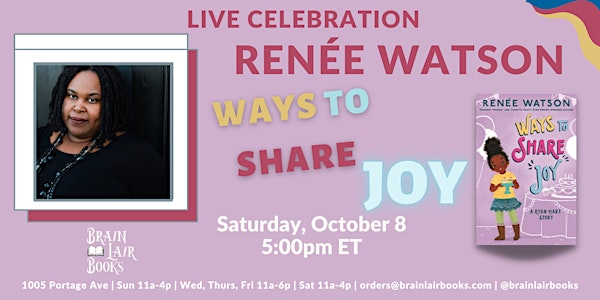 BLB Live Event: An Evening With Renée Watson
Renée Watson will join us to talk Ryan Hart, the book drive, and all things writing
When and where
Location
Brain Lair Books 1005 Portage Avenue South Bend, IN 46616
About this event
Join us live, October 8th at 5pm at Brain Lair Books to hear from Renée.
Audience can submit questions when registering.
Book purchases are handled by Brain Lair Books. Renée will sign books afterwards.
Doors will open at 4:30 pm in room 1013. Brain Lair Books is located at 1005 Portage Ave, South Bend, In.
Check out this Ryan Hart clip! https://youtu.be/0d0fVjGAk7U
ABOUT THE AUTHOR
When Renée Watson was seven years old, she wrote a 21-page story and her teacher told her, "I think you're going to be a writer one day!" And she was right. Renée's been writing ever since: poetry, plays, and books. Some of Renée's books include Ways to Make Sunshine, Some Places More Than Others, and This Side of Home. She also wrote Watch Us Rise with her good friend Ellen Hagan. Her novel Piecing Me Together won two very special awards, the Coretta Scott King Award and the Newbery Honor.
Renée Watson grew up in Portland, Oregon. Many of her books are inspired by the neighborhood she lived in. When Renée is working on a new book, she makes a playlist of songs she thinks her main character would like and listens to it while she writes. She does most of her writing in her writing nook, surrounded by inspiring quotes, photos of loved ones, and art. All because of her books, Renée has traveled to Japan, Korea, Hong Kong, The Netherlands, Australia, New Zealand, and many places in the United States. Of all the places Renée has traveled to, her two favorite places are Oregon and New York. She loves them so much, she lives in both places—Portland and Harlem. Renée believes that words are powerful and she wants to use her words to inspire, heal, and change the world. Nashville.