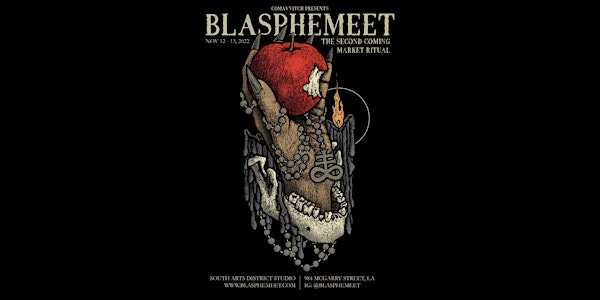 Blasphemeet: the Second Coming
Blasphemeet: the Second Coming - Market Ritual in celebration of all things that exist in darkness.
When and where
Location
South Arts District Studios 984 McGarry Street Los Angeles, CA 90021 United States
About this event
STAND READY FOR THE SECOND COMING
Blasphemeet is a market ritual in celebration of all things that exist in darkness. As you venture deeper into the abyss you will experience the Occult, Witchery, Artistry, Devilry, Divination, Heresy, Horror, Fetishism, and Death.
Workshops Available During Market Ritual.
We carefully curate our 50+ daemon vendors to provide our guests with the finest artisans Hell has to offer.
THIS MARKET RITUAL WILL BE BIGGER, DARKER, MORE VULGAR, AND EVEN MORE BLASPHEMOUS THAN BEFORE.
We invite you to join us and take back your original sin, embrace the Beast within, and abandon all hope ye who enter here.
SATURDAY, NOVEMBER 12: 3:00 PM - 10:00 PM
SUNDAY, NOVEMBER 13: 3:00 PM - 9:00 PM
FREE ADMISSION - REGISTRATION REQURED
DON'T FORGET TO REGISTER AND ATTEND THE BLASPHEMEET SINNER'S SOCIAL FRIDAY 11/11!
BLASPHEMEET CLERGY SPONSORS
Artifact Body Piercing - Hierophant
United Society of Sin - Hierophant
Witch Ilumicente - Adept
Mystic Mouse Emporium - Acolyte
Unholy Water Provided by Liquid Death.
More Blasphemous Gospel is Yet to Come...
Flyer Artwork by Dylan Garrett Smith