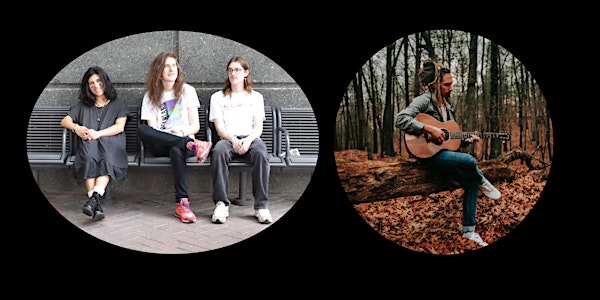 blankstate and I and the Lad
Charlotte's blankstate Tour Kick-off with special guest I and the Lad
When and where
Location
The Evening Muse 3227 N. Davidson Street Charlotte, NC 28205
About this event
Weaving heartfelt lyrics into danceable indie tunes, the three-piece indie project "blankstate." has cut their way through the Charlotte music scene since their formation in 2018. The trio fine-tuned their sound through 3 years of live performance prior to releasing studio music. With traces of everything from alternative rock to bedroom pop, blankstate. creates unforgettable music and an even more unforgettable live act. Their years of live-performance experience make for an explosive show that can fill any space, shake any room, and move any crowd. On any stage, blankstate. creates a captivating and one-of-a-kind experience.
Formed in 2018, blankstate. began as three friends finding their footing in the Charlotte scene by playing cover songs while refining their skills and crafting a unique style. In early 2021, the band debuted their original music with the release of the EP: "alone in the end.", which pairs melancholic lyrics with vibrant indie melodies for a non-stop, engaging listening experience. This debut has garnered over thirty-six thousand streams and set the stage for a wider variety of performance opportunities.
Beginning with the release of the lead single "Jasper never cries!" in mid-2022, the band began promotion for their first full-length album. This single led to rapid growth of the band's online following and number of listeners. The new album reflects a step up in musical maturity, as the band tackles new sounds and increasingly vulnerable subject matter. This album illustrates the versatile nature of the band, which is not confined to the barriers of any specific genre. Accompanying this album is a winter tour alongside fellow Charlotte act, "I and the Lad", which promises many more captivating performances!
Facebook | Instagram | Spotify
*****************
"I and the Lad" is the stage name of singer/songwriter Chris Mersch.
In the Charlotte music scene since 2012, in and out of indie rock and metal bands, I and the lad is the first project that's ever truly been him.
Pulling inspiration from City & Colour, Death Cab for Cutie, and Mumford & Sons, Mersch wears his heart on his sleeve and puts his all into every track. I and the Lad provides music and lyrics with depth, delivered with soothing yet intricate melodies, and real emotional vocals. Every song is unique, real, and has a message.
Making a name for himself, his first album "Nice Things" released in February of 2019, ranging from indie pop rock tunes to soft acoustic/piano. This release received radio play and accumulated tens of thousands of streams across multiple platforms.
Mersch followed the success of his debut with a folky sophomore album titled "Pieces." Released July 18th, 2020, this LP received radio play, as well as placement on Spotifys own playlists. The 3rd track on the record, "I Do" has been placed on several wedding playlists getting plays all over the Carolina's.
His latest release being the B-Side to the "Pieces" album, titled "I Have Loved" consisting of 6 songs, released February 2022.
I and the Lad plans to end the year strong with his 4th record, "Origami" in progress, and a winter tour with "blankstate."