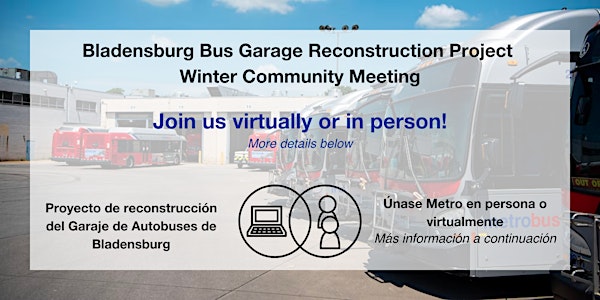 Bladensburg Bus Garage Reconstruction Project Winter Community Meeting
Bladensburg Bus Garage Reconstruction Project Winter Hybrid Comm Meeting
When and where
Location
Woodridge Neighborhood Library 1801 Hamlin Street Northeast Washington, DC 20018
About this event
Registration is now open for the winter community engagement meeting for the Bladensburg Bus Garage Reconstruction Project.
Join Metro in person or virtually to discuss recent project updates and engage with Metro's project leaders.
Meeting topics will include:
A project overview and design updates
An update on design and construction activities
An update on Art in Transit
Community Updates
To learn more about the project visit wmata.com/bladensburgbusgarage. Metro plans to hold meetings on a quarterly basis – be sure to check your email or the project website for information on future meetings.
Reunión comunitaria virtual Actualización trimestral
Martes, 24 de enero a las 6:00 p.m.
Ya está abierta la inscripción para la reunión de participación comunitaria de invierno sobre el proyecto de reconstrucción del Garaje de Autobuses de Bladensburg.
Únase a Metro en personal o virtualidad para analizar las últimas actualizaciones del proyecto e interactuar con los líderes del proyecto de Metro.
La reunión abarcará actualizaciones sobre:
Una descripción general del proyecto y actualizaciones de diseño
Una actualización sobre las actividades de demolición y construcción.
Una actualización sobre Arte en Tránsito
Actualizaciónes de la comunidad
Para prender más sobre el proyecto, visite wmata.com/bladensburgbusgarage. Metro planea celebrar reuniones trimestrales; asegúrese de consultar su correo electrónico o el sitio web del proyecto para obtener información sobre reuniones futuras.
--
Public participation is solicited without regard to race, color, national origin, age, gender, religion, disability, or family status. To request special accommodations under the Americans with Disabilities Act, ASL, or other language interpretation services (free of charge), contact JSA, LLC at (202)-240-2152 or send a message to emma@jsallc.com at least one week prior to the meeting date, so necessary arrangements can be made.
Se solicita la participación pública independientemente de la raza, color, nacionalidad, edad, género, religión, discapacidad o estatus familiar. Para solicitar adaptaciones especiales bajo la Ley para Estadounidenses con Discapacidades, lenguaje de señas estadounidense (ASL, en inglés) u otros servicios de interpretación de idiomas (sin cargo), comuníquese con JSA, LLC al (202)-240-2152 o envíe un mensaje a emma@jsallc.com al menos una semana antes de la fecha de la reunión, para que se puedan hacer las modificaciones necesarias.